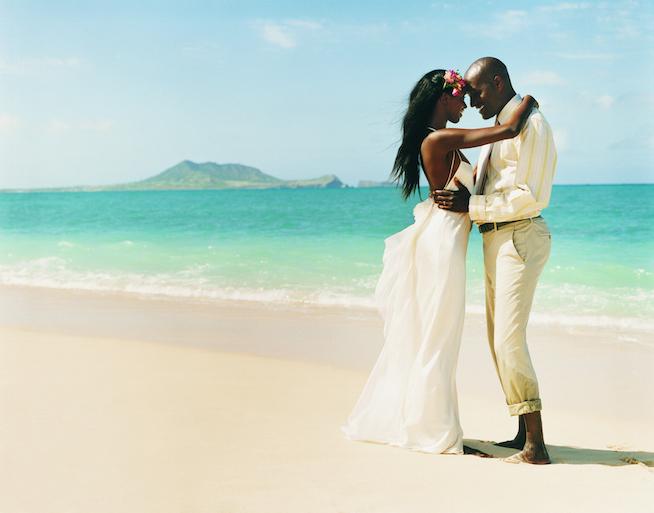 My wedding is in exactly 118 days. Or 2,832 hours, but whatever. I'm not counting.
Actually, yes. Yes I am. I am counting everything down to the second we say, "I do!" I cannot wait to marry the man of my dreams. I also can't wait for the wedding night, but that's another post for another time (Note to self: write The Breakdown of Bridal Booty when I get back from the honeymoon.)
I am that girl who started planning my wedding three years ago. On Pinterest. While I was dating someone else. Don't judge me, Judgey McJudgerson — you know you did it too. Heck, you're probably doing it right now. However, by the time I met Mister, dated for a good year, and accepted his proposal, all I had to do was drop in a groom. My vintage literary-themed wedding was fully planned out.
Then we had that talk that made my eye twitch: the budget talk. Mister gave me a budget of $5,000 for everything.
Now, let me preface this next part by saying that Mister was first married 25 years ago, in some podunk town in Missouri, and had the reception at a local restaurant that I think had the word "piggy" in it. If you know me at all — even just by reading the opening of this article, you know damn well that ain't happenin'.  
It took some convincing but he finally realized that there was absolutely no way that a busy mama like me (who also has a specific plan for this shindig) could plan an epic, intimate wedding for 50 people, INCLUDING a photographer and DJ for $5k. I agreed to look though, and also agreed to pay for the decor myself, as well as the photographer.
Well, I think the wedding gods have been smiling on me because somehow, I've managed to plan out and style my entire wedding for under $8,000. A lot of it has been good fortune. I have talented friends: a photographer, a makeup artist, a musician, and a cake baker extraordinaire. However, there are definitely some tips I can pass on to help keep down the cost of styling your ceremony and reception, so that you can keep up those loving feelings. Here are my best tips to make your wedding blissed-out on a budget.
1. Save the receipt for some late-night sparkle. Keep every. Single. Receipt. Michael's receipts are good for 3-6 months after initial purchase. If you change your mind about something, you can return the incorrect items and apply the credit towards your new purchase. Or, you can put that money towards some sexy wedding night glitter panties! Yes, that's a thing — and who doesn't love sparkly ladybits?
2. There is such a thing as GOOD spam. Sign up for store emails. Often times, stores (like Michael's) will email you coupons and info about upcoming sales. If you are returning/exchanging items, you can apply a coupon towards your new purchase, and you may even get money back! If you get money back, again . . . glitter panties.
3. Something old for something older. For a vintage-themed wedding, look for stores that will allow you to trade in your used goods for store credit. I "purchased" 18 classic novels for use as part of my tablescapes. Because I traded in my daughter's old books and toys, I didn't pay a single penny for any of the books. Then after the wedding, I'll sell them back to the store for either more credit, or actual money! Do I even need to tell you what I'll buy?
4. Double duty decor. Design aisle decor that can double as part of your tablescape. If you're using candles in hurricanes, incorporate them on your tables. Floral pomanders can be placed atop candlesticks or tall vases. Anything that can do double duty, put it to work. This will save you fifties with your florist, and headaches with your honey.
5. I buy, I sell. You buy, we happy. If your venue creates tablescapes but doesn't have items for your specific theme, offer to sell them whatever you purchase. Odds are other brides will have a similar idea at some point, and you're doing the venue a favor by not having to go searching for them.
6. Don't go broke on the bling. Shop for jewelry at either consignment shops or department stores (but only where there is a sale). I purchased earrings that were originally $550 for $165, due to Macy's having a killer 65% off sale! My (coincidentally) matching bracelet was purchased at a consignment shop for $55 — it was 60% off. Plus, my bling up top will now match my blinged-out bottom — can't go wrong there!
7. Blow out that bachelorette party. I'm not a girl that has a lot of time. And sometimes I have even less money. One might say I like the Dom Perignon life, but I have the Asti Spumanti budget. That's OK, though. In doing my searching, I came across this fantastic little company called Bashelorette, and this fantastic little company has this fantastic little party kit called "Bash In A Box." It is literally that — a bachelorette party in a box, and it. Is. Awesome. Glitter: check. Tiara: check. Mini shot glasses: check. Cocktail glasses: check. It even comes with an adorable pink corkscrew and a bottle opener. I ordered the box, gave it to my bestie and said "Plan." I'm telling you, this Bash In A Box is the best thing to happen to budget savvy brides since Pinterest. Seriously. The. Best.
So there you go, lovelies — seven tips that will save you money, keep your lovie lovey, and make your lady bits shine! May you have the most amazing, dreamy, right-out-of-your 6th-grade-diary fabulous wedding!