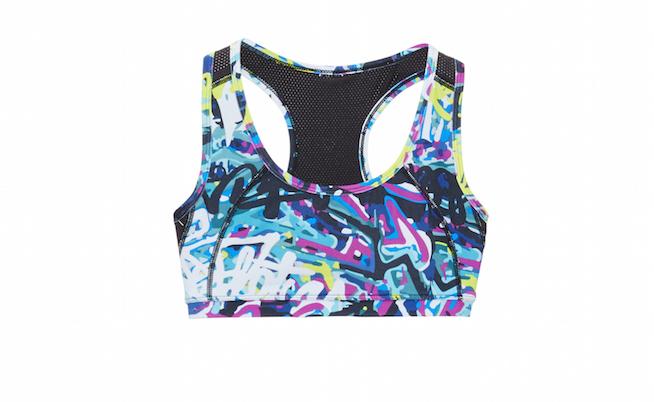 Fabletics' new street grafitti line
Summer is a great time to explore new workout trends! After all, the sun is shining and there is no reason not to be active — and look good while you are doing it. If you haven't yet been introduced to Fabletics, allow me to introduce you to it. 
The company is the brainchild of actress Kate Hudson and JustFab.com, allowing women who love to get their sweat on to always have the coolest athletic essentials in their workout wardrobe. The sets start at just $25 for a top and bottom (I know — GASP!), and are always designed in the season's hottest colors and trends. 
This month, Fabletics has something entirely different up their sleeve. They have partnered with uber-talented New York based graffiti artist and legend Stash to create a collection that merges streetwear and workout gear to form pieces perfect for the gym or parts of your daily life. Who better to design something so avant garde than an artist who exhibited their very first pieces of artwork next to Keith Haring and Basquiat? You never know, this collection may be worth much more than the price of spandex someday.
The collection consists of two new psychedelic and abstract prints that Stash is calling "the wavy print. " It has been printed on their well-known cropped capris and classic sports bra, but they are introducing a new tank, the Kenyon, with this collection. 
With these prints being exclusive to Fabletics, the team has the amazing opportunity of actually seeing him paint these brilliant color mixtures in their El Segundo office and headquarters.
Take it to the Streets!
Yes, just like previously mentioned, it's totally acceptable to take pieces like this from the gym back to wherever you need to go to make your day happen, and not look like you are the woman who makes any excuse to wear yoga pants as actual pants (not that we would blame you . . . ). Here's how:
Denim: This will seriously be your BFF when incorporating workout pieces into your everyday streetwear. Grab your favorite vest, jacket, or even lightweight button-down and throw it on over your favorite Stash designs and you are ready to go!
Flats: Keep a pair of solid black or neutral-colored flats in your workout bag and swap them for your athletic shoes. 
Wide-Neck Cotton Tee: Grab one from your favorite store in a solid white or black (to downplay these bright colors) and throw it on over your top after your workout is complete. Hint: for extra layering power, pair this with your denim vest!