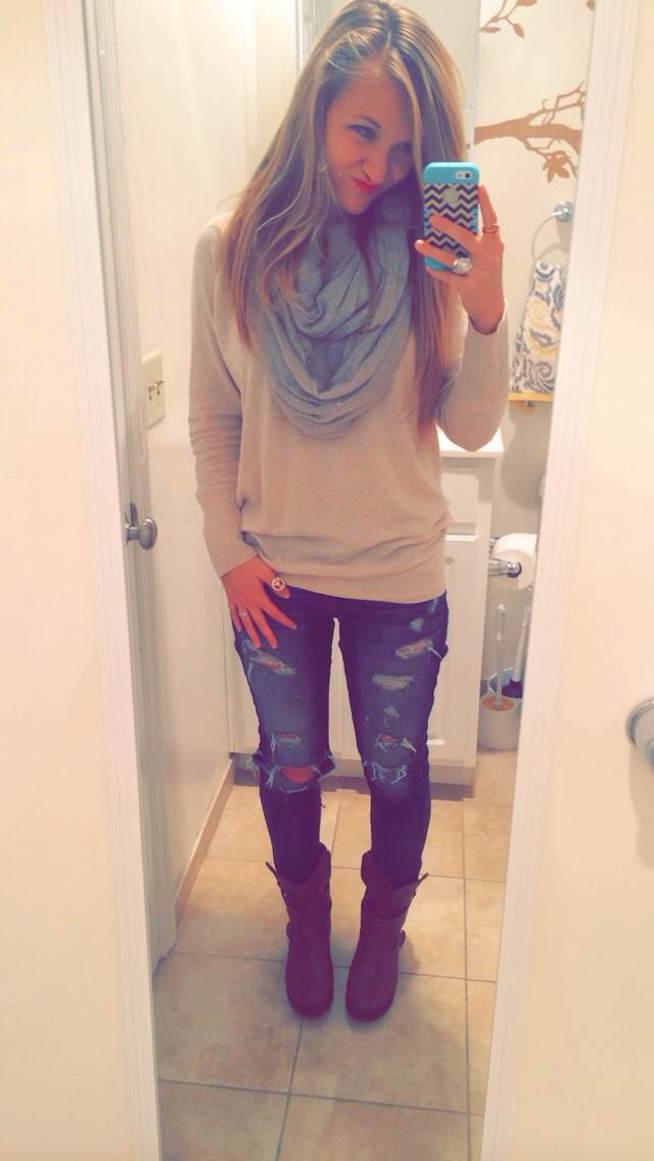 Lexi Herrick, modestly beautiful.
Everyone is entitled to their own unique perception of body image and sexuality, especially women, as we seem to historically be chosen as the object for what should and shouldn't be perceived as sexual.
"Why don't you ever wear a push-up bra or something?"
The familiar sentiment repeated in my mind. I looked in the mirror. I ran my hands down the shape of my body. My green eyes stared back at me. My gold hair spilled over the corners of my face and down my shoulders, and my red lips were small, as if they weren't exactly sure what shape to form.
My shirt was loose-fitting and laid across my chest in a way that covered my breasts and didn't reveal much of what I looked like underneath. My stomach was concealed, and my dark jeans traveled down to my ankles. I had heard similar comments various times before — indirect, but nonetheless, they were very deep with their blade. Was I not sexy or attractive? Was there something wrong with me? How is it I can be made to feel inadequate for wearing too much, and also too little?
As women, we live in the ultimate lose-lose situation. The ways in which we display our sexuality and bodies are constantly being evaluated and condemned for any reason people can conceive. We seem to think that there is either a right or wrong way to present one's body, and that's so tragically untrue. Everyone is entitled to their own unique perception of body image and sexuality — especially women, as we seem to historically be chosen as the object for what should and shouldn't be perceived as sexual.
If I see another woman that chooses to dress differently than I do, I feel zero disdain towards her for doing so. We all deserve the freedom to show our bodies in whatever way makes us feel comfortable and confident. Expression varies massively between human beings, and it's supposed to. We shouldn't "slut shame," and we shouldn't "modesty shame," either. We should just take the shame entirely out of the picture, because it is poisonous.
I consider myself to be more modest than some, not because I think that that's what society wants for me but because that's what makes me feel comfortable. I don't think that it makes me unattractive or immature or unable to be a sexually appealing woman. I like wearing cover-ups at the beach and little bras that make me feel secure and contained. I like picking clothing I feel good about myself in. I have tried changing the way I dress to please others and it just made me feel like I was pretending to be someone I wasn't. I didn't feel confident, I felt awful, and like the real me wasn't good enough. I have a reason for my feelings — not that I really need to justify the way I choose to garnish my own body, but my relationship with my body has been somewhat tumultuous throughout my life, so I prefer to keep most of it to myself.
Revealing myself in that way is vulnerable to me is something that I almost always reserve for those that I trust and that I think love me for what's on the inside, and therefore love me for my exterior is well. So it hurts me when I'm criticized for "not dressing sexy enough" or "like a woman." It's just as offensive and hurtful as shaming for the opposing reason. There should be no standard for what kind of clothing makes you a woman.
We can't change society overnight, and so much time and money has been allocated to superficial and shallow values that make us dangerously focused on appearance. What we can change is the confidence that we have in our own perception of our bodies and the way we choose to show that to others.
Our only true and total possession in this world is the human body. When we come in to this planet and take our first breath, it's all we have. It doesn't matter what your gender, ethnicity, or financial status is at that point, because you can lose everything but those bones you stretched out to the world, and those lungs that fueled your first screams. It's what you own. No one can take it from you. It's your right to love it. It's your right to show it or hide it or keep it in any way that you want to. Own that, and let others own theirs as well.
So if I wake up one day and I decide I want to go out in a gorgeously revealing and sexy dress, it's going to be because it's what I wanted, not because I felt like it's what I needed to be attractive to any man or accepted by any woman. Because I'm still happy with who I am. I'm still strong and creative and engaging regardless of what I am wearing. And though those days of the sexy dresses may be slim, I'm perfectly content with the normal days. I'm OK with waking up and putting on too much jewelry and some sort of strange combination of an outfit that makes me feel comfortable and confident. I'm OK with those green eyes looking back at me because they're mine, and I like who I am.