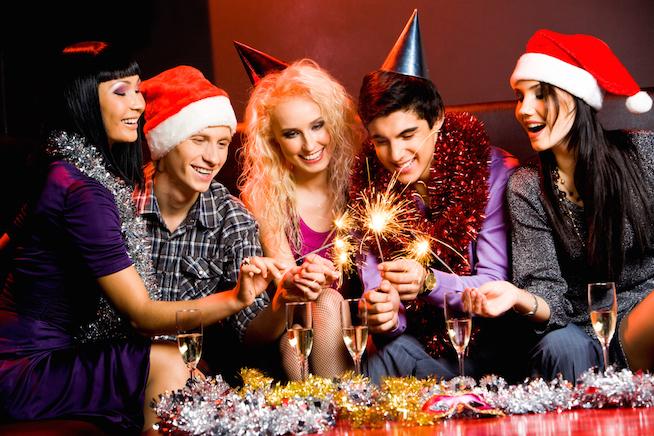 This can be you!
Let your host know before the party starts that you have two commitments on the same evening. She doesn't need to know that your other commitment is to Netflix...
The holidays aren't easy on anybody, but if you're among the millions of US women who live with one or more chronic illnesses, you may find the social obligations this time of year more draining and dismal than merry and bright. You may be tempted to opt out of parties and gatherings altogether, but that can leave you feeling lonely and isolated — that's no better than feeling tired and sick. Instead of swearing off holiday bashes, consider adopting a few new tricks to keep yourself as healthy and energized as possible while enjoying the holiday season:
Pick One Outfit To Rule Them All
It's tempting to think that, if you've got five holiday parties to attend, you need five different outfits. Before you know it, you may have spent an entire afternoon scrounging around your closet, shimmying into and out of a whole heap of clothes and shoes, and exhausting yourself as you plan your merrymaking wardrobe. Instead of devoting your limited energy to lining up a phalanx of looks (or, God forbid, heading to the crowded mall to buy something new), why not pick one outfit you can wear to all your holiday shindigs? A basic black dress or a pair of slacks and a crisp shirt are never inappropriate, and we're positive that nobody will notice you're recycling your look. If you're dead-set on changing up your look for each party, you can always swap out an accessory or two. Bottom line? Keep your wardrobe simple and save yourself some much-needed energy.
Eat Before The Party
Sure, it's fun to snack at parties. Who doesn't love eating goodies you didn't have to cook yourself? But when it comes to potlucks and party platters, there's no telling whether your old sorority sister properly refrigerated that artichoke dip, or whether your cheap cousin Eddie is feeding you Swedish meatballs that expired last Christmas. For women with chronic illnesses, compromised immune systems, or food allergies, nibbling from the mystery buffet just isn't worth the risk of food-borne illness or reactions. You can always push a few veggies around on your paper plate for appearance's sake, but make yourself a healthy, filling meal or heavy snack before heading out to the party and spare yourself a potential stomachache (or worse) later.
Club Soda Is Your Friend
For many women living with chronic illnesses, alcohol and medications just don't mix. Even if you're able to drink, the dehydration and fatigue that come with overindulging can lead to significant health setbacks. Yet at every party, someone will inevitably ask why you aren't tying one on. Save yourself from nosiness by filling up a glass with ice and club soda. Pop a lemon on the rim or muddle up some mint leaves at the bottom of the glass and nobody will suspect you're sipping on water, not a vodka tonic or a mojito. You'll go home hydrated and you won't have to answer any irritating questions.
Double Book (Really!)
Chronic illness has a way of making you feel like you've been running a marathon when you've merely been socializing for a few hours. Regardless of how much you enjoy others' company, sometimes, you just have to pack it in. If you're afraid you might need to call it an early night but are equally afraid of being rude, let your host know before the party starts that you have two commitments on the same evening. She doesn't need to know that your other commitment is to Netflix, a mug of hot apple cider, and your sweatpants, and she won't be offended if she knows you're already planning to head out early.