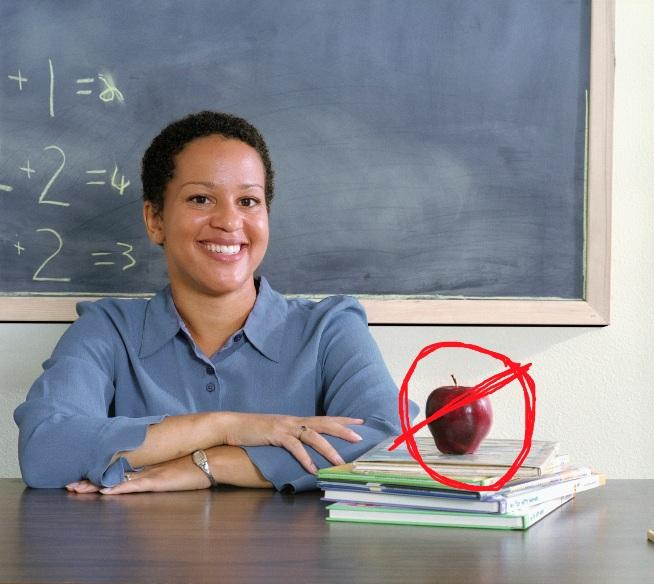 "Thanks, but a gift card would have been better."
Teacher gifts are not a requirement. Really. And something lame, given for the sake of having done it, is worse than nothing at all.
I have taught seventh grade, eighth grade, ninth, 10th…you get the idea. For every grade that comes after puberty, I've been in front of the classroom.  No need to focus on the Christmas gifts that made me cry — used items from home, empty gift cards shoplifted from the store, etc.  
What's the goal of a gift for a teacher? You need to figure that out first. If your goal is to smooth talk him/her into upping a grade, good luck. Haven't ever seen it work. If you're hoping to make the teacher recognize your appreciation, that's the kind of sentiment I can work with. If you are giving your teacher a gift just to go with the flow, do your duty, or anything else ho-hum, here's my advice: skip it. Teacher gifts are not a requirement. Really. And something lame, given for the sake of having done it, is worse than nothing at all.
For you dear readers who are thrilled with the teacher in your life — be it your own teacher, the instructor of your child, or even the person who does piano or karate — this list is for you. Here is your guide to gift-giving for teachers, filled with gifts they'll actually like.
Flowers Or A Plant. Growing; nurturing — see how it connects? A little outside-the-box for holiday giving, but frankly, who isn't happy to get greenery?
Office Supply Store Gift Card. You've heard it before. All the depressing numbers about teachers spending their money on stuff for class? True. All true. $10 for future Staples purchases may not seem fancy, but trust me, it may inspire tears.
Movie Tickets. Even one. A chance to let your teacher treat themselves, even in a small way, is always lovely. Teachers need down time, too.
Beverage Of Choice. This means you'll have to pay a little attention ahead of time, but it's well worth it. What do they always have in a to-go mug on their desk? Maybe it's coffee, maybe it's tea, maybe it's Diet Coke. Whatever it is, something a teacher uses every day is the way to their heart.
Magazine Subscription. It doesn't have to be edgy, but it also doesn't even have to be educational. Smithsonian and The Atlantic are great multipurpose titles with tidbits almost anyone can enjoy. And I can't tell you how much I've enjoyed travel-fantasizing with National Geographic Traveler.
Anything Involving Brains. Hear me out — I'm not talking about brains to eat. Think stickers, magnets, books, posters — anything with a brain theme or design. This year, my elementary school boys are both giving their teachers stuff from I Heart Guts. Might be a little weird, but I'm going for it.
Whatever You're Good At: If you have a particular skill, whether it's baking or calligraphy or nail design or lawn care, use it to gift a teacher. The best gifts are personal. The problem for teachers is that there's only so many personalized mugs/notecards/signs they can handle. They're great ideas, sure, but think of all the students they've had over the years. Something that's both personal and unique is way better than a license plate with their name on it.
So stick to the useful or at least the useable. And no matter what you do, make sure to include a note — not just from you, but from the pupil involved. Be specific about why this teacher makes a difference in your life and your family's life. That's how you truly show your gratitude.