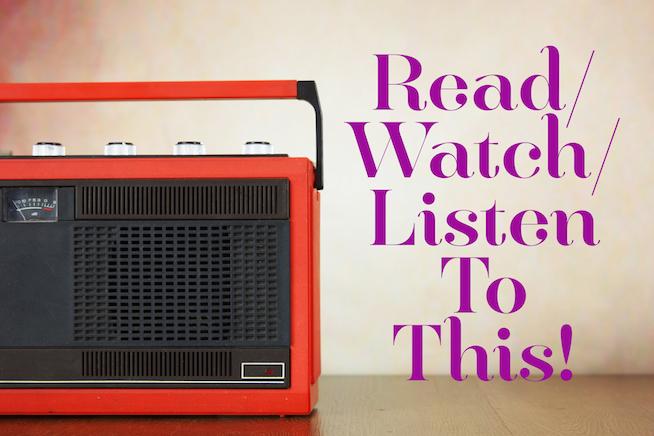 The premise is pretty simple: We each give you one thing to watch, one thing to listen to, and one thing to read over the weekend.
THE WEEKEND HAS ARRIVED.
While we hope you'll spend most of it reading, watching, and listening to the genre-transcending masterpiece that is Lemonade, we've taken the liberty of providing you with additional resources for Internet fun-having over the weekend.
Read
Jody:
Everything about this was right. Evocative photography, perfectly placed multimedia and sidebars, and top-notch reporting made for a story that was the best thing I've read all year (content warning: suicide). The result of the John Alexander Project's 2015 Fellowship.
Rebecca Hersher put together a read on a perennially touchy subject that's informative but also sensitive — and the native Greenlandic music near the end is just breathtaking. It also helped me formulate an early New Year's resolution for 2017: Pick a spot on the globe and do some reporting from there.
Jenni:
I could easily make this entire week's recommendations about Lemonade, but I'm assuming you all like yourselves and have listened to/watched Beyonce's transcendent visual album since it dropped from heaven Sunday evening.
What I will suggest are two incredible pieces of writing on the subject: a New Yorker profile of Warsan Shire, the woman who wrote the spoken word interludes book-ending each song in Lemonade's visual production, and a note from the Very Smart Brothas to White people wishing to write about the album.
Watch
Jody:
I am transitioning off my antidepressants right now and I feel a little... nnggghehghrgsrgohurdg.
I'm telling you this because I almost cried while watching this. Just LOOK AT ALL THOSE SHEEPIES BEING SO GOOOOD
Jenni:
My favorite drag dynamic duo, Trixie and Katya, released the latest installment of "UNHhhh," a webseries where they talk about whatever the hell they want.
Please watch all of it. You will not be disappointed.
Listen
Jody:
Ohhhh my goo'ness everyone this reinterpretation of Pet Sounds, released for the record's 50th birthday, is so good. Just different enough to be interesting but not so similar that it's boring.
You can listen to the whole thing here (and you should), but as an introduction, check out Shannon and the Clams' "I Just Wasn't Made For These Times."
Jenni:
Not gonna lie, when not listening to Lemonade, I've had Salt N Pepa on repeat all week. "Whatta Man" is what I'd put on the next satellite sent out to search for extraterrestrial life.