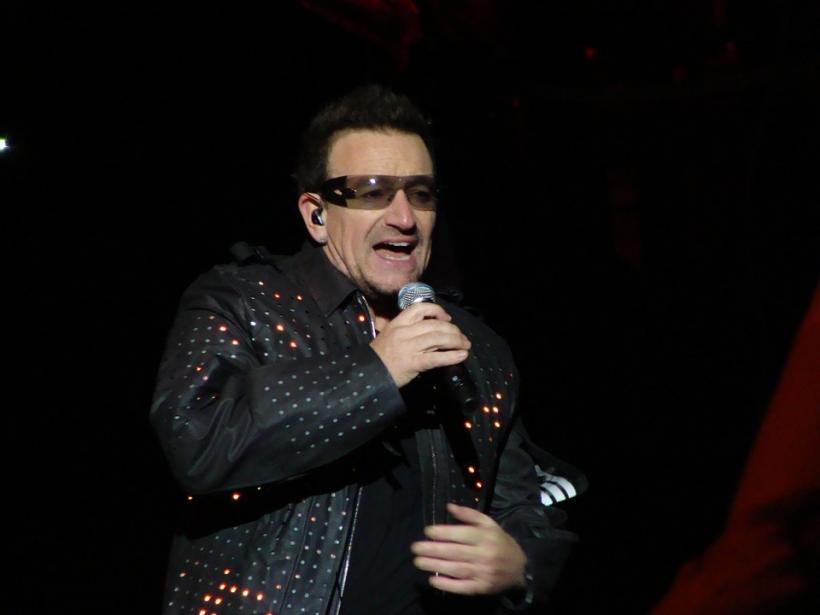 I feel obligated to let you know that when I was a little kid I mixed up Bono and Jesus Christ more than once.
In what can only be described as a real-life episode of Parks and Recreation, a man has been given Glamour's Woman of the Year Award.
The internet was not happy about this, though the outrage seems to be less about a man being given a women's award and more about that man being Bono. 
Yeah, Bono. The U2 lead singer and longtime proponent of transition lenses who, despite being one of the more thoughtful celebrity philanthropists, is just not a very likable guy. 
A lot of it probably has to do with the fact that he barged onto everybody's iPhones without asking. Also, he dresses like a Hunger Games correspondent. 
Editor-in-Chief Cindi Leive says, "We've talked for years about whether to honor a man at Women of the Year and we've always kind of put the kabash on it. You know, men get a lot of awards and aren't exactly hurting in the celebration and honors department." 
They decided to go ahead and do it anyway, though.
Luckily, this story isn't without a much-needed heroine. Bono's wife, Ali Hewson, won Woman of the Year in our hearts when Bono called to let her know he'd won. "I asked did she think I deserved it. She wasn't sure." Bless her. 
Bono's contribution to women's causes can't be faulted, though; his "Poverty is Sexist" campaign takes a firm political stance where many other organizations prefer to tiptoe around gender equity in favor of more palatable language. Still, it's just plain weird to make a man Woman of the Year. Try again, maybe?