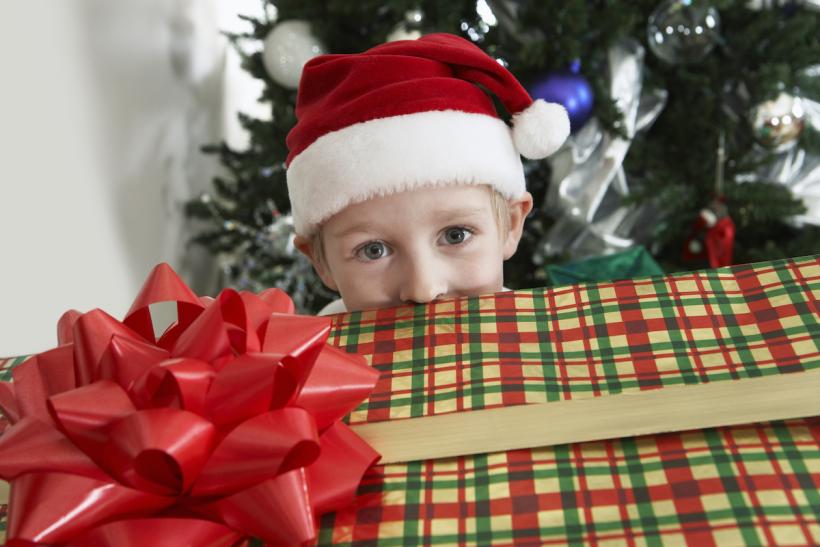 Sticking to the three present rule is much harder for the parents buying presents than the kids receiving.
The holidays are a magical time of year, for sure. But the thing about magic is that sometimes it's downright terrifying and overwhelming. I've been waiting years to celebrate my undying love of all things Christmas with my child, but now that my toddler is old enough to understand the joys of the holiday season I've realized that there are some things about the holidays that only a parent can understand. Here's what I've discovered so far:
1. Remember all those high and mighty moral ideals you had about not using Santa to bribe and/or threaten for good behavior?
Yeah, those are gone. 
2. No tree will be the right one... 
Until at least two family members have cried and someone has stormed off the Christmas tree lot. 
3. If a holiday card arrives with a summer picture, it's because those parents were smart enough to not even bother getting all the kids to dress up and look in the same direction.
Learn from them.
4. Speaking of holiday cards...
Your resolve to write a personalized card on each and have them in the mail immediately after Thanksgiving? Ha! Pre-child fantasy.
5. Decorating a Christmas tree with an opinionated toddler is a wonderful exercise in letting go of control.
Of course the only way to rank ornaments is by the amount of glitter they scatter around the living room.
6. Never, ever buy your kid actual jingle bells.
The kind that make that cherished holiday sound will soon become the soundtrack to your very own parenting nightmare. 
7. You will be finding Christmas ornaments that your toddler stashed away until Easter rolls around.
Likewise, while unpacking Christmas ornaments you're guaranteed to find at least two plastic Easter eggs. 
8. Baking.
There are an awful lot of boogers in any homemade Christmas cookies from a house with kids. 
9. Advent calendars are a cruel way to teach toddlers delayed gratification.
I.e., they're a recipe for temper tantrums. I.e., you'll make it to December 6th before you say fuck it: just eat all those chocolates, kid. 
10. Sticking to the three present rule is much harder for the parents buying presents than the kids receiving.
Must resist the urge to buy all the cheap crap!
11. Ah, magic. 
The magic of Christmas Eve is immediately ruined once you realize that, unless a Christmas miracle occurs, your kid will still be up at 5 a.m..