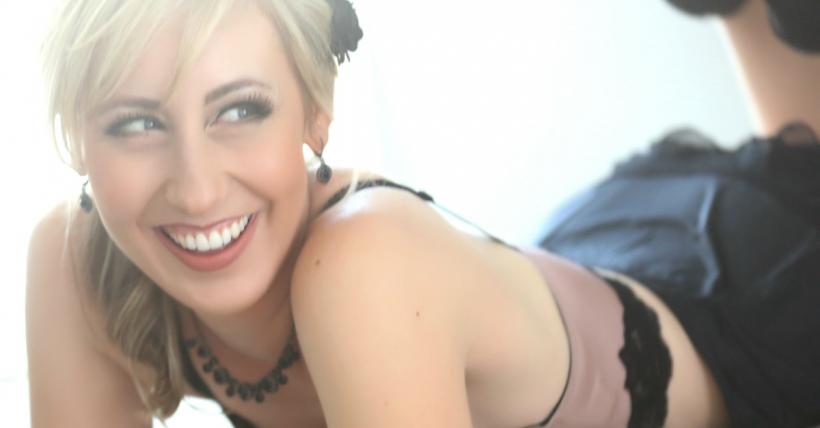 For me, appreciating my body for all it is, all it's done, and all it's capable of was about so much more than sexuality. Image: Lori Garcia
While it was true that Lori wouldn't normally do something like this, maybe that was the exact reason she should.
Once upon a time there was a shy girl named Lori. Wearer of cover-ups always and displayer of cleavage never. Lori didn't know where all her modesty came from, she just knew she always had it.
So OK, that one Christmas her mom gifted her training bras in front of her dad may not have helped, but Lori always thought of her body as her business. Besides, she thought, modesty does not a prude make.
Lori wished she could rock a crop top with confidence or brave backless just because. She marveled at sexually empowered women, but when it came to flaunting her figure, she felt sexier under wrap.
It wasn't that Lori hated her body; it was beautiful in its own way. I mean, it was practically made for bridesmaid dresses and birthing babies, but bodies can be timid sometimes, and no one knew this better than she did.
Lori's husband was a really good guy who thought her body the most beautiful in all the land, so when it came time for his 40th birthday, she put on her big girl sexy panties to brave a boudoir photo shoot. She did it because she knew he'd love it, sure, but she also did it because she was finally ready to see herself the way he saw her.
This is how she did it:
1. Hire a photographer you trust.
No one should ever be made to feel like Coco Hernandez in Fame. In the case of boudoir photography: Go reputable or go home. For the most modest among us, I recommend a warm and caring female photographer, willing to help silence the shy static in your head.
2. Bring a girlfriend with you.
I was lucky; I didn't have to go it alone. Using legendary powers of persuasion, I was not only able to talk my girlfriend into tagging along, I convinced her to book a boudoir shoot of her own in a real cliff-driving Thelma & Louise moment. Some people have blood brothers, I recommend a boudoir bestie.
3. Have a drink. Or many.
The photography studio greeted us with mimosas upon arrival. It was like they knew us, or at least knew nervous women. Drinks turned to dranks, which turned into Hey, look at me looking all good and sexy-like! Imbibe those inhibitions; you'll be glad you did.
4. Go vintage.
Exhaustive lingerie shopping taught me vintage-inspired styles are a discreet girl's dream. For my first look, I went with a three-quarter classic style bralette and a pretty little slip skirt that hid most of my unloveliest lady lumps. The whole look had me feeling like a sophisticated sex kitten without actually having to be one.
5. Ditch lingerie altogether.
I'm not talking about going nude, but if that's your thing, do you. What I am saying is that you don't even need to dress in lingerie for a boudoir shoot if you don't want to. Play it cute with cotton boy shorts and an off-the-shoulder t-shirt for a sexy co-ed look. Dip into an elegant slip dress. Wrap yourself in a bed sheet. Cozy it up in a plush bathrobe. Wear (or don't wear) whatever makes you feel sexy, flirty, pretty, and comfortable in your own skin.
6. Give yourself a pass.
It's OK to do something you normally wouldn't do and for some reason, giving myself weird "permission" was what I needed. While it was true that Lori wouldn't normally do something like this, maybe that was the exact reason she should.
7. Have a sense of humor.
It was more than weird for this modest mom of two to strip down, cup her boobs, pop her hips, and lick her lips. These are things I just don't do. These are things I don't do well. These are also things that should never, ever, ever be taken too seriously. So what if you can't roll your hips or arch your back a certain way, have a laugh about it and trust your great photographer will make a model out of you yet.
8. Have a mantra.
I'm suggesting you arm yourself with a mantra, because I didn't. Thinking back on it now, even "Shoulders down," would have been better than nothing. If I had a simple, sexy phrase to hang onto that made me feel powerful and unstoppable, I may have enjoyed the experience even more.
9. Breathe.
Girlfriend, take that sexy oxygen in and breathe out pure fire.
10. See yourself.
I'm not going to wax poetic about how boudoir photography changed my life or my willingness to flaunt what my mama gave me, but I will say that viewing my femininity in a new and beautiful light felt empowering. But pretty pictures are only part of the story. For me, appreciating my body for all it is, all it's done, and all it's capable of was about so much more than sexuality. It was about discovering new boldness beneath my skin.
Author's note: I know you're probably thinking, "What? These pictures aren't even showing anything!" I know, I know, but I have parents (remember, training bras?) and the Internet is forever, AND I was thinking about running for president one day, so surely you understand the PG-ness of it all. And just so you know, my portfolio indeed turned out provocative, but in a real classy lady sort of way. Because shy.
"The Shy Girl's Guide to Boudoir Photography" by Lori Garcia originally appeared on Babble.com.
More from Babble: