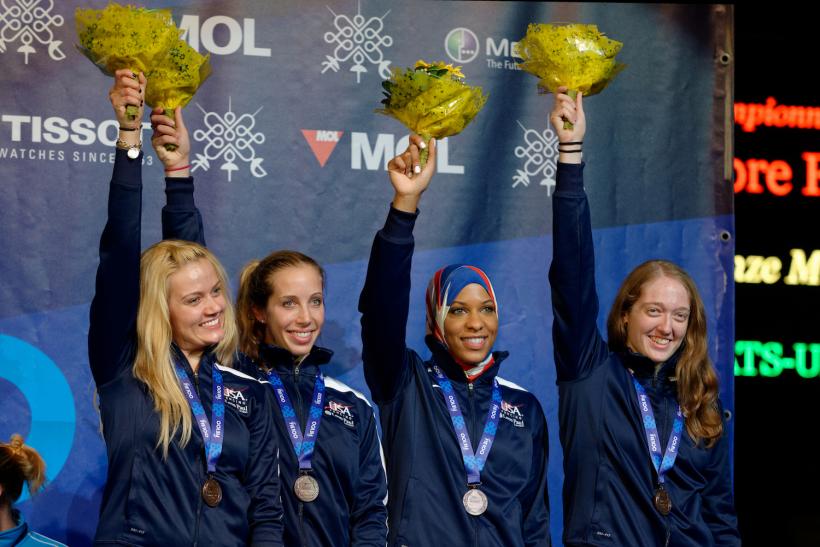 In Rio, fencer Ibtihaj Muhammad will become the first American athlete to compete in the Olympics wearing a hijab.
Can you name an elite female athlete? If you asked me to name someone other than Venus or Serena Williams I'd have a tough time.
What about an openly LGBTQ athlete? Michael Sam, the first openly gay player in the NFL, made a splash, but has said that coming out as gay has played a "huge part" in his faltering career and not being signed by an NFL team.
Even in 2016, sports are largely a (straight, cis) man's game.
You'll see plenty of faces of color in some professional sports, but you're unlikely to ever see a woman on the field, or hear the voice of an out LGBTQIA athlete.
The high cost (both financial and in terms of time and commitment) of building an elite spots career can keep the dream out of reach for many disenfranchised groups.
Here's a look at diversity on this year's USA Olympic Team:
Gender Differences
Here's the great news: For only the second time ever, there are more woman than men on the team. The 292 women competing for the US (part of a team of 555 athletes) represent the largest women's team that a country has fielded during the Games (the previous record was 289 women on the 2008 China team).
Here in the US, girls drop out of sports at double the rate of boys. The Women's Sports Foundation cites lack of women role models as one reason.
Because of that, it's significant that children watching the Opening Ceremonies on Friday and the competition throughout the coming weeks will see that women are just as capable of competing at an elite level as men are.
"It's amazing. Really amazing," said Molly Sullivan Sliney, a two-time Olympic fencer who competed in the 1988 and 1992 Games. In 1988, just 195 out of 527 competitors for Team USA. were women; in 1992, there were only 190 women on a team of 545 Americans.
But Sliney was quick to point out that the world of elite sports competition is still very complicated for women.
"It shows how long it has taken to feel the effects of Title IX," she said. Title IX legislation, which bans sex discrimination in any educational institution that receives federal aid, opened up women's sports programs in many colleges and universities, which in turn fed high-level competition.
Still, for many female competitors, the Olympics are the biggest — or the only — opportunity to make money from their sports, in the form of sponsorship deals or bonuses. Even women's sports that do have professional opportunities, like soccer, don't provide the same monetary incentives as men's sports.
In fact, five members of the reigning World Cup champion and gold-medal favorite women's soccer team are currently in a lawsuit with US Soccer over wage discrimination.
As with the gender gap in many areas, there has been lots of progress, but there is still much to be done.
Racial, ethnic, and religious diversity
In Rio, fencer Ibtihaj Muhammad will become the first American athlete to compete in the Olympics wearing a hijab.
"I have to challenge this idea that in some way we don't belong because of our race or our religion," she has said.
She elaborated in an interview with the Washington Post:
I've been blessed with this position and to be given this platform. When I think of my predecessors and the people who spoke out against bigotry and hate, I feel like I owe it not just to myself but to my community to try to fight it.
The US Olympic Committee did not provide information on the racial and ethnic diversity on the team. However, a glance at the members of the team suggests that some sports have many Olympians of color, while others have an all-white team.
LGBTQ Presence
Of approximately 10,000 athletes competing at Rio, there are only about 30 globally who are openly gay.
I spoke with American kayaker Ashley Nee, who is one of those athletes.
"Just being me is really important," she said. The significance of out athletes isn't lost on her, however. "It's important to have that visibility because there might be the kid [who needs to see us]."
For many athletes, factors like corporate sponsorships and conservative social policies in their home countries can prevent them from coming out.
"It's interesting when you bring the entire world together," Nee said. "As a gay athlete, some people want to talk about it and some want to gloss over it. Mentioning my wife, some people don't know what to say or do."
Overall
The United States Olympic Committee (USOC) is open on its website about the need to increase diversity in all areas the team.
"Diversity and inclusion are core values at the USOC because they make us better as an organization," USOC CEO Scott Blackmun said.
The USOC's slogan — "many faces, one team, one mission" — is certainly one that everyone can get behind.
Image: Marie-Lan Nguyen / Wikimedia Commons, via Wikimedia Commons.