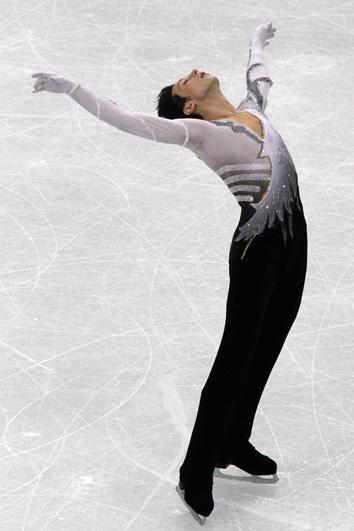 The last Winter Olympics were full of captivating moments — but perhaps no figure stirred as much passionate fervor as US figure skater and former competitor Johnny Weir. Back in Sochi for this year's games, he's made headlines not only for his champion background, but for his extravagant fashion choices as well as a not-so-subtle political message.
Russia's anti-gay agenda has been a major element of concern for many Americans, and some have viewed Weir's mega-sassy choices in couture as going out of his way to prove a point when it comes to being gay and fabulous — but he, ever so chicly, claims to be doing nothing of the sort.
I am not protesting. I am not making a statement. I'm just being myself.
What Weir is openly protesting is the raging violence in Ukraine in perfectly-suited fashion, by sporting an adorable-but-powerful braid in his hair (no small gesture, as the IOC has banned Ukrainian athletes from wearing black armbands in tribute to those fallen in Kiev). As someone of very-much Ukrainian heritage, this writer can openly admit the Weir way of showing public support brought a misty tear to her eye — the country is currently on the brink of catastrophe. 
Johnny Weir isn't just a living metaphor for one issue or protest; as he points out, he is just being himself in a world that oftentimes would prefer he be anything but. This simple act of uncommon bravery, especially in a region peppered with such turmoil, makes Weir more than earn our whole-hearted vote for Most Fabulous Human on the F*cking Planet.
Image: Wikimedia