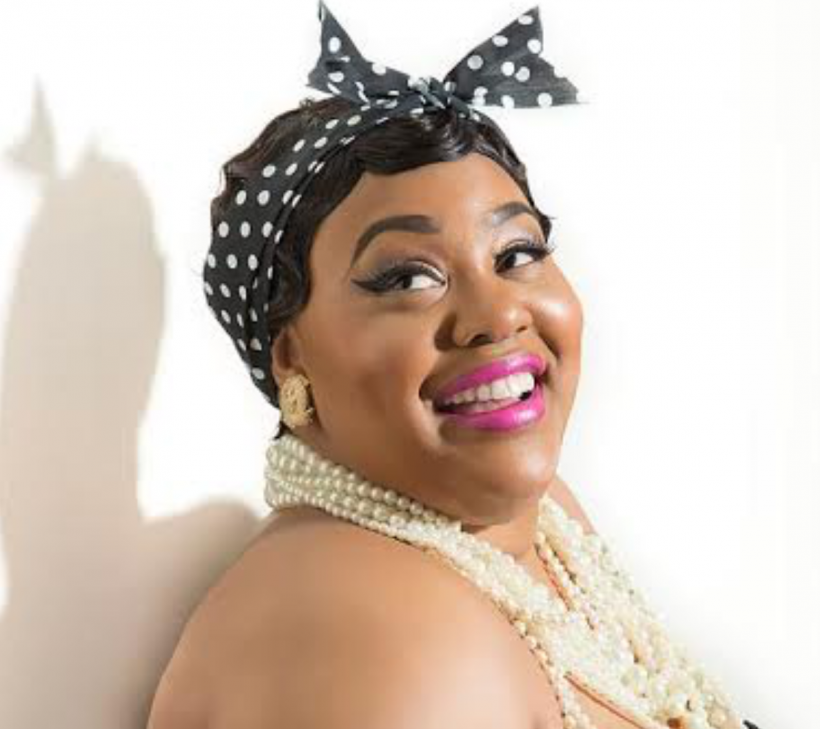 "I want to be the pioneer for plus-sized women"
We live in a society that discourages confidence in full-figured women.
In 2012, it was estimated that 67% of American women are "plus-size" — size 14 or larger. However, they are only reflected in about 1 to 2% of the media we consume.
Why is that? Through the 67% project, Refinery29 is doing their their part to improve representation for full figured women. Others, like Glamour magazine, have joined the fight and are working diligently to increase representation of women and end the pressure for a broken image of perfect by having a female lead, photoshop free issue. But is that really enough?
Unsurprisingly, plus-size women face an even more rigid set of qualifiers to be seen as attractive. And when they are seen as beautiful, they are expected to fit into a particular body shape. But this doesn't just result in self-image problems; it affects their opportunities for growth in certain careers. Full-figured women are often underrepresented in fields that involve frequent public presence like modeling, acting, and dancing.
This was the dilemma Akira Armstrong was facing. She'd had enough of size discrimination in the dance work. So she did something "Big."
"I want to be the pioneer for plus-sized women."
If Akira seems familiar, it's for a good reason — she has danced in two of Beyoncé's videos. In 2007, Armstrong made waves by being featured in both Get Me Bodied and Greenlight. She has also worked with hip-hop legends Salt-N-Peppa and was principal dancer alongside Jennifer Hudson. With experience like that, you would expect Akira to have no problem finding an agent right? Wrong. Sadly, Akira was unable to find an agent to represent her because of her size.
"When they see us perform, I want them to feel inspired... I want them to be blown away. I want the little girl who's watching to be like, 'Look mom, I can do that too. Look at those big girls up there with afros on,'" Armstrong says.
Because she'd grown up in the world of dance, Akira was accustomed to discrimination. She was often denied the opportunity to prove herself. And when she was given a chance, there were many times that there were no outfits in her size on set. "After going on auditions and being told no, I wanted to create a platform for other plus-sized women to feel comfortable," she says.
Finally, Akira had enough and made the decision to pioneer change for herself and others by founding the Pretty Big Movement LLC (PBM).
Described as a "New York based, full-figured dance company," PBM was established to provide a platform for "voluptuous" women in mainstream media. Pretty Big creates a place for the plus-size community to attend dance workshops in a judgement-free zone. It also serves as a safe space for plus-size women to be inspired and encouraged that they are capable of it all.
"It's about uplifting and empowering women to feel like they can be confident and do anything. Not just dance."
According to Akira, people expect dancers to have a certain body type: thin, long arms and long legs. Because this image is so heavily pushed, young girls who don't fit into the "idea" dancer body-type are often discouraged from doing what they love.
PBM is an important example for full-figured women as it allows young girls to avoid many of the negative experiences and self doubt that Akira faced growing up. She frequently reflected on her struggles and asked, "Is it really worth it?" when chasing her dream.
Appearances so far include: The Female Hip Hop Honors, Ms. Full-Figured USA Pageant, Ladies Of Hip Hop and Carnival, and Season 10 of America's Got Talent.
Current and future plans include being politically active and advocating for Black Lives Matter and waiting on the release of their reality TV show.
Founding Pretty Big has allowed Akira to be an example and gain confidence in herself. When asked What Pretty Big is about, Armstrong said, "It's about uplifting and empowering women to feel like they can be confident and do anything. Not just dance."
It is my hope, that through wonderful examples of success like Akria, full-figured women can know that they too are beautiful, and no one has the power to discourage them from reaching their dreams.
See more of "Pretty Big" on their website.