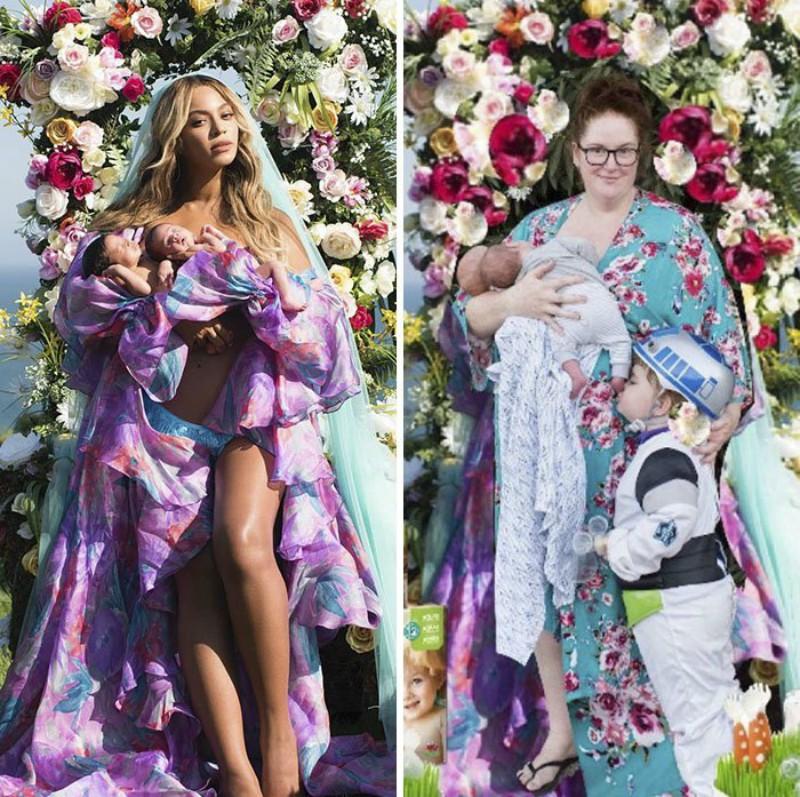 image credit: Twitter via TeaGossips
Queen Bey announced the birth of her one-month old twins and of course, the internet blew up. Like literally, blew up. (It's Beyoncé, so just the usual reaction.)
She posted around 1AM EST on Instagram, so phones the world over were alerted to the news that Beyoncé had just posted a new photo.
Rumi and Sir Carter were introduced in the most elaborate form, of course: held in the arms of their mother with a flowing dress and a floral wreath behind her. Similar to her pregnancy announcement back in February: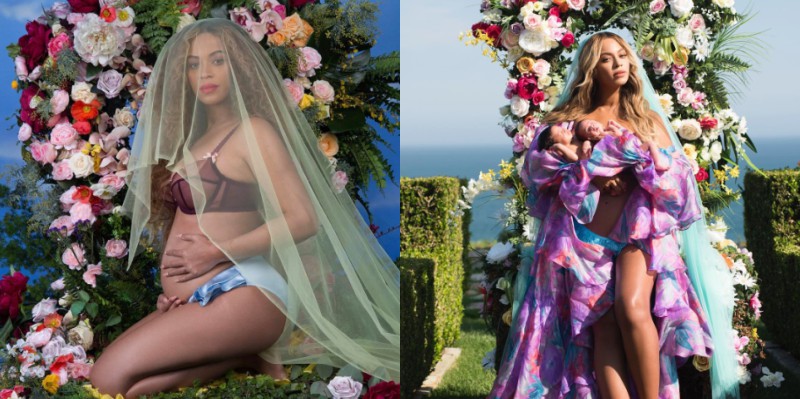 Love her or hate her, the woman is beautiful and talented. 
I'm going to address the elephant in the room (no, not me) and say that I fully understand women across the world have singles, twins, triplets, and more every single day without such fanfare.
Well, cis women and gender non-conforming mothers, I'm here to give you the props you deserve.
And that's not sarcastic, because I would have liked some love when I gave birth, but all I got was a hemorrhoid and incontinence. 
Now that that's out of the way, let's get to the awesomeness that is TWITTER.
When I want to give up on the world, I can always count on funny tweets to get me through the day.
And this did NOT disappoint.
Here are the FUNNIEST birth announcements parodying our wonderful leader, Beyonce!
Nailed it!
hey @Beyonce good morning. #beyoncetwins pic.twitter.com/5Si1UMfOBZ

— Jayvee Yagdulas (@jhayveeygdls) July 18, 2017
Can I borrow that wig?
Here's our take on #beyoncetwins pic.twitter.com/fCrfavQSAZ

— Mark Aldworth (@mark_aldworth) July 18, 2017
Gorgeous!
#beyoncetwins #beyonce pic.twitter.com/OxxItLTIOa

— Eniola (@ennyosibanjo) July 18, 2017
Perfect!
My best friend in Ireland who had twins in February couldn't resist......the best #beyoncetwins #twins #thebest pic.twitter.com/ExauT0Go72

— Be Inspired Fitness! (@SineadMJ) July 14, 2017
#TRUTH 
Because there is only one Beyoncé #motherhood #beyoncetwins #letsbereal pic.twitter.com/0vaVG1QLu3

— Cheyenne Wise (@cheywise13) July 17, 2017
Seems legit ? 
When you get a new pair of twins #Neighbours pic.twitter.com/Qz9F5MCp8j

— Neighbours (@neighbours) July 17, 2017
Those speedos, though!
Channelling @beyonce Finlay and Murray 1 year old #fabulous #beyoncetwins #daddyisalegend @BudgySmuggler pic.twitter.com/qs3KDW5rh6

— TwentyToes (@20toesuk) July 16, 2017