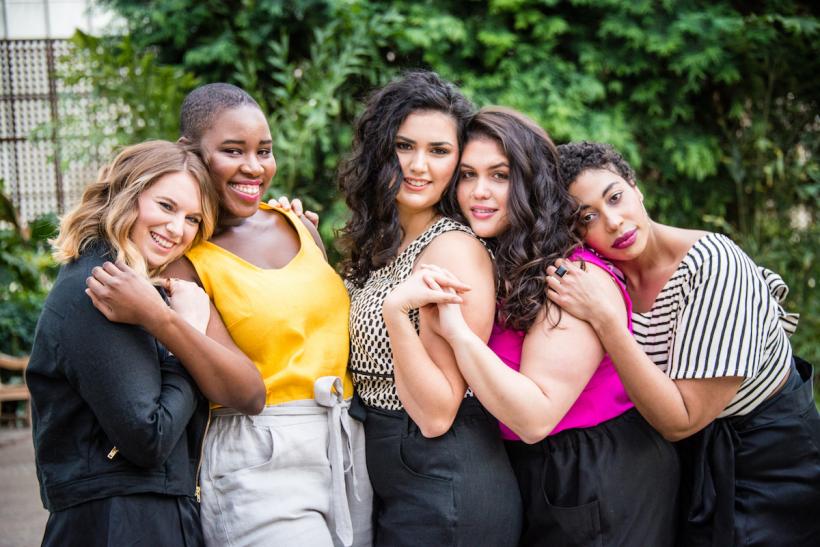 Models are wearing Alice Alexander. Photos by Adam Barnard Photography.
Earth Day 2018 may be more relevant than ever before. With climate change worsening and terrifying projections about the fate of our ocean becoming abundantly clearer each day, the saying "Earth Day is every day" should indeed be put into action. But how?
This week, we pose these questions:
What if you bought ethically-made clothing for one year?
What if you did away with fast-fashion for a full 365 days?
What if you took that "No-Buy Month" and extended it to the entire year, bookending it from Earth Day to Earth Day?
While it's difficult, it can be done. In fact, plus-size stylist Kat Eves did just that for her blog Style Ethic in 2013. During those 365 days, she only purchased a necklace and dress, and she still keeps both in her wardrobe rotation five years later. "You just feel better when you know that your clothing was made by people who are valued and safe at work. I'm a big believer that if we solve the problems that impact the workers, we'll get most of the sustainability issues solved in the process," Eves says.
If the No-Buy Year Challenge feels too daunting, you can make an impact simply by making informed choices about your clothing purchases. Sustainable fashion isn't just knowing about how your clothing is produced, it's also about sustainable patterns of consumption and use. If you really want to get macro about it, one should also consider their choices of style and the social and political impacts of appropriation. While many dismiss fashion as being a shallow pursuit, the global impact is huge.
When you make better choices for yourself, you make better choices for the world around you.
The next time you shop an independent brand, ask questions about production. Know what materials are in your clothing — and how those materials are produced, where the pieces are made, and who's making them. Be curious and informed. Smart, empathetic consumers create change.
This week, we want you to "think globally and act locally" by checking out these nine ethical and sustainable plus-size brands.
1. Altar Houseline (@altar_houseline)
Portland-based ALTAR is an ethically-made brand produced in-house by Amy Fox and Cassie Ridgway. Crossing a modern, dark aesthetic and streamlining it with a minimalist sensibility, Fox and Ridgway have recently crossed into producing plus-size clothing up to a 3x with larger custom-sizing available at no extra charge. 
2. Swankety Swank: Global Citizen Fashion (@swanketyswank)
Brand ambassador Saucye West models a vegan hemp silk look for San Francisco-based Swankety Swank, made by fellow plus-size babe Yabette Swank, who is also an artist and hemp expert. Her pieces show the beautiful modern applications of the sturdy sustainable fabrics that have moved so far beyond the burlap-like hippie pants of yesteryear. While hemp was once a staple in the U.S. garment industry, modern drug restrictions imposed on marijuana have been imposed on its industrial sister strain, too. Luckily, a recent agriculture bill in 2014 redefined the plant as an agricultural crop, which has helped open the door for farmers and sustainable garment producers.
3. Christian Ome'Shun (@christian_omeshun)
Ethically-produced and 100% customizable, Christian Omeshun is a woman- and BIPOC-owned business based in Atlanta, Georgia. Designer A'shontay Hubbard creates made-to-order pieces for all sizes and shapes with gorgeous, bold colors and silhouettes.
4. Generose (@generosemx)
"Belleza en Medida Generosa. Beauty of generous measure." Mexican indie brand Generose creates super feminine clothing with tons of beautiful frills. Designer Melina Alarconi creates a variety of pieces for sizes 14 to 32.
5. Mei Smith (@meismith)
NYC indie designer Mei Smith brings a gorgeous minimalism to the plus-size fashion world. Simple and chic, these pieces are timeless and perfect for building a closet full of well-constructed staples that aren't going to go out of style.
6. Diane Kennedy (@dianemkennedy)
Canadian designer Diane Kennedy creates beautiful organic pieces for both straight and plus-sizes. Kennedy's line is composed of soft, wearable pieces with an eye for playful, modern graphic prints paired with boho silhouettes — perfect for work or casual wear. The best part is that these pieces are great for all ages. 
7. Hackwith Design House/HDH Plus (@hackwithdesign)
Another brilliant minimalist brand, HDH Plus is the plus-size offspring of Hackwith Design House. Well-constructed pieces with a sophisticated palette, these plus-size staples are made with great care and attention to the simplest of lines. The result is effortlessly chic for many years to come.
8. SmartGlamour (@smartglamour)
SmartGlamour's affordable, ethically-made clothing is designed and created by owner Mallorie Dunn in New York. With a lower price-point than many other ethically-made designers, Dunn offers consumers affordable options for more conscious purchases. While that may not sound like anything groundbreaking, it is crucial in introducing plus-size customers to the world of ethical fashion.
9. Eileen Fisher (@eileenfisherny)
Minimalist designer Eileen Fisher is a common household name in widely available, sustainably made clothing. While the clothing is simple, a bit of creativity takes a quality wardrobe staple and makes creates something fresh and new. These pieces are the perfect foundation for gorgeous chunky jewelry and clean, modern makeup.
Alice Alexander (@alicealexanderco)
Size-inclusive ethical designer Mary Alice Duff of Alice Alexander makes gorgeous modern clothing for all occasions. Never shy of color, these beautiful pieces are available in a spectrum of bold hues and patterns with equally stunning silhouettes. Duff is a proponent of the slow-fashion revolution, bringing consumers into the production process and expanding their knowledge and options of ethical choices.
---
Related