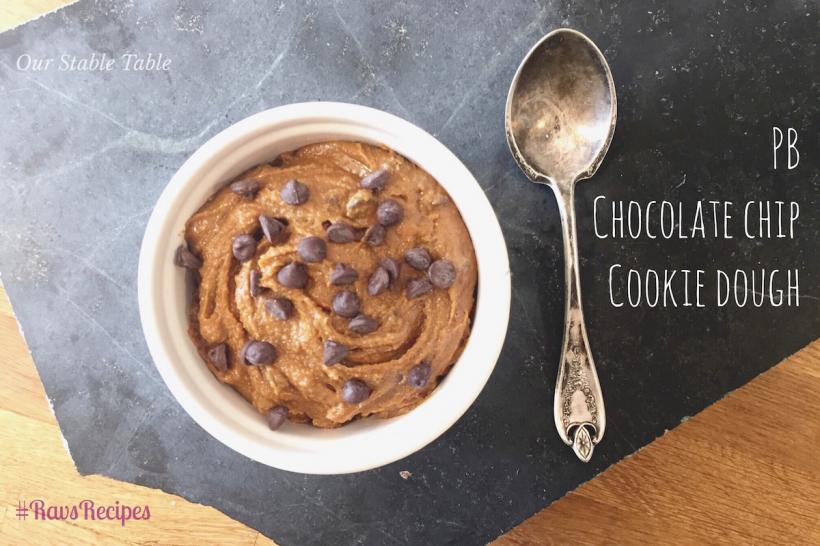 You're in for a treat with this egg-free cookie dough recipe!
It's that time of life when I want to eat all the things.
Maybe it's because I'm a milk making machine for a tiny baby who is intent on turning into a butterball turkey before October.
Maybe it's the smoke from the forest fires, or the stress of knowing loved ones are in harm's way with other natural disasters.
Maybe it's a lack of sleep because I haven't slept through the night in months due to my tiny milk monster.
Maybe it's the Kardashians.
Maybe it's HAARP. Just kidding. Let's not think about that.
Whatever it is, it's making me hungry. And snacky. I just want to put food in my mouth all the time and when I stop, it's only to make more food.
So, I'm trying really hard not to go broke or eat all the sugar things because my body doesn't like sugar, and having a baby is pretty freaking expensive, so going broke is also not a thing that I want to do. But I need to eat.
I find that eating protein-heavy foods go farther than carbs or sugary foods. I know. It's not a big shock. And also, don't think that I haven't eaten my fair share of cupcakes and sweet treats over the last few weeks, because I have. But I also know that I feel better when I stick to protein.
This single serve peanut butter egg-free cookie dough is my go-to.
I should clarify: This is single serve for me, but probably not for regular folk like yourself. The great thing is you can use basically any regular substitutions and this will still taste amazing. I literally eat this with a spoon, and because it's egg-free, I feel no shame. Okay, I don't feel any shame when I bust into a tub of regular cookie dough, either. I'm just trying to do my fair share to keep you from getting salmonella. Or something.
Ingredients:
1/4 cup creamy peanut butter
1/4 cup sugar or sweetener of choice
1/4 cup flour of choice
2 Tbsp butter (vegan butter would work great)
2 tsp molasses (optional, or use brown sugar instead of regular sugar)
1 tsp vanilla extract
Directions:
Combine dry ingredients. That's two things: flour and sugar. This is easy.
Next, add you peanut butter and roll it around in the flour and sugar mixture a bit. Make a little divet in the center, and then add your remaining ingredients. Mix this well. 
---
Related: