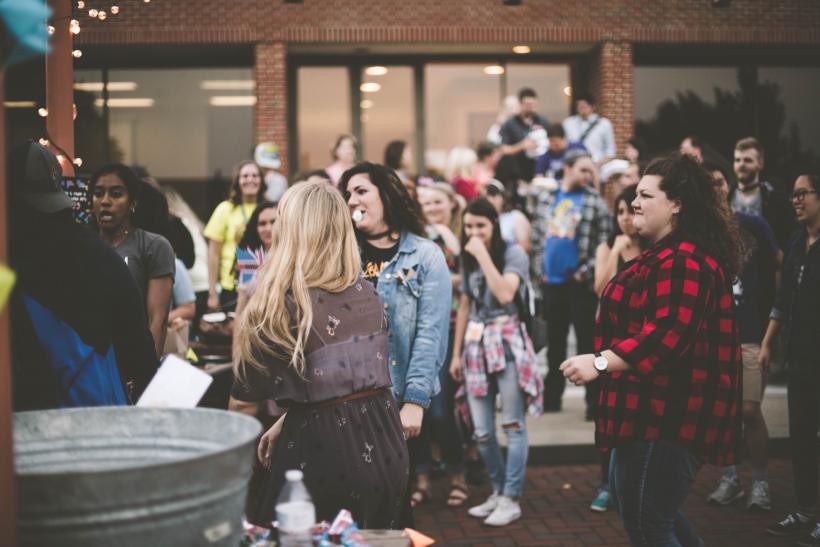 Photo by Gades Photography on Unsplash
Sometimes, it can feel challenging to engage in political action that truly makes a difference. We all have limits on the time and money we have available for activism and donations — and not to be too big a downer, but the problems our society faces can feel overwhelming. 
With all the urgent problems out there, it's hard even to know where to put your efforts. Climate change? Racial equity and social justice? Healthcare? 
Calling your representatives, writing postcards, protesting, and donating are all amazing steps — but another concrete way to amplify your efforts and turn a little time on your part into a substantial boost to an organization is to throw a grassroots, homegrown fundraiser. 
Right now, women's healthcare and abortion rights are threatened by the potential appointment of a new Supreme Court justice. Crucial midterm elections loom. The country is literally burning in wildfires linked to climate change. The Trump White House is in chaos, and a just society seems remote. 
Calling your representatives, writing postcards, protesting, and donating are all amazing steps — but another concrete way to amplify your efforts and turn a little time on your part into a substantial boost to an organization is to throw a grassroots, homegrown fundraiser. 
Wait, what? A fundraiser? I know. It sounded more than a little daunting to me, too, when I first thought about it. Sure, online options like GoFundMe and CrowdRise are simple, but IRL fundraisers are what rich ladies in Chanel suits and bouffants put together, right? 
I wasn't sure I could pull that off, but then I realized I didn't have to organize a big bash. A fundraiser could be as simple as inviting my friends over for a low-key afternoon and asking them to chip in money — in my case, to Planned Parenthood, which provides crucial and accessible health services, including abortions, to women as well as engages in necessary advocacy for all our rights.
I wasn't sure I could throw a successful fundraiser, but I did — and wore a caftan while doing it. 
The party plan was simple: A bunch of us got together in my basement (a backyard or a park or other public space would have worked just as well), drank sparkling water and rosé (sure, there's been a backlash, but nobody complained), and nibbled on cheese. 
To make things easier, I got my kids to help with setup and, of course, sneaked in a little lesson about the importance of accessible, affordable women's health care. Two friends who are massage therapists donated their time to give short chair massages — and kindly insisted on throwing tips into the pool. Another friend went to a discount beauty shop and contributed inexpensive sheet masks, which ended up functioning as an icebreaker and turned it all into a DIY spa day.
Well in advance of the event, I put out the word on social media. The invitation was clear that the event was a fundraiser, asking for a suggested donation but also specifying that any or no donation level was welcome. (I didn't want to turn anyone away; after all, there are plenty of ways to support an organization besides cash, and the party was a good way to learn about volunteer opportunities for those so inclined.)
On the day of, about 50 women — some friends, some acquaintances, a few I'd never met — showed up. An afternoon of low-key, even goofy lounging, complete with sheet masks, was a good fit for my social circle — mostly busy, stressed women with young kids, jobs, or both — but any kind of get-together you and your friends like can be adapted to fundraising.  ​
Of course, there are always charity rides or runs, but with the DIY version you can be sure that every penny you pull in is passed straight along to the organization, and you and your fundraising pals get the benefit of time together. A themed movie night, a big dodgeball game, a coffee-and-bagels brunch, a park picnic, or a big neighborhood yard sale can all raise hundreds of dollars. In the latter case, if you make it clear on signs that you're supporting a good cause, you may get some extra donations from like-minded shoppers. 
One key to success is to keep costs down. The less you spend on the event, the more you'll have to donate. Ask for donations from local coffee shops or restaurants. Many businesses have donation targets to hit over the course of the year, and you never know until you ask. I saved a bundle on the already-inexpensive wine I chose because a friend from a local restaurant offered to let me use her wholesale discount. You can also make any event a potluck — and don't forget to ask the organization you're benefiting to contribute swag. 
If a representative is willing to come to the event, they can also tap into a network of potential volunteers, further benefiting the organization. In my case, I met a Planned Parenthood outreach representative at a neighborhood meeting, took her card, and called her the next week. She came to the event with T-shirts, stickers, and donation envelopes. If I hadn't met her, though, it turns out my local branch has a dedicated link on its site for those interested in hosting a house party. 
Charitable organizations are perpetually cash-strapped, so few will likely turn away offers to help bring in a little cash. Don't be shy! Even smaller fundraisers can be a huge benefit to organizations operating on tight margins. With $500, for instance, WEAVE, a domestic violence organization in Sacramento, can fund a month of intensive therapy for a woman and child escaping abuse; with $250, the Eastern Massachusetts Abortion Fund can provide a two-day training for 10 activists. On a more global scale, raising $1000 for the U.N. Refugee Agency can provide 100 refugees with vital medicines.
Trust me — it feels amazing, especially in these difficult times, to know that a relatively modest effort in throwing a fundraiser can bring people together to help change lives and society.
In fact, I think it's time for me to plan another one. 
---
Related: