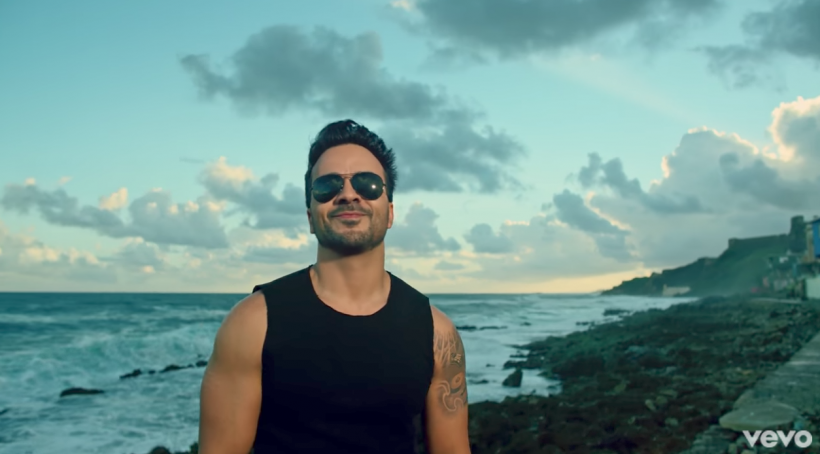 image credit: YouTube
*Because he's hot AF.
And in more cheerful news, Luis Fonsi tops the YouTube charts with the most viewed thing EVER. 
And by "more cheerful," I mean BRB I have some *AHEM* personal business to attend to. 
God bless Puerto Rico. Amen.
But what ELSE do people watch on YouTube? Here you go.
At 3,602,031,635 (that's BILLION) views (and counting), "Despacito" buries the second place competition, "See You Again" by Wiz Khalifa.
I mean this song is also pretty good, but Paul Walker had to literally die for it. 
I feel bad for Paul, but Luis Fonsi REALLY earned the number one spot by being incredibly hot.
Coming in third on the YouTube Top 5, at 2.9 BIL, is the Korean everyone has learned to to be annoyed by, Psy, and his catchy-to-the-point-of-wanting-to-puncture-your-own-ear-drums song, "Gangnum Style."
Is it a coincidence that this song and "Despacito" are both in a language that is NOT English?
My five-year-old learned Spanish singing along with Luis. 
I haven't told him what the lyrics mean. 
Quiero respirar tu cuello despacito
Deja que te diga cosas al oído
Para que te acuerdes si no estás conmigo2
Despacito
Quiero desnudarte a besos despacito
Firmo en las paredes de tu laberinto
Y hacer de tu cuerpo todo un manuscrito (sube, sube, sube)
(Sube, sube)1
Quiero ver bailar tu pelo
Quiero ser tu ritmo
Que le enseñes a mi boca
Tus lugares favoritos (favoritos, favoritos baby)
TRANSLATED EXACTLY (by Google) AS:
I want to breathe your neck slowly 
Let me tell you things in my ear 
For you remember if you're not with me 2
Despacito 
want to undress slowly kisses 
signed in the walls of your maze 
and make your body a whole manuscript (up, up, up) 
(Up, up) 
I want to see you dance your hair 
I want to be your rhythm 
That you show me to my mouth 
Your favorite places (favorites, baby favorites)
I'm not exactly sure what that's supposed to say, but it is definitely dirty. 
OMG. This song is practically porn and my child is singing it at school.
Did I mention that Luis Fonsi is dead sexy?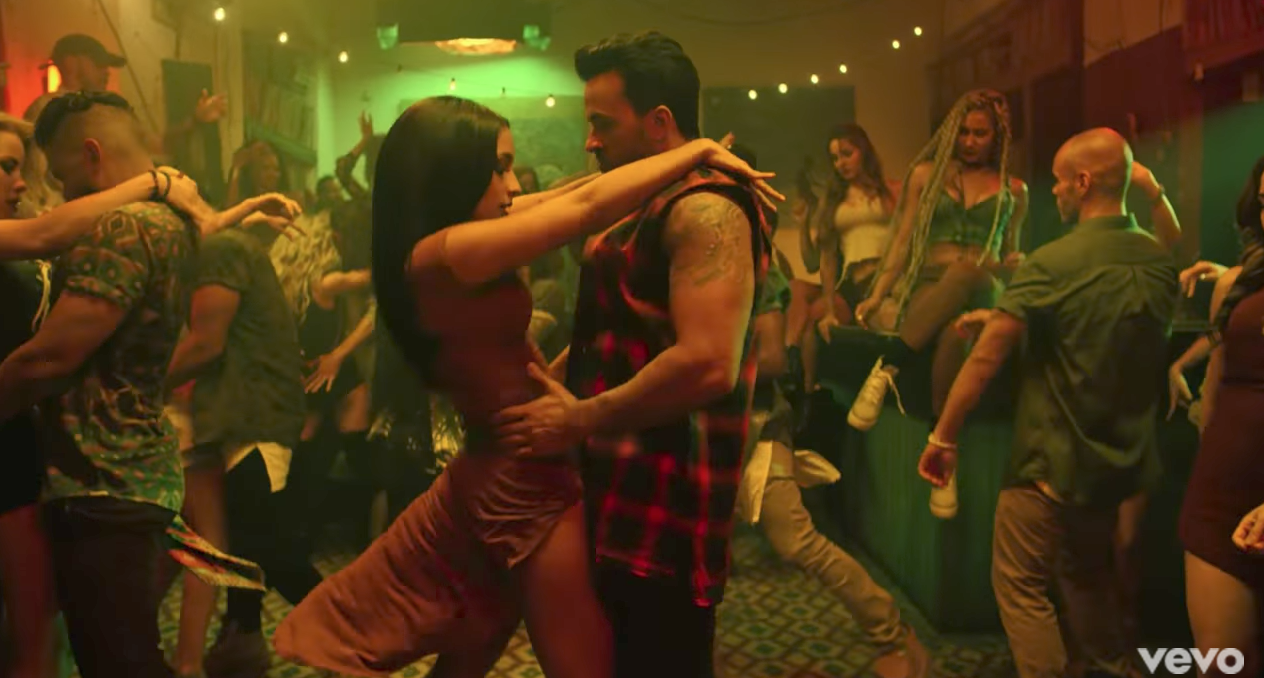 Who invented salsa dancing? THANK YOU. 
Coming in at number four is the Biebs, "Sorry."
I'm SORRY (see what I did there?). I already commiteed to sharing the top five before I saw that Justin was on the list. So you get The Biebs.
Speaking of Justin, did you see when he SLAUGHTERED "Despacito" by forgetting the lyrics and singing about Doritos?
AND speaking of Luis Fonsi, it's perfectly appropriate for 43-year-old women to have dirty dreams about men that are only four years younger than them.
(I know because I might have asked my therapist.)
Moving on.
Number five. Mark Ronson and my other favorite dude, Bruno Mars, are pulling in a smooth 2.6 BIL with their hit, "Uptown Funk."
Yeah that song is ok.
But Luis Fonsi is what wet dreams are made of. 
Just saying.
That escalated quickly.
Anyway. I'd be a fool not to include number six which isn't even a music video at all. 
Masha and The Bear: Recipe For Disaster is sucking in 2.4 BIL kids and I don't even know what they are saying.
The moral of the story? If you want to be number one on YouTube, all you have to do is have the voice of an angel, skin as smooth as a brown baby, and the biceps of a Greek god.
Up to 3,602,088,757 and it's only been a half-hour.