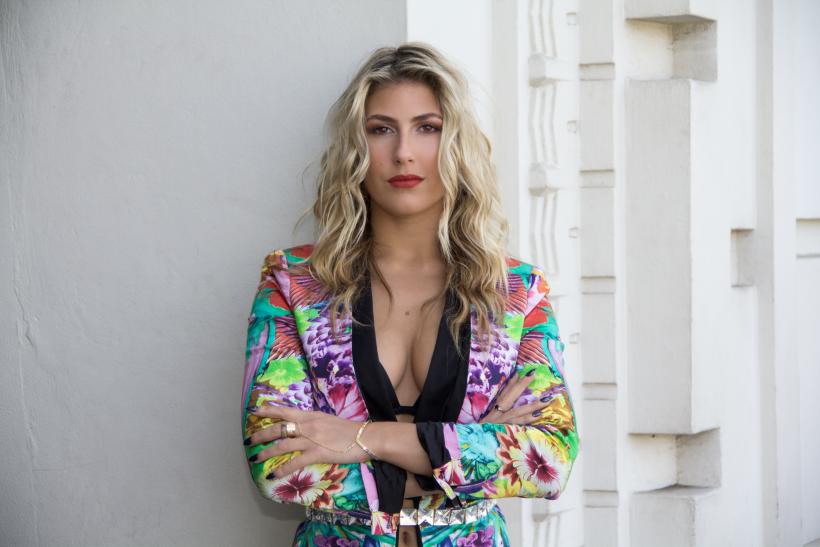 She's not one of the official stars on Dancing With The Stars, but Emma Slater has become a celebrity in her own right over the course of three seasons as a featured dancer on the mega-hit show. While best known for her glides, shimmies and shakes—and ability to successfully turn non-dancing celebrities into confident hoofers—Slater is more than a reality TV show sensation.
Her theater credentials include stints in Mamma Mia, Dirty Dancing and Cheek to Cheek, and she's choreographed for the likes of Usher at the 2012 Billboard Music Awards. We chatted with Slater for the inside scoop on Dancing With The Stars, the "life-changing" moment she nabbed her featured role—and what's next for her that doesn't have to do with dance.
Let's get into the behind the scenes of your time on Dancing With The Stars. For those not familiar with your background, you didn't start dancing yesterday. How and when did you first decide to dedicate your life to dancing?
When I was about nine, I was taken by a family friend to go and see a Latin dance demonstration. I remember watching and saying, This is amazing and exactly what I want to do with my life. But I wanted training, so I begged my mom and dad to sign me up for the next season with that particular dance school. I did, and it was just phenomenal. I loved it and was so happy doing it.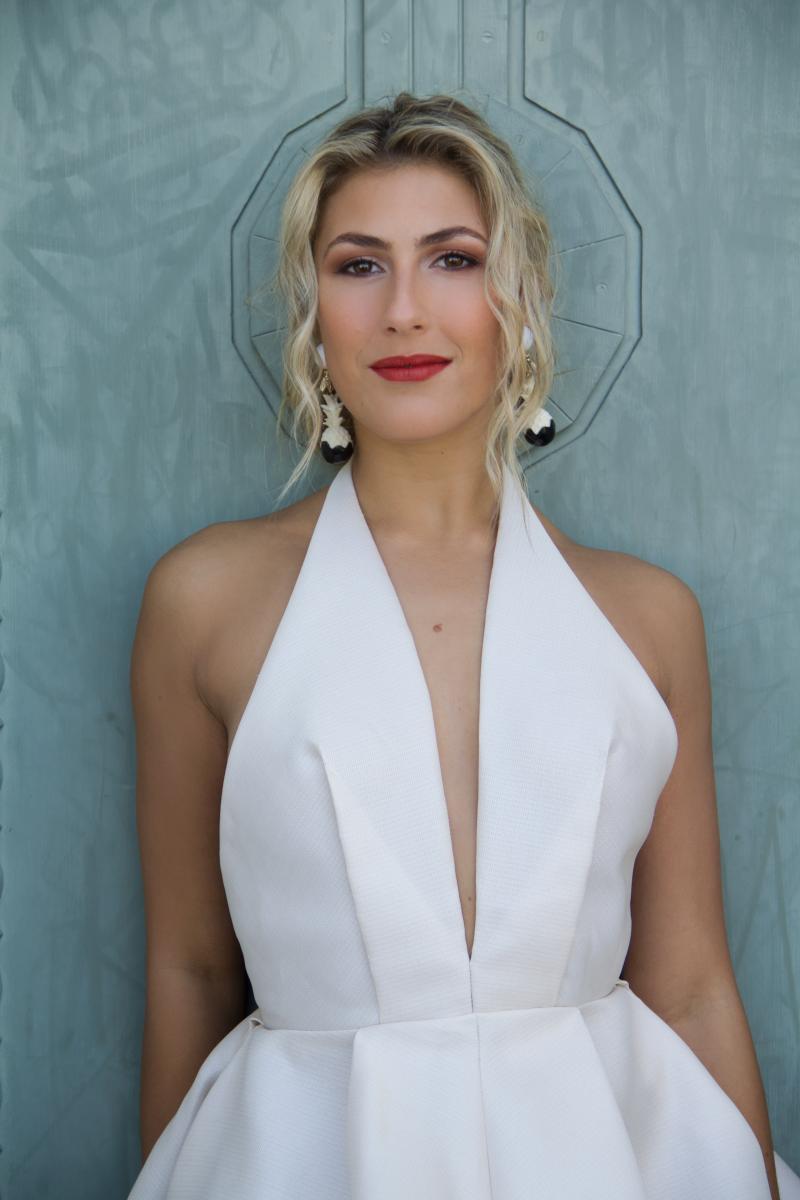 My mom and dad started taking me more often, and in that day there were a lot of girls and not too many boys who wanted to dance at that age. However, we found a male who wanted to dance, so we asked if he wanted to go around doing competitions locally, and he was really up for it. So that was what we did for the next couple of years. From there it became something that I enjoyed for my hobby, and then eventually as my career.
Tell us about Dancing With The Stars. What is it like being on the show . . . and getting eliminated?
It's tough after being eliminated. You are sort of emotionally connected to your partner; you are with them for months and really invested into your journey with them. It's a special period of time and it's not really as much about saying goodbye to the competition as it is about saying goodbye to your friend.
You've mentioned before that you started competing locally and nationally and then eventually you were traveling beyond your country, competing in places around the world. Did the dance scene have a friendly atmosphere, or was there any aspect of it being cutthroat?
We would look out for other English dancers in the international competition. If we didn't support each other, then that would be really catastrophic. You make friends everywhere you go, and there are certain couples you are close to. There may be a rivalry going on between couples, or you don't like someone, or someone is a particularly arrogant dancer. There is some arrogance and entitlement when people walk into a competition.
And I am sure you would learn who those people would likely be . . .
Yeah, you sort of stay away from them!
Your parents were heavyweights in the world of acting and singing. Working every season as you do on Dancing with the Stars with people who are relatively inexperienced in the world of dance, do you now look back on those experiences when you were first acting or singing, where you empathize with what they have to go through when they step into your world?
Yes, I understand that once they are stepping out of their comfort zone, they need somebody to support them. It is about so much more that being a dance teacher; it's about being a therapist and really understanding what the dancers are going through. For instance, this season I was paired with [race car driver and commentator] Michael Waltrip, and he wasn't into dancing and I was trying to get him to be comfortable with some of the avenues that we took. It was like me trying to race in a race car, which would probably be disastrous! The experience gave me a lot more patience. It's not like I expect performers to dance like they've been dancing for years and years and years. A lot of them in the competition have that, but none of my partners have had that. I like to try to make them comfortable.
How were you first brought onto the show?
I was actually dating Sasha Farber, who was a dancer on Dancing with the Stars as well. I went over to visit him and they called me in for an interview. They said, Will you just speak on camera, we just want to see what you personality is like. The five minutes I was on went by so quickly, I couldn't remember a thing that I had said! But then they called me a couple of months later when the next season started and asked me to participate, and it was amazing because I became one of the troupe dancers on the show alongside my boyfriend and some amazing people. Three seasons later I was dancing with my own partner. To me it was life changing; a turning point.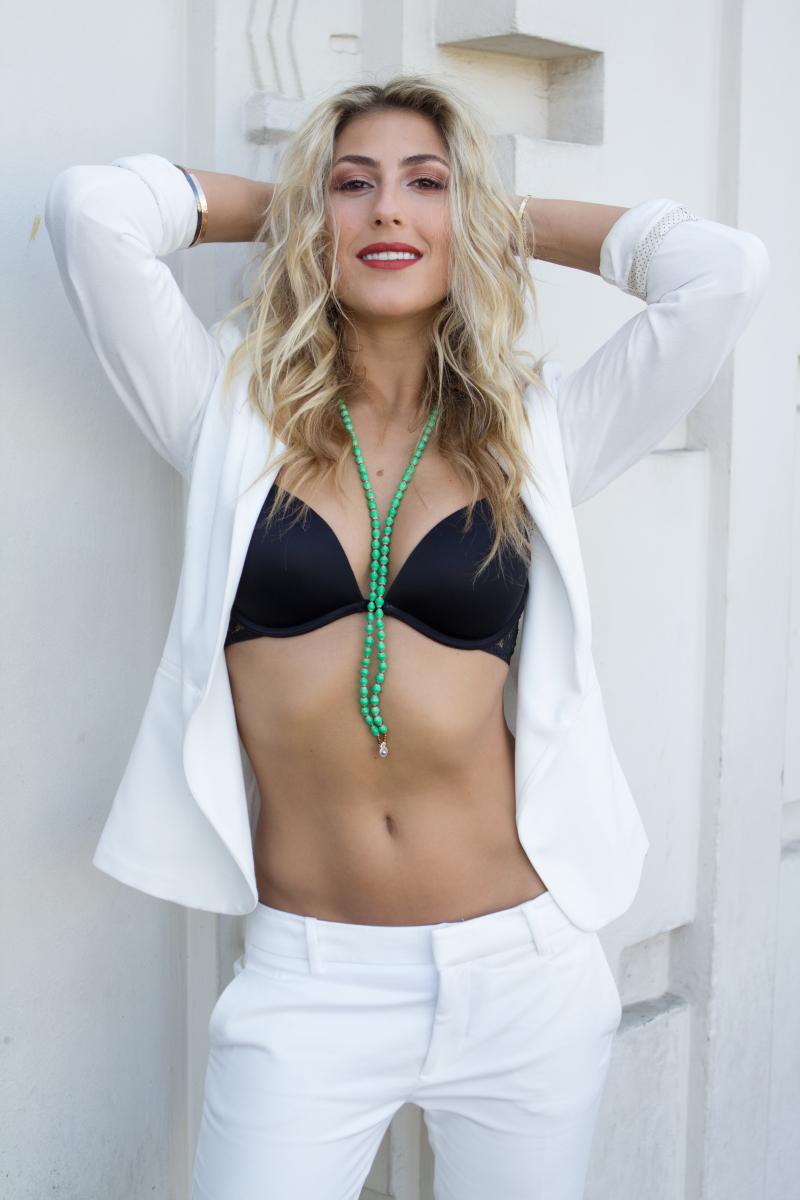 Yes, you stepped right into the spotlight! Was it an out of the blue thing where they said you have been doing such a great job these last three seasons that we now want you to be one of our featured dancers? Did you expect it?
There had always been talks about that happening, and the season before one of the troupe members did exactly the same thing. Dancing with the Stars likes to pick from the troupe when it comes to finding a new professional dancer for the show; they're into you proving yourself and showing you're doing a really good job.
So it is always in the back of your mind. When it did happen, though, and they called me and said we found a partner for you, that feeling was unbelievable. It is also a competitive feeling, because you want to keep pushing to make sure the audience is happy, the producers are happy and the celebrity partners are happy.
I have to ask you: How do you go out and celebrate or have fun? Do you go out dancing?
I am more about going out and socializing with my friends. I love a good dinner, and I really really enjoy getting together with a good group of people. There are some great salsa places in Hollywood that we tend to frequent. It doesn't mean you have to go out and dance the entire night, but we do, and that is why we love it so much. It doesn't get boring because when you go to these salsa places it's not choreographed and we don't have to read a script. When it's not scripted, you can do whatever you want to do.
You talked about how that evolution into becoming one of the featured dancers on Dancing with the Stars was the biggest life-changer so far. The show has just gotten bigger and bigger: How has that practically affected your life? I mean, do you get recognized everywhere you go, because in my eyes you are as big a celebrity as the other "celebrities" that you are dancing with. You guys are on equal ground now.
Everybody tunes in to see the journey of the celebrity, but it's a journey that was created together, so inevitably you are recognized. I think hearing people in airports stopping me and saying, "I loved you on the show, you were so sweet"—that means the world to me and you can't ever get used to it. I don't want to get used to it. I did find there was a jump this season in comparison to other seasons in terms of being recognized. I wasn't noticed as much before; I don't know, really, what happened, but it is enjoyable for me.
I have to believe that part of it is that people have come to understand the dedication and the work that you put in, especially when you come and say you have partnered with people who don't have any dancing experience. Is the fact that you've danced with non-dancers a sign of faith that you can handle that?
I am probably seen as the girl who brings out the best in her partners using positivity. I am not seen as a harsh character, though I'm very competitive. I like to be really supportive of my partners and give them the best sort of time that they can have on the show. The show is entertainment and I find it very important to get my partners to have as much fun as possible.
It seems like Dancing with the Stars has almost become like a brass ring in the dancing world; it is an ultimate goal for a dancer. Do you agree with that, and do you have any other goals or other things that you are looking to do, if not now, then definitely in the future?
Dancing with the Stars is one of the things that I wanted to achieve in life, and definitely for the moment I am very grateful to be here. I don't want that ship to sink. There are a few other things that I want to be a part of, like doing charity in some capacity in my life, and I want to start a family. But Dancing with the Stars is a big accomplishment in my life and I hope it stays that way.
Follow Emma on Instagram and Twitter @EmmaSlaterDance .