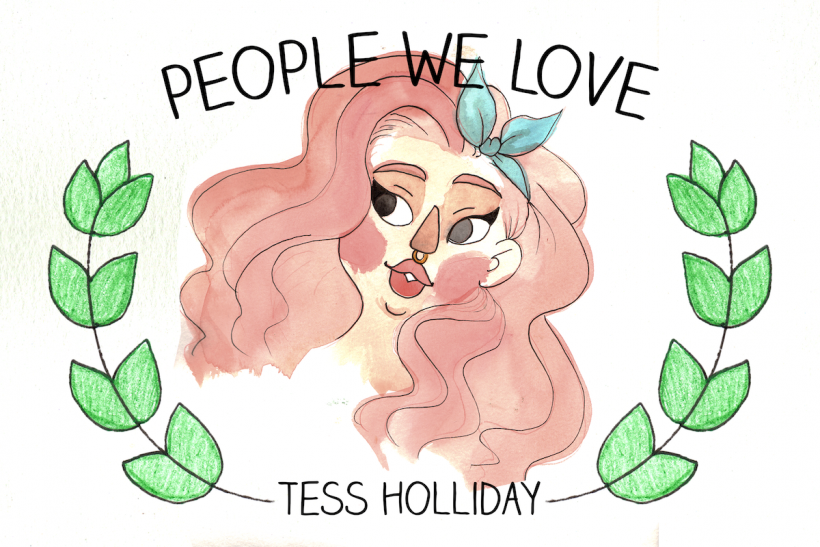 Tess Holliday is plus-size fashion royalty. From People to Vogue Italia to #effyourbeautystandards, Holliday has been expanding the industry standard of what it looks like to be a plus-size model.
Holliday has made a name for herself and pushed size expectations within the industry as a petite plus — shorter than the average model and significantly larger than the industry standard. In 2015, she broke the plus-size glass ceiling by being the first 22/24 to be signed to a major modeling agency. While the industry and media still have a very long way to go, Holliday has helped break down barriers and advocates for changes to be made.
Hailing from Laurel, Mississippi, Holliday has not always had a glamorous life. She has seen adversity in the forms of bullying, domestic violence, poverty, sexual assault, and fatphobia. At the age of ten, she became caregiver for her mother after a domestic dispute almost turned deadly, leaving her mother with a permanent disability. Tess Holliday helped her mother learn to walk and talk once more, all while being bullied by her peers. The bullying apexed in the form of death threats, which led her to drop out of school on the first day of eleventh grade and pursue her GED.
Throughout the hardships, Holliday has kept her head up and encourages others to do so. A wife, mother of two, and dedicated daughter and granddaughter, Holliday is a family-oriented woman who manages to juggle her very busy modeling, design, and writing career with important family needs and unique responsibilities. With these unique stories, Tess Holliday has woven a captivating memoir called The Not So Subtle Art of Being A Fat Girl: Loving The Skin You're In.
Ravishly had the opportunity to speak with Tess about parenting, feminism, body-positivity, and self-care. Read on to learn a little more about Tess — and check out her book!
Be it positive or negative, how do you think growing up in the rural south shaped your path toward body love?
I think growing up in the south there wasn't a lot of emphasis on loving yourself or loving your body. The idea of being confident in yourself is often mistaken for being vain or prideful, which is heavily frowned upon in the Bible Belt. On the other hand, larger bodies are more normal to see there — I mean, we cook most of our food in butter!
Which women in your life have influenced your body positive journey?
Although a lot of women paved the way for us, I'm definitely still influenced by my peers. Joy Nash's "Fat Rant" video was a revelation to me. Beth Ditto likewise is just utterly fearless and totally inspiring. Jes Baker & Sonya Renee Taylor are constantly teaching me new ways to love myself. There are also the women who adorn my right arm: Miss Piggy was my original fat femme icon; Mae West for owning her sexuality; Divine for her style and attitude; and of course Dolly because who isn't a fan of big boobs and big hair?!
How did you make the leap from model to designer and writer? How long did the book take you and what was your process like?
Honestly it all happened organically. I'm lucky that my platform has presented me with so many amazing opportunities and I'm always interested in finding ways to get my message of self-love and acceptance out to more people. We've wrapped up the fashion collaboration for now, but it's definitely inspired me to work on something bigger and better. I probably need a few more years before I would write another book, it was an intense process! We only had 8 months to write and edit, all with a newborn. I had to keep reminding myself that if it helps one person, it's worth it.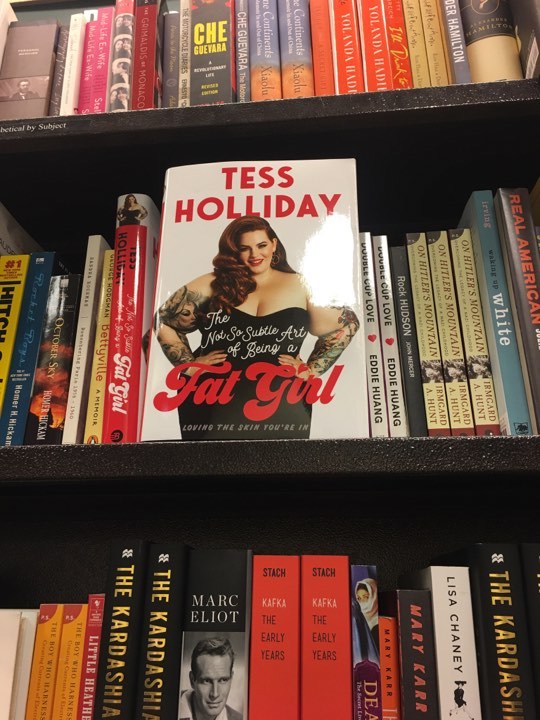 The fat community often draws pretty firm boundaries between "body positivity" and "fat liberation." How can we have more conversations about accessibility and not just beauty within the body positive community?
I think the main divide between the two groups is the notion that losing weight is somehow at odds with being body positive, which to me is ludicrous. It's your body and you can do whatever you like to it — so long as you're doing it for you. I mean, I have Dolly Parton tattooed on me, you know? I'm obviously cool with women altering their body as they see fit. To be honest, I would rather ignore that divide and talk about the lack of visibility for non-hourglass figures, for trans people, for people of colour, and for people who are gender non-conforming. Let's talk about that instead of arguing about the right way to be fat.
Do you experience fatphobia among other mothers? What do you do to raise feminist boys and teach them to love their bodies and accept others?
The fatphobia I get from other mothers is mostly casual and well intentioned. People have their own insecurities that are heightened when you feel like you're not in control of your body. I try to approach it with understanding, but I also have no time for women shaming other women, particularly mothers. Trying to raise feminist boys is a constant challenge, because you're trying to undo almost everything they are taught in the wider world. Primarily, we try to instill the notion in them that a high tide lifts all boats. If you help the people around you, particularly those that may not have the same agency that you do, then society benefits.
"I think the most important thing is that there is no wrong way to have a body. You are beautiful and important just how you are."
The plus-size industry is constantly changing and evolving and you've been a tremendous force within it. As time progresses, how do you work to remain relevant within the new guard of millennial models and influencers?
It's amazing how quickly the entire landscape of fashion, advertising, and social media itself has shifted. Previously, most of those fashion advertising dollars were being spent on print media — but a big chunk of that money is now finding its way directly into influencers hands. It's a much more direct way of marketing to a specific demographic, and I think it's fantastic.
The less money rich old white dudes are making from other's intellectual property, the better. Personally, I have a motto: If I wouldn't recommend a product or service to my best friend, I won't promote it to my followers. Is it hard to turn down enough money to not have to work for a month for posting teeth whitening or flat tummy tea? Yeah it is! But at the end of the day, I feel that all you have is your authenticity. I feel that sadly, this sets me and a select few apart.
What or who are you currently most excited about in the plus-size world? Who is creating art which you are excited about?
Lizzo is definitely someone who I'm super excited by. She's so talented and has a such a fun and unique voice. Ashley Nell Tipton is so young to be where she is in the industry and I know we're going to continue to see amazing things from her. Obviously, Beth Ditto also continues to be a leading light in so many ways.
What would you tell a young plus-size person struggling with feelings of self-worth and general body issues? What gave you the strength to push forward?
I don't think there is one definitive way to overcome those feelings, it's just a thousand little baby steps you take moment by moment, day by day. There are little pieces of advice on some of those steps scattered in my book — but I think the most important thing is that there is no wrong way to have a body. You are beautiful and important just how you are.
Beyond one's beauty regimen, what do you do for self-care? How do you keep happy, safe, and mentally-healthy amid the chaos, doubt, and obstacles?
I'm a big fan of a relaxing bath. Get a delicious smelling candle, a bath bomb, and either Netflix or some music. It's a nice moment away from the family & away from social media. I also love having a night with my girls — lots of food, lots of drinks, lots of laughs.
What kind of exciting things have you got coming down the pipeline? Any hints of what's next to come?
We have a few exciting things in the works. We want to find ways to take my message to a more mainstream platform, and to connect with people on a more personal level through speaking engagements. You will just have to wait and see!
Purchase The Not So Subtle Art of Being A Fat Girl: Loving The Skin You're In and follow Tess Holliday on Instagram for body-positive fashion and stories.
---
Related: