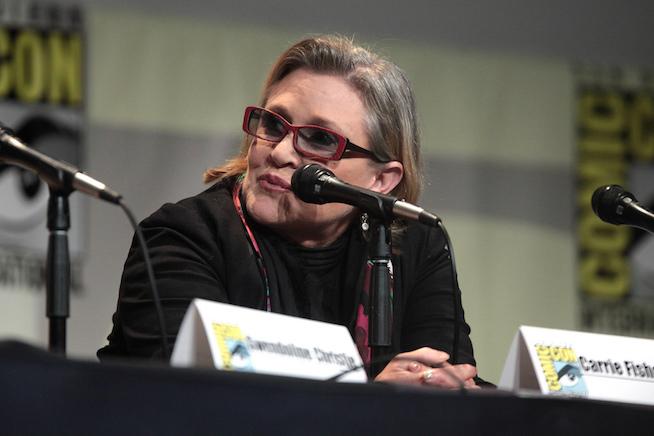 Carrie Fisher, actress, author, Princess, General, and owner of one of the most awesome dogs ever to grace the timelines of Twitter, will be honored by a student group at Harvard this week.
While most of us would be delighted to hand Carrie Fisher awards for every interview she did while promoting the most recent Star Wars movie last year — as well as for her books, her one-woman show, and that amazing scene in The Blues Brothers where she fired a machine gun at John Belushi in a sewer — the Harvard Community of Humanists, Atheists and Agnostics is choosing to present her with their 10th Annual Lifetime Achievement Award in Cultural Humanism in recognition of her work on mental health issues.
Fisher has been upfront about her personal experiences living with addiction and bipolar disorder. She's chronicled her story in both fiction and non-fiction in such books as Postcards from the Edge and her memoirs Wishful Drinking and Shockaholic.
Fisher considers herself an "enthusiastic agnostic."
Previous honorees for this award have included former Representative Barney Frank, comedian and humanitarian Eddie Izzard, and author Salman Rushdie.
There is no word yet if Fisher is bringing her dog Gary to the event. (We sure hope so.)