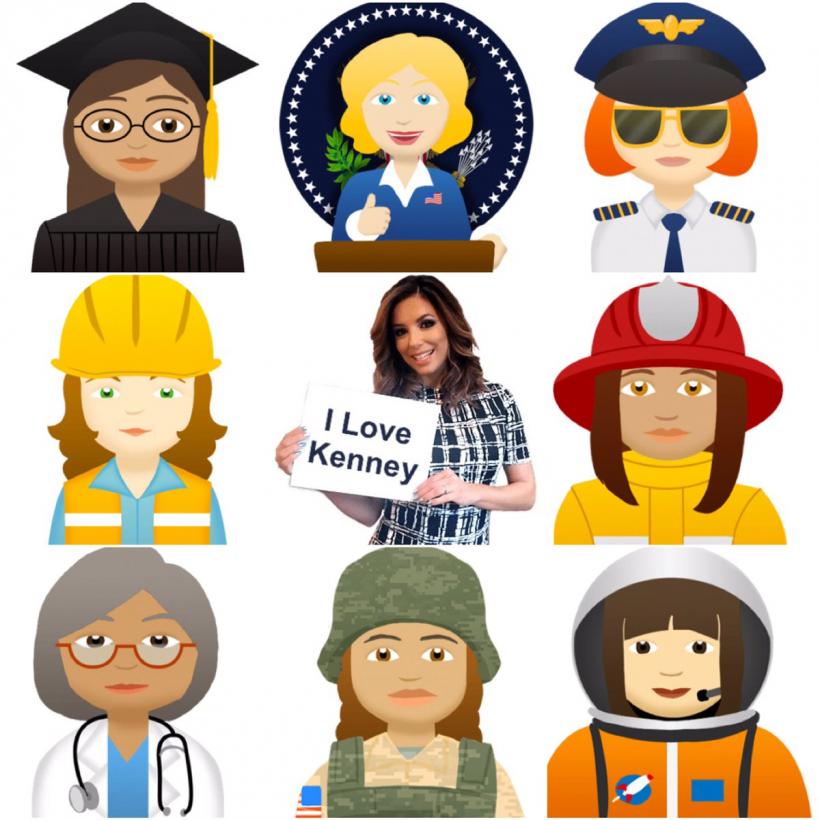 Image via Eva Longoria's Twitter: @EvaLongoria
Grab your iPhones and launch the app store! There's a new emoji keyboard out there, and you are going to want to grab it!
Actress, proud Mexican-American, and all-around awesome human Eva Longoria has launched Evamoji. Released on Women's Equality Day, Longoria says, "I'm launching an emoji keyboard full of stickers I've never been able to find! I created them for us to use!"
I snapped up the emoji keyboard (available for 99 cents) and YOU GUYS!!!!! The very first one is an image of a blonde woman standing in front of a podium with the Presidential seal behind her — a Hill-moji!
The collection also includes images of Justice Sonia Sotomayor and Frida Kahlo. Non-celeb-moji include woman artists, doctors, pilots, construction workers, and clergy. To top it all off, images include women of all different ages and skin tones!
But the keyboard doesn't stop there; Eva Longoria has wisely included images of margaritas, chips and guacamole, and a taco truck. If her emoji priorities are any indication, EVA LONGORIA IS JUST LIKE ALL OF US. WE ALL WANT TACOS OMG I NEED TO CHILL.
There are also sound clips of Eva saying things like, "Stupid autocorrect" and ,"You got this!" Finally, there are GIFs of Eva doing things like hugging a giant wine bottle. Perfection.
For now, it looks like this bundle of awesomeness is only available for iPhone. No word on whether she'll be adding new images or expanding to other operating systems. Fingers crossed!