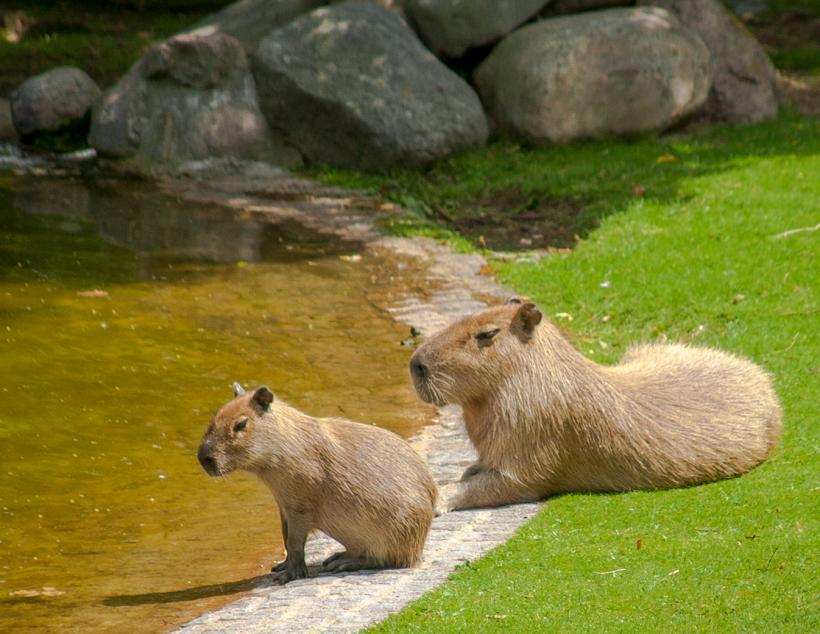 "Capybaras are the world's largest rodents and they look sort of like jumbo-sized guinea pigs."
Normally, when I think of invasive species, I get a pretty grim picture in my mind. For example, I picture the horrifying snakehead fish that are slowly taking over the Potomac river. Those things look like a cross between an eel and the featured creature in a Syfy movie-of-the-week.
The wilds of Florida are no stranger to terrifying invasive species either — 16 foot Burmese pythons, anyone? — but their latest case of exotic pets gone feral is less horror-movie and more "ZOMG I WANT TO SNUGGLE THEM!"
Because, gentle readers, Florida is suddenly seeing a wild population of capybaras.
Capybaras* are the world's largest rodents and they look sort of like jumbo-sized guinea pigs. They hail from South America and they are semi-aquatic. In recent years, they have become popular as pets, because HELLO! Giant, swimming guinea pigs? Yes, please!
Unfortunately, some pet capybaras have gotten loose in Florida and are now breeding in the northern part of the state. Scientists know of about 50 of them snuffling around in the wild, swimming and being adorable, presumably.
The scientists would like to study them further and, at a recent gathering, begged people not to kill them so that we might learn from the capybaras.
Also, killing cute things is bad and wrong.
It's possible capybaras will thrive in the tropical environs of Florida; however, we cannot discount the damage any new species can do to existing ecosystems. Florida is a complex area, biologically, and the place has been thrown off by the plants and animals introduced over the course of US history.
So, while Florida might be good for capybaras, capybaras might not be good for Florida.
*Please do not confuse capybaras with chupacabras. Chupacabras are creepy lizard-beasts that kill livestock. They are not even a little snuggly. Also, they are fictional. 
Image: Baby Capybara And Mom by Paul VanDerWerf (CC by 2.0)