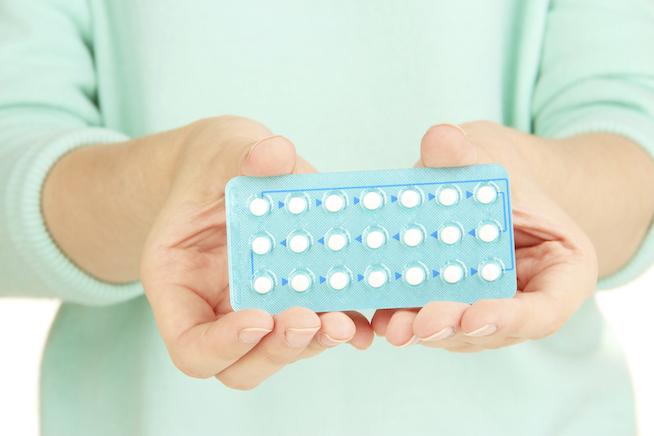 Some religious owners of businesses feel that the exemption forms present a substantial burden on their ability to NOT pay for birth control.
The long battle to pick apart the Affordable Care Act continues today in the Supreme Court, with yet another case about the portion of the law that mandates all insurance policies must cover contraception without an additional copay.*
In case you haven't followed the exhausting minutia of this saga, let me use some easy bullet points to catch you up:
Way back in 2010, the Affordable Care Act passed and with is a rule that birth control must be covered under all insurance policies, with no additional out of pocket costs to the insured.
Businesses over a certain size must make group policies available to eligible employees.
Very religious people who own such businesses said, "Hey! My religion doesn't approve of some birth control! I don't want to contribute to insurance policies that pay for those methods!"
The Supreme Court said, "OK. You don't have to."
The Obama administration created a work-around where business owners fill out a two-page form telling the government they're asking for an exemption from birth control coverage. Employees then become eligible to directly purchase riders to their policies that cover birth control.
Now we have a case called Zubick v Burwell, where religious people who employ other people are objecting to filling out a form to get them birth control exemption.
Yes, You read that right. The issue at hand is a two page form and the implications of filling it out. The logic behind the case is that under the Religious Freedom Restoration Act of 1993, the government may not "substantially burden" religious practice. Evidently, some religious owners of businesses feel that the exemption forms present a substantial burden on their ability to not pay for birth control.
If they think a two-page form is a substantial burden, they should never try signing a kid up for summer camp. The sheaf of forms required for a kid to be allowed to run around outdoors playing soccer would give them the vapors.
The ruling on this case will have implications on how the practice of religion co-exists with the greater needs of society. Does the right of the individual to practice their faith give them the right to refuse to obey laws at will?
That question is up to the Supreme Court.
*Do not confuse this with "free" birth control. This is birth control covered by insurance without the policy holder having to pay an extra $10 or $20 at the pharmacy counter when they pick it up. The cost is covered entirely by the premiums paid by the insured and/or by their employer. Free birth control would be if the birth control factory handed out birth control and nobody — no insurance companies, not prescription holders, not doctors, not anybody — paid any money to receive it.