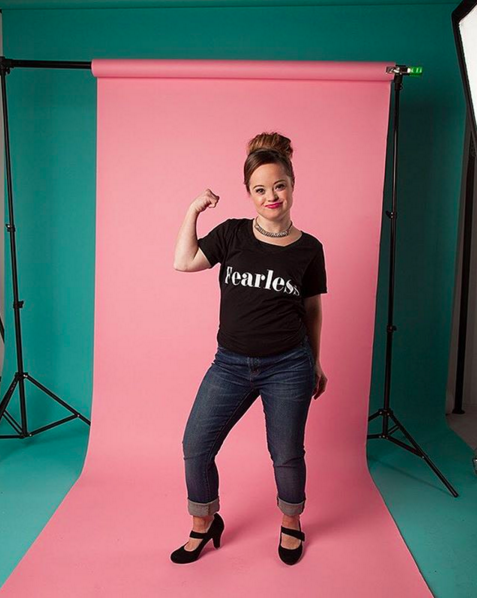 Image Credit: Beauty & Pin-up/Instagram
Kathryn Meade is what we might call a badass. Athlete, non-profit global ambassador, public speaker, and now, the new face of Beauty & Pin-up "Fearless" hair care products.
Also? Katie has Down Syndrome. She's the first person with Down Syndrome to be the spokesmodel for a beauty product. She appears on the packaging for the new line of hair care products and in some truly glam photos in their advertising and social media.
Kenny Kahn, the CEO of Beauty & Pin-up, met Meade through her work as a global ambassador for Best Buddies, an organization that provides programs and support for people with disabilities. In an interview with People, Kahn said, "The Beauty & Pin-Ups brand is a celebration of the empowerment of a woman and what it took to be a pin-up in 1935, and carrying that message in a modern sense. So as we were launching this product, in our mind it could have been the next traditional pin-up — but as soon as we came up with the name 'Fearless,' it was really easy, we were like, 'Well Katie's fearless.'"
Meade, who is also a Special Olympian, credits her sisters with helping her with beauty and style tips. She told People, "Makeup makes me feel good about myself. Every day is a great day to feel good about yourself. Feeling good makes you look good — that's my motto."
Rock on, Katie. You're Fearless and we love it!