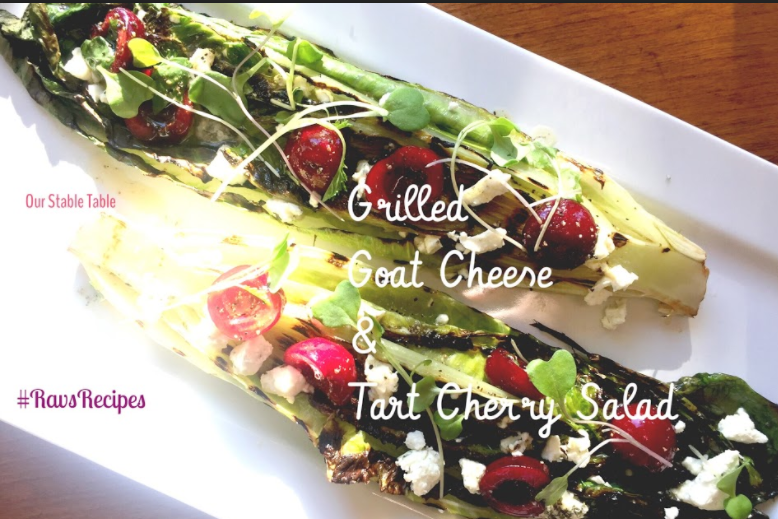 Serve salad with a steak knife and a side of culinary pride. Happy summer!
I make no apologies for my love of summer produce and penchant for grilling. I'm lucky enough to live in the PNW, and we have an abundance of gorgeous seasonal fruits and veggies, much of which grow with minimal effort. Plus, theyr'e easy to find.
When an opportunity presents itself to throw together a yummy grilled salad using the season's finest, I jump at it. I typically use whatever I have in my fridge and pantry and get creative.
This week's creative summer grilling adventure resulted in a flavor burst of seasonal cherries, creamy herbed goat cheese, a simple dressing, and of course, slightly charred romaine.
If you don't grill (and I know many of you don't) no worries! You can use a grill pan for the stove top that will do the job just fine. Check out my quick tutorial below to see what a grill pan looks like, and how to assemble this salad of greatness!
Ingredients:
1 heart of romaine lettuce, halved lengthwise
5 cherries, pitted and halved
Herbed goat cheese, crumbled
Light-bodied fruity vinegar (I love the orange champagne one from Trader Joe's.)
Good quality olive oil
salt
Pepper
Ground coriander
Microgreens (optional)
Directions:
Lightly brush or mist romaine halves with olive oil. Place flat side down on a hot grill or grill pan.
While the lettuce is grilling (and trust me, once you have grilled romaine you will want it all the time), assemble your vinaigrette. This is so easy that you could do this in your sleep. Combine 2 tablespoons of olive oil, 2 tablespoons of vinegar, and use salt, pepper, and coriander to tastes. Throw the cherries in there when you're done and let them infuse the vinaigrette while you wait for your lettuce to be just perfectly charred and wilted.
When lettuce is ready, place flat side up and top with goat cheese crumbles, vinaigrette and cherries. If you'd like to use microgreens, now is the time to garnish with them. Serve salad with a steak knife and a side of culinary pride. Happy summer!