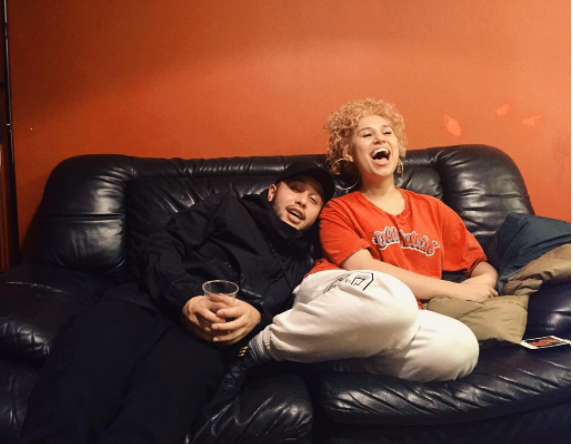 Here are just a few ways we're striving for something approaching enjoyment during the hot, humid, bug-y months of late June, July, and August. (Image Credit: Instagram/jaxjones)
Do you think summer is the suckiest of the seasons? Welcome. Unofficial surveys here at Ravishly indicate roughly 100 percent of staff agree that summer is their least fave of all the seasons.
More solidarity: reverse Seasonal Affective Disorder is actually a thing, and so.
Here are just a few ways we're striving for something approaching enjoyment during the hot, humid, bug-y months of late June, July, and August:
Entertain Yourself
There are usually loads of free events happening during the summer months. One of my favorites, courtesy of my hometown of Denver, is the Cherry Creek Arts Festival, where the creative genius of the Mile High city's best and brightest comes out on the street for all to see and enjoy.
You don't have to be in Colorado — obviously. And also: you can (and should) escape the summer heat suffering, and get thyself to an indoor art museum or gallery. Air conditioning + art = WIN.
Concerts. There are loads. Most places cool off at night, so you can actually do an outdoor show. But if you're somewhere that's just not gonna happen (Houston, you know who you are), then hit up one of those divey dumps you loved in college, and support a local band or ten. Yeah, I'm all for the small music festivals that most cities, and even large towns, put on.
Local: it's not just for food, friends.
Others: Farmers Markets, Kite Festivals, Bake-offs.
Impress & Preoccupy Your Child(ren)
There are so many possibilities, most of which you already know and/or have done already. Museums. Zoos. Libraries. I love all of them.
But what I don't love? Hot, long, sticky drives. There are days so miserably hot that loading the kiddos up in the car, hauling all y'all's selves 20 – 60 minutes through traffic and highways, slogging through a jam-packed space of hundreds (thousands?) of toddlers and tweens, prone to screams and territorial behavior in the foam construction zone (share those building blocks? NEVER)… There's nothing fun about any of that.
Additionally, there will be sticky snacks spilled in the car.
A few things I am all about:
The neighborhood pool. It's close, and kids love swimming. Swimming wears out little bodies, so bonus for you – early bedtime.
Neighborhood nature walks/city scavenger hunts. Keepin' it close to home, there's a whole world of fascination outside every door. If you're in the country or suburbs, look for insects and different foliage. Ants are interesting. Bring a book and categorize. You know your kids, and you know some of them live for that kind of thing.
If you're in the city, love that all day long. You've got bistros, cafes, and history. Grab a library book on the architectural history of where you're at, and thrill (possibly bore) your kiddos with all the drama moving through time that allowed the lot of you to stand on this exact corner of concrete.
Some Mood Music
I'm listening to Sia with Sean Paul right now, and I know "Cheap Thrills" is an oldie, but man is it perfect for summer. Also, I just spent three years living in Miami, so understand that party music has made the full transition out of Saturday night and into weekday waking hours in this household.
And it makes sense in summer. Up with it, girl.
Tom Petty is perfect too, 'cuz he's got the lazy hazy thing kinda happening on some of his jams, but there's a tinge of bittersweetness to so many of his songs. And that's summer summed up in one music nugget.
I'm consulting Marie Claire's "30 Best Summer Songs To Download," and will vouch for HAIM's "Want You Back," Drake's "Passionfruit," The Weeknd's "I Feel It Coming," and Kygo with Selena Gomez on "It Ain't Me."
I don't really know any of the other songs, because I'm out of the music scene. (Case in point: According to iTunes, I made 13 purchases over the past six months. Compare that to 70 in 2011, back when I lived in Austin, which pretty much explains itself.)
Our esteemed EIC Joni Edelman has enthusiastically endorsed Despacito by Luis Fonsi. I do not think you will disagree with her. Additionally: Bruno Mars' "24K," "Chunky," and "Perm." Basically, Bruno Mars. Yep.
Nicole Gyan recommends Jax Jones' "You Don't Know Me," and I AGREE. Check out the video, too. If that lip syncing child doesn't make you want to throw your arms open and embrace summer, then I don't think I can help you…
Anyway, just put some music on if you're feeling the SAD sneaking up, because I promise: that tiny change brings a huge impact. It's actually a little freaky.
To Bake
Everything from Our Stable Table, AKA Carrie Saum, found on #RavsRecipes, and here's the thing. When you and your kids are devouring those delicious no-bake cookie dough balls, and you want to handwrite a personal thank you note for the referral, just know: you're already so welcome.
To Binge Watch
When all else fails, there's always Netflix and Hulu. I've been really into their standup comedians lately, though some of the best of those are over on HBO. T.J. Miller's latest special is fantastic, but I'm probably biased, because a: I LOVE Silicon Valley, and b) Miller's a fellow native of Denver.
My latest favorite binge on Netflix is Hip Hop Evolution. The story of the genre's journey from The Bronx to Los Angeles involves a few big names, but plenty of unknown innovators who are finally getting their rightful due. Come for the history, stay for the excellent cinematographic styling.
Insecure's second season starts July 23, which is 24 days from now, but I'm not counting down or anything…
If you haven't seen it yet, Jen Kirkman's standup special Just Keep Livin'? is hilarious.  
But we're supposed to be focused on bingeing here, so I'll say it again: Younger is the easiest, least intense bang for viewing buck out there. It's Sex and the City for sure — fashion, flings, ludicrous living abodes, and low-stakes drama.
I'd say Anne With an E, because I always welcome the chance to re-live my childhood dream of being as spunky, whip-smart, and outspoken as Anne of Green Gables, but at least one reviewer's impression of the series is frightful enough that I'll have to take a hard pass. Watch at your own risk of ruining all those Avonlea golden memories.
And from just about all of us here at Ravishly, and 90 percent of the American population, we're rock solid with hanging out all day with Chip and Joanna Gaines on Fixer Upper. The show is magic, not least for making Waco appear a charming idyll. (It's not, and I speak from experience, but I also digress.)