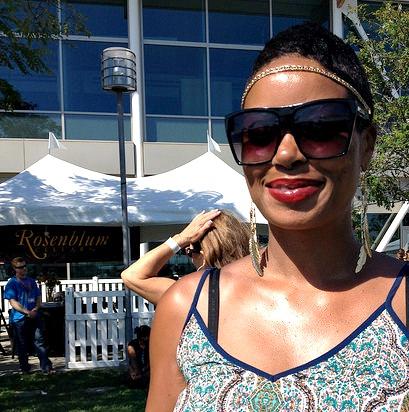 Spotted: Sipping wine at Urban Wine Xperience
Occupation: Living life to the fullest
Where did you get your headband?
Nordstrom. Girl, I love Nordstrom. It's my place. It's a good spot, it has all the good deals. People don't know that—they think that it's pricey, but it's not—you get good deals.
Where else do you shop?
I shop consignment too. Most people say, "vintage," but it's really consignment. Pre-owned. 
What about your earrings?
These came from H&M. I'm 35—H&M, what the hell.
Tell me about your ring!
I just got this at the Fillmore Jazz Festival! It was like, three weeks ago in the Fillmore in San Francisco. They had the best vendors! This is my bohemian chic look right here.
What about your bangles?
Alex and Ani! Do you know about Alex and Ani? Okay, so they supposedly give off energy and each one means something. It's almost like Pandora, so that's my shit right now—I'm collecting Alex and Ani. My peers don't know, but it comes natural to me because I have an 18-year-old daughter!
Wow! Is she out here?
Yeah, she's out here but she's not in here. She better not be in here! She just graduated and is working at the Coliseum. I'm like YES! Once a young person starts working, she won't do some of that wrong shit. She's on the road to success.
Where did you get your jumper?
I got this from Nordstrom Rack. I swear to you, I go to Nordstrom and Nordstrom Rack all across California. That's my shit. It's not about getting what's trendy. It's all about you wearing it. It's about you.
Tell me about your bag and your shoes.
This bag is from Steve Madden from Macy's. It's like an everyday bag. You know your bag should never match. Oh please make sure your bag never matches. It is a pet peeve of mine. My sandals are Kenneth Cole, the navy blue is matching the navy here. I'm going to be totally honest with you, when it comes to matching everything to a "T" that's more my black culture, they do that. I'm not mad at it, I love it. But other diverse cultures have told me, "no." 
What about your lipstick? It's so bright!
My lipstick? Oh, I've been loving red. I looked at my 8th grade graduation picture and I had on red lipstick. It's like, "Come on, come on now, what's up with that?" So I've been stuck with it forever, but now I add the gloss.
It's Mac. Normally I get my good stuff from Walgreens. Give me a Revlon, a Maybelline, it's better than Mac. It's so much better. [oh, controversial!] Mhm, it's just people, you know, they go with the trends, so they go with the Mac, but no. Maybelline, Revlon, it stays on even better. That's my stuff.
What makes you keep your hair short?
It's different. A long time ago, like 12 years ago, I wore my hair short and then the weaves came out and I wore all the weaves and then the hair got expensive because of supply and demand and everybody wanting a weave. I was like, "fuck that. Let me go back to really who I am." I swear to you, when I took the weave out I was like, "I'm back." It felt so much better. Cause you know, it's not like anybody else. It's hard to maintain sometimes because I'm a woman on the go, and I can't wet it, I can't do a lot of things, but it's for me. It's a conversation starter, too.
It looks great on you, you're rocking the unique!
Thank you girl, you have good eyesight like, you can see a good vision. If you're a people person you can feel someone's vibes from afar, like "that person seems like they're hella cool and we're going click." Even if we never see each other again, I feel like that was a very good vibe, and I love to mingle and I know you do too because if we don't mingle how do we learn all the shit that we need to know? We'll be stuck in this box. I don't ever want to be stuck in that box. It's is a good place to be—out of the box.
Yeah! Live like that box doesn't exist!
Right, we only live once, and—for example—I'm black, you're white, we already know all about that. We need to learn about others, there are so many different cultures and to learn about different viewpoints is so wonderful!
We're at a wine tasting event! What are you drinking?
I like that mead. That was my first time having that, I had never heard of it before! Now I'm up on that. But I'm a red person, though I used to be white. I went to Italy and I turned into a red person. When I went there they were like, "try red!" It's very much an acquired taste, but gradually enter that world and when you like it, it's all good.
Where are you from?
I'm from here, right here, North Oakland—getting that good vibe of Berkeley and Oakland. You get the best of both worlds here. My whole life has been so diverse. Even though in East Oakland it was like, "that's where the real deal is at so it's like, 'Okay, I could be a gangster.'" And then when you go back to North Oakland I'm about to be cool and hang out with my people on Shattuck or Telegraph. It's good to be very diverse and balanced. You can hang out with whoever wherever.
I like your notion of "balance."
Well that's what balance is, you know—able to be more than one way.
So you've been to Italy? Where else?
I have been to Italy, Rome and Florence, then I went to London. In the states, I've been everywhere.
Where is your favorite place?
I really love London, because London is a trip. There are so many different races there. Whether a couple or friends, no one was the same race. And everybody dressed so differently from each other. There are no trends out there, it's about being you. And I never slept. There was money to be made and people were partying. And you don't need a car, it's all about the underground. If I did not live here, it would be London. In the States I like Chicago. You ever been to Chicago? [Yeah, I'm from Michigan! I have lots of friends there!]. Oh yeah, it's hella cool. When I went there I hung out on the north side. The weather is not cool. Hells no. You can never beat this weather.