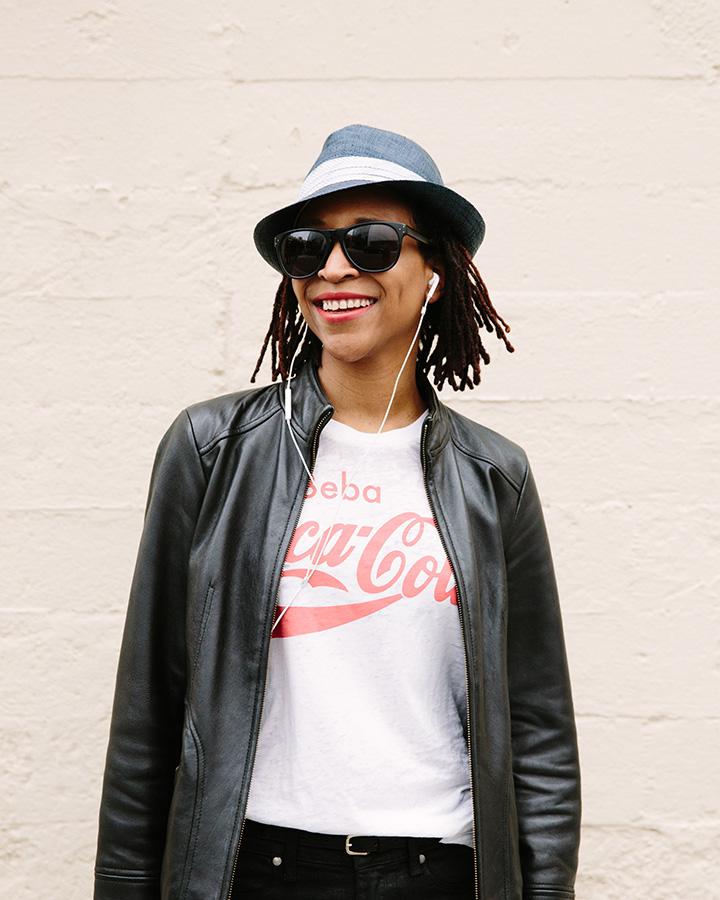 Spotted: Downtown SF
What are you up to today?
I decided I wanted a pink lipstick, so I was going to go look for pink lipstick. I mean, really I'm just chillin' — I did some reading this morning.

Were you successful in finding your pink lipstick?
No, I'm on my way right now.

Oh, you just headed out! So what spurred the pink lipstick choice?
I usually do a nude lip or a red lip, but I just said, you know what? I'm 45, I've never done pink, so I was like, I'm gonna do pink! It's spring!

You said you were doing some reading this morning — anything interesting?
Yeah, I'm reading The Sound of Things Falling. It's a novel. It's written by a man from Colombia and it's really interesting.

Was it recommended by a friend?
It was — and there was an article in the Wall Street Journal a couple of years ago about contemporary Latin American authors, and I just picked one from the list.

What is your occupation?
I'm a fundraiser for SFJAZZ. It's a non-profit organization here in San Francisco and we do presentations and education around jazz.

What are some favorite artists that you've seen?
Oh my God — let's see. Esperanza Spalding — she's an amazing bassist and singer, Ravi Coltrane was here in December, the son of John Coltrane. Oh my God, there's just so many! Diane Reeves who's a great singer, I mean there's a ton. Oh! and Robert Glasper is coming soon and he's amazing.

So what drew you to working with SFJAZZ?
I come from a jazz family. My father was an amateur jazz player, and my mother was an amateur jazz singer. I'm from New York, and I've always been interested in music. I was into the performing arts, but I'm not a musician myself. So as a fundraiser, it's the perfect job for me.

Where are some of your places to hang out in the area?
First is Crissy Field I'm just gonna say. Coming from New York, it's just a beautiful public waterfront that's accessible to everybody, which is so unlike New York where everything is built up, and usually there's also a cost associated with it. I mean, it's just gorgeous. It's amazing that it's been preserved. There's so much natural beauty here. I go to Marin a lot, but in the city specifically, I live in Hayes Valley and I love Hayes Valley. Hayes Valley; The Mission.

What's a recent challenge you've overcome lately?
I recently moved from Hayes Valley from Dogpatch and I've lived in San Francisco for almost eight years and so for me it was the first time that I've moved to a new neighborhood and gotten to know a new neighborhood. And I realized that I was kind of getting stuck in my ways. So just kind of changing, you know.

So it was tough at first but it was a good change?
Yeah! Now I'm thinking about doing some traveling on my own, so I think that was the first step — to learn how to do things a little bit more on my own, as opposed to always with family and friends.
What kinds of places are you thinking of traveling?
Well, I'm looking at going to Barcelona and doing all of Spain by myself, but I'm also looking at Zanzibar, Tanzania, and Fiji.

Wow, some far-flung places! What inspired your travel choices?
Places that I haven't been to — I've been to Mexico, I've been to France, and parts of Italy before. So I'm just trying to break out of that zone. And I think the next place for me will be some places in Southeast Asia. So I wanted to do some stuff that's a little bit out of my comfort zone, but kind of build up.

So tell me about your style — I love the casual style you have going on here with the hat, shirt, and sneaks.
Well, you know about this shirt, right?

No, what's the story?
It is about consumerism, but at the same time it's a poem from a Brazilian poet. I can't remember his name right now, but he wrote an anti-consumerist poem quoting this. So for me, it's a little bit of a combination of honoring consumerism but at the same time poking fun at it.

The bag is really cute too.
This bag is Steve Alan, there's a store in Hayes Valley. I love the natural leather. These shoes are Vans, seriously the cheapest ones. The jeans are old, I have no idea. The shirt I got from H&M — I just saw it in the window and was like, I want that. And the hat I got in New Orleans actually! With a really good friend of mine. 
Follow Katiti on Twitter: @KatitiCrawford