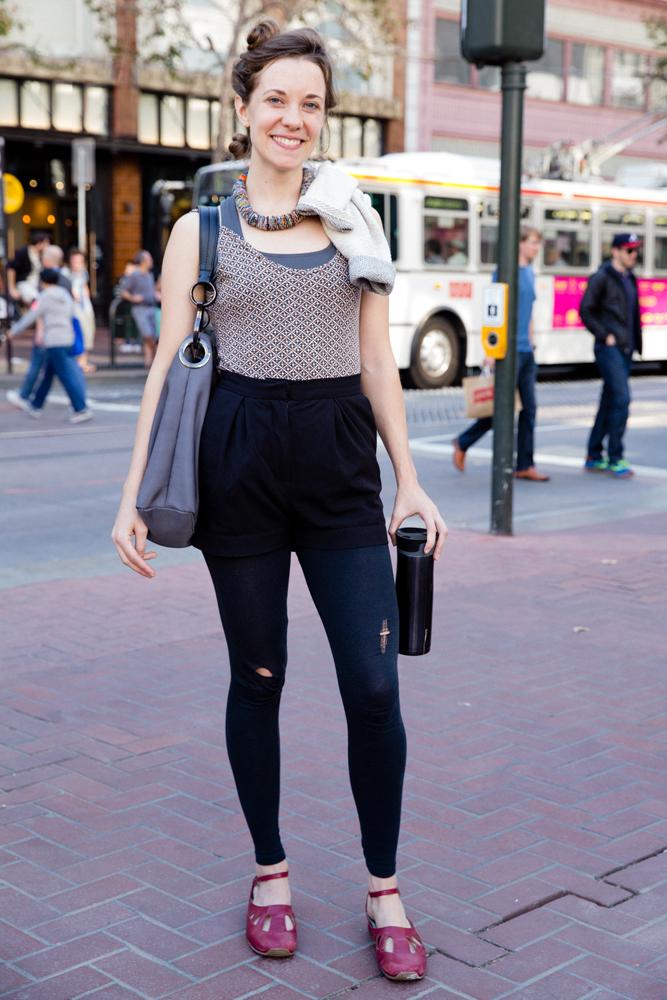 Spotted: Snapping a photo on Market Street, San Francisco
Occupation: Photographer/Fine Artist
What do you do?
I'm a photographer now, but my education is based more in fine arts and printmaking process arts. I ended up bridging that together with photography when I moved to New York. I realized I could collaborate more with sculptors, make backdrops, utilize fashion and fuse my other interests.
How did the combination of fine art and photography come about?
The fine art definitely came first—I studied at RISD (Rhode Island School of Design) in the printmaking program. I've always loved painting and drawing. That's my first love. But then I moved to New York and I met all of these musicians and I realized how jealous I was of the collaborative aspect of that. I thought, how can I bridge this kind of solitary path I'm taking now with fine art and make work with other people I admire? So photography was kind of the first solution to that. I ended up working at a commercial photo studio and getting an in that way.
What kinds of work do you like to do in the studio? Do you do set design or are you assisting?
It's all still very new to me. I'm assisting photographers in New York so I'm still learning the lighting aspects and the commercial aspects of it. I also know a lot of sculptors from school, and I've really enjoyed doing styling projects with them.
How do you collaborate with sculptors?
We meet and just talk about aesthetics. I have a similar taste humor-wise with some friends of mine and that's a big deal to me. Just color and humor, and creating scenes with models—approaching it from that aspect. It's got a fashion vibe, but it's a combination of all of it. I do simple lookbooks and things like that too.
You mentioned you're visiting from New York—how long have you lived there?
I've been there for about 3 years now; it's hard to believe.
How do you like it so far?
I love it! Once you get into the grind, it's kind of hard to leave. It's a necessity to get out and get a breath of fresh air, but I always go home thinking, oh I can't wait to get started with my next project!
Where did you move to NY from?
Rhode Island. I lived there and then I went to school there, so it was about time to move.
Do you miss home at all?
No, no, no. I feel like people from Rhode Island have this like, I don't give a fuck mentality. I think it might be because of the mob scene there. I don't know, but I don't miss that.
The what?
The mafia. It's not as prevalent any more, but I even read about it on an infographic the other day. Rhode Island is a great place—I love the people there, I love having been raised there—but I don't miss that aspect of it. I like waking up with a purpose. Plus it's just a small place.
What brought you out here to San Francisco?
This is kind of like my little vacation. A good friend of mine is the Internet security guy for Apple and we have a mutual friend who is in town doing a show tonight; Sam Amidon—he's a folk singer. He's playing at the Great American Music Hall. We stayed with him in Iceland during the summer, so we just thought, let's all convene for a brief break!
What's something you've been obsessed with lately?
I've been really obsessed with my yoga practice!
Have you been doing a yoga challenge?
No, I just make a point to do it every day—even when I'm at the studio. Because we work long hours. We've been shooting the Bloomingdale's Christmas catalog, and it's like 13 hour days every day. So I make a point to give myself five minutes. I do speed yoga with some of my coworkers, in the kitchen at work [laughs]. I did it here at 7am this morning. I don't know, moving around so much is always a place to feel at home. And taking photos.
Where have you visited in SF?
I just got here two nights ago. My friend picked me up at the airport and we went straight through the redwoods, to a beach, with a red blanket, a picnic basket and two glasses of cider. That was when I said, "I'm not in New York!"
I also want to ask you about what you're wearing today. I love the necklace!
My friend Heather did an artist residency recently in Senegal. In Senegal you're so privileged there because you can have a personal tailor, with all those beautiful West African prints. And I think she found this through her tailor—his mother makes these necklaces from cross-sections of Senegalese fabric.
This sweater is nice too. Where did you get it?
This is not anything to write home about. I was just cold when I was cycling home one day New York and saw an American Apparel and just needed a sweater [laughs] so I just went in there.
And is this a bodysuit type thing?
This is a onesie, yeah. Not the most practical thing to wear walking around the city where you don't know where your next bathroom is.
Yeah, that's a bold move.
Funny story about this . . . I was wearing this two days ago, and I forgot about the extreme homeless population in San Francisco. I was looking for a bathroom around the Civic Center Farmer's Market and I ended up at the library and I found out that they have all these stalls that are really short to ensure that no one is living in there. And I was wearing my onesie [laughs] and I had to like take my top off and I was thinking, not the most appropriate outfit for SF.
But this is great—I got it in Rome. I was studying art history in Rome and I found out where all the flea market vendors buy a lot of their clothing, vintage clothes from the 80s. So I went to this big building where Porta Portese—it's a big flea market in Rome—they get a lot of their stuff really, really cheap. I think I got this for like 3 euros.
I like how you paired it with these shorts and these leggings!
These shorts are just thrifted, and [points at holes in leggings] you know, my yoga practice is showing! It's kinda just like my layered, making yoga into street wear.
Those shoes are cute too and they look really comfortable.
Flea market, just in Williamsburg.
One last thing—those knots in your hair are really interesting. What inspired you to do that?
I just have really long hair and it's thin and unwieldy. Also, I used to weave, I love textiles, so I treat hair like a sculptural thing.