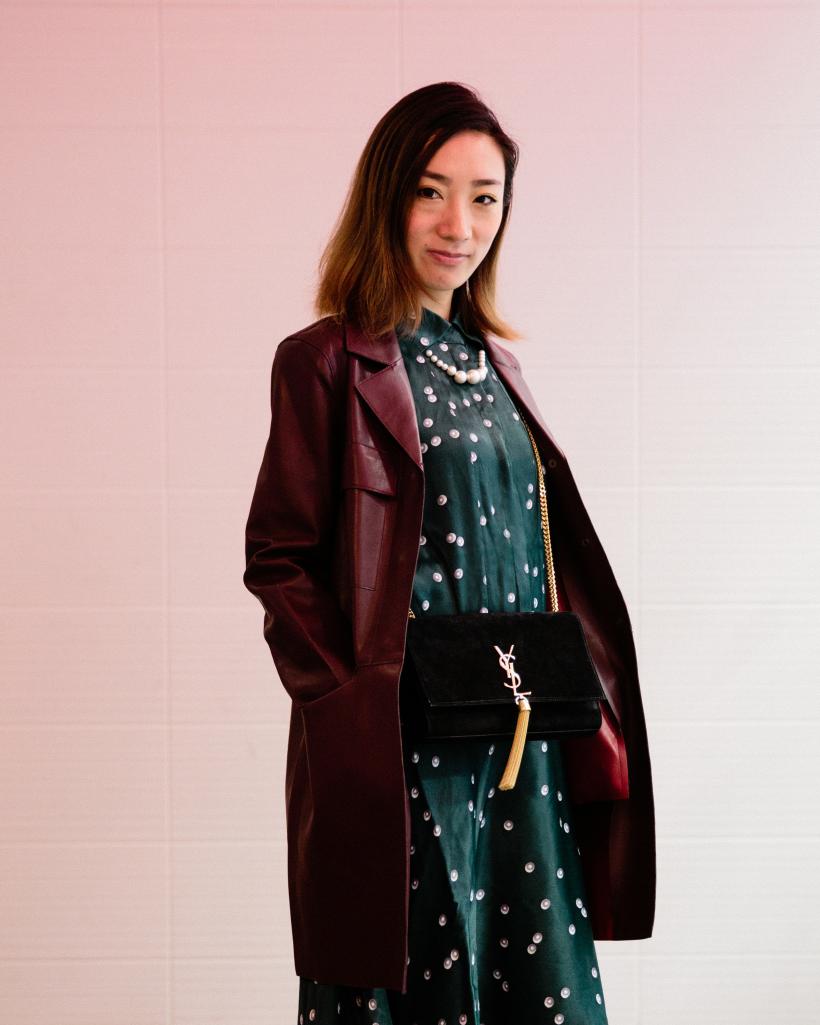 Spotted: Powell St, SF
Occupation: Student
So what are you up to today?
It's my birthday today!

Really? Happy Birthday!
Thanks! That's why I'm dressed up! [laughs] We're going to UC Berkeley to explore the campus and celebrate there.

How did you get the idea to go over there?
I went to visit two months ago, and my friend has never been there, so we want to explore again.

So are you visiting from town or are you here from the Bay Area?
We study here. We're both students at USF—my major is Public Affairs and her major is Finance. We just came here last year from China.
Where in China?
The southern part, next to Hong Kong. We graduated from the same college.

Have you visited the States a few times?
Yeah, we visited Miami during the Christmas break. And we also visited Mexico.
How did you like Miami?
Friend: It was pretty cool!
Liza: It was so, so good! We want to transfer there!
What did you like about it?
The weather. Actually, we don't like the weather in San Francisco. For Chinese people it's too cold and windy! We loved the water activities in Key West and Key Largo. It was Christmas break so we didn't schedule any deep diving, but we tried jet skiing, and we went snorkeling. That's enough. But right here, you can't do that on Ocean Beach.

Yeah, not a lot of that happening here. What else have you been exploring in the area?
We've gone to a lot of places. We went to Sausalito a couple days ago, and my friend went to Napa Valley and Sonoma. I heard that next week is going to be Restaurant Week in San Francisco—I just saw an advertisement on Muni. I think we might try to do that too.

Are you guys food fans? Do you go to restaurants regularly?
We go to Chinese restaurants regularly. It's cheaper—and satisfies the hometown taste.

Did you get any recommendations from people on where to go?
Friend: Chili House.
Liza: If you like spicy food!

Where is it?
8 or 9th Street in the Richmond. Actually where we're going to in Berkeley there's also a place called Great China. They have a very famous Peking roast duck there. It's next to the Berkeley campus.
So tell me about what you're wearing today!
I just got this dress and the shoes two days ago. They're from & Other Stories—it's a higher-end brand of H&M. I don't think they have a store in the U.S. yet—I ordered it online. The jacket is from Zara and the bag is from Paris.
You know there's actually a similar street style blog in China called P1! It's a very popular website. Years ago when I worked in a shopping mall, they would come to the mall to take pictures and they would get the person's email address to send the picture to them. You could google them to find it. They post pictures every day and give updates on new styles.