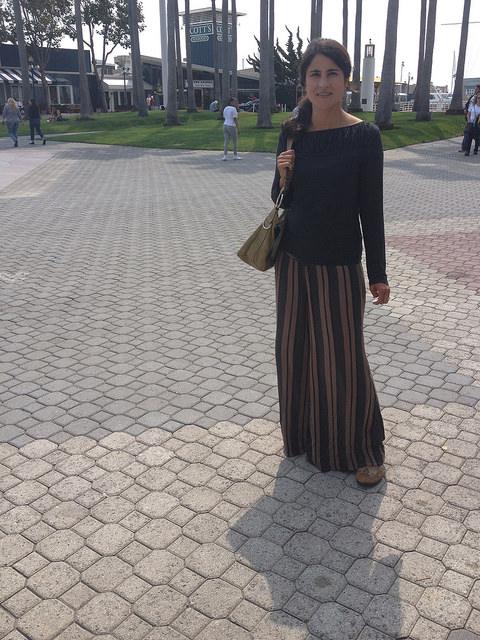 Spotted: Hurrying on her way to a meeting at the Port Workspaces, Oakland, CA
Occupation: Economic environmental development at the Port
What's your favorite part of your job?
I just started 5 weeks ago but I like the dynamics—it's messy but there are all these moving parts to it that I find fascinating. And I want to work within my community, so that's a facet that appeals to me as well.
Are you from the Bay?
I am, I grew up around here. I moved away and came back.
Where is your favorite place you've traveled?
Spain. Yeah, Spain. I like the lifestyle. 
You said you're headed to a meeting? What's it about?
I am! We're discussing the potential of bringing a lessee into the area to provide cold storage for high-end fruits and possibly exporting high-end fruits to China.
What would be one thing you'd want your community to know about the work you do at the Port?
Oh gosh, that's a hard one. I guess that I really dig Oakland. I dig where I live and that was part of why I switched jobs—to have my pulse on what was going on right here.
Where did you get your pants?
Free People.
Shoes? 
My shoes. Where did I get these shoes? I got them in New York, but I don't remember where. They're very, very comfortable. I don't even know what brand they are, but they're super comfy. They're hippy cowboy shoes.
What about your bag?
This bag someone gave to me at a friendly swap. I don't know what brand it is, but it's super comfy to carry and I can take all my shit in it.
If you could describe your style in just a couple of words, what would it be?
Hippy chic.
Is there anything that's been really on your mind lately?
Since I work around here, I'm constantly thinking about what could be opened up in this area that could provide the neighborhood greater vibrancy. I'm always thinking about that—I know there are some restrictions on what can go on around here. But I was thinking there could be an ongoing market, something more than just a farmer's market. That's actually exactly what I was thinking about when I was walking down here. And I think there's enough critical mass to support the idea.