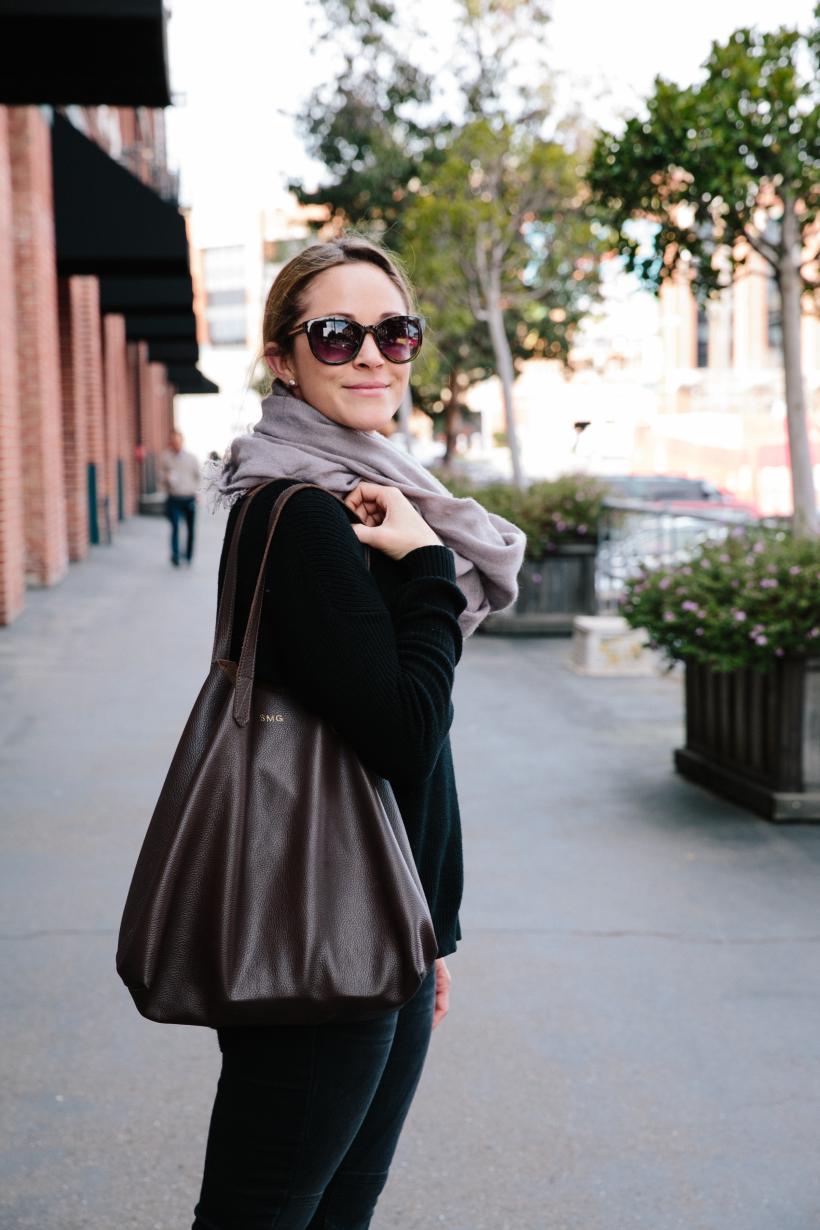 Spotted in: Potrero Hill, SF
Occupation: Works for General Contractor in SF
What are you up to today?
I'm working. I work for a general contractor—they're just down the street.
What drew you to that field?
I kinda fell into it. It wasn't really where I thought it was headed, but I'm enjoying it!
Are you from the Bay Area?
Born and raised! Never lived anywhere else.
What are your favorite places to hang out in the area?
I love San Francisco. It's kind of hard to answer that, because I find new places that I like every day. I like going to Ocean Beach with my dad, I like going to the Marina Green with our dog. I just went to Berkeley—that's kind of cool! I was out there doing permit stuff for work, and I picked up a coffee in a really nice area around Shattuck. I also spend a lot of time in Burlingame. I live in Millbrae, but I love Burlingame—I love shopping.
What are your favorite things to hunt for?
Clothes and dogs. [laughs]
How would your describe your personal style?
I definitely dress comfortably but also try and keep up with trends. Casual cute? I'm definitely a jeans girl but I do love boots and wedges, scarves and sweaters. I never dress too girly. I love puffy down vests, I wear them all the time—probably three times a week! And I love wearing Lululemon workout stuff. I would live in that. I like a bargain. I don't dress in really expensive stuff. I like keeping it affordable. I wear things only so many times. I get sick of things so I can't buy things that are really expensive. Old Navy is one of my favorites—I like that you can look cute and look like you're spending a lot of money but you're really not. I dress very plainly—solid colors usually, I don't wear too many prints.
What are some current obsessions?
Dogs! I'm also really obsessed with working out right now. I go to Dethrone in Burlingame—I like it because I'm just in and out in 45 minutes and it's an overall body workout. You're on the bike for a minute, then you're on the floor for a minute and you do that 35 times. So it's constantly changing although the overall concept is the same. Country music is another obsession.
Who are your favorite artists?
George Strait is my all-time favorite. But also Florida Georgia Line, Tim McGraw, and Sam Hunt—he's really new. Jason Aldean.
What do you like about their styles?
I don't know, just how it makes me feel—I love it! You can kind of dance to it, but then it means something. I can relate to it, I guess.
Are there any good places to dance to country music in the Bay Area?
No. There are no bars in San Francisco. There's actually one bar in San Francisco I haven't been to yet. There's concerts that come in the summer but those aren't usually in San Francisco—they're usually a little more south towards the Peninsula. I'm going to one in May at Levi's Stadium—there's a couple there, and there's a lot at Shoreline. The East Bay has The Saddle Rack, which is like the big country bar I've been to a few times in my life—it's in Fremont, which is kind of hard to get to from the Peninsula. But yeah, this is not a very popular country-lovin place. I'm dying to go to Nashville someday!
So tell me about what you're wearing today!
My shoes are Brass Plum Nordstrom, these pants are actually Old Navy, the sweater is Banana Republic and I only buy on their sales because they come up so often. The scarf is from Nordstrom, too. These sunglasses were $15 from a boutique in Burlingame.
That bag is great too!
This is Cuyana. It's actually new. It's a startup in San Francisco—it's in Union Square by Macy's. I have a wallet from them too and I love it. It's basic but it's made well, it's sturdy and it's pretty soft leather.