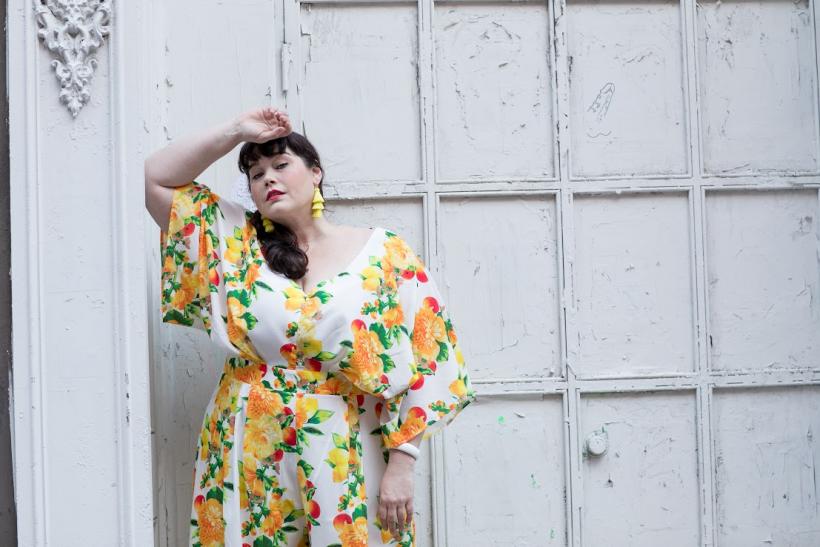 Amber of Style Plus Curves wears a jumpsuit by ASOS. Photo by Lydia Hudgens.
With the birds and blooms in full effect, it's hard not to be tempted to incorporate a bit of color into your life. Yes, we get it and embrace it — summer goth is definitely still a thing, and its allure has never faded for many of us. 
But what about the other fun stuff? 
What about the colors, the graphic prints, and playful motifs? When we limit our world to a colorless rainbow of grayscale, are we limiting our emotions, too?
Incorporating color into your life can truly lift your mood, and there's science to back it up. "Color is simply energy — energy made visible. Colors stimulate or inhibit the functioning of different parts of our body. Treatment with the appropriate color can restore balance and normal functioning," says holistic health practitioner Laurie Buchanan, Ph.D.
As much as we love the moody goth minimalist aesthetic and lifestyle, there's something gloriously fun about a beautiful sunny day with friends or family and perfect weather and flowers everywhere. What if you could distill that happy feeling and glow with a look? These seven plus-size bloggers certainly did. It doesn't matter if you're out grabbing a cup of morning coffee to return home for a book and some solitude or joining several friends for a picnic in the park, these vibrantly sunny looks are perfect no matter the occasion. 
From glowing solar yellows to bouncy pinks and primary blues, a bit of color can liven the mood and change your day. Paired with trendy silhouettes, you're sure to turn heads and catch eyes.  
Check out these amazing looks — they're pure sunshine. 
1. Amina Mucciolo (@studiomucci)
Amina stands out in any room with her gorgeous smile and brightly colored clothing. Check out these perfect details with the daisy sunglasses and strawberry purse. 
2. Dorothée Dulys (@dorothee_dulys)
French blogger, stylist, and actress, Dorothée, shows off a playful classic look pairing a super feminine off-the-shoulder cut with playful oversized polka dots and a swing silhouette. 
3. Amber of Style Plus Curves (@stylepluscurves)
Plus-size blogger Amber of Style Plus Curves rocks the most precious jumpsuit ever, looking like the world's most perfect updated Carmen Miranda. 
4. Mangu (@original_mangu)
Boldly make green, red, and orange yours year-round with this stylish combo. Pair a frilly top with a basic wardrobe staple like a classy pencil skirt to keep it stylish and not costumey. 
5. Sam Rowswell (@fattyboomtatty)
English plus-size blogger Sam Rowswell shows off a bold graphic dress with her own face! Would you be bold enough to rock your own face on your dress or sweatshirt? We certainly love it. 
6. Aarti Olivia (@curvesbecomeher)
What's more cheerful than yellow? Yellow with polka dots! This oversize graphic print pairs playfully with the oversize cut of this t-shirt. Toss it on over a pair of jeans or wear it under blazer for an unexpected pop of color and pattern in the workplace. 
7. Annika Reid (@thestylishreid)
Annika Reid poses with beautiful flowers in her hair during a group photo session with The Succulent Six. The solo capture is breath-taking!