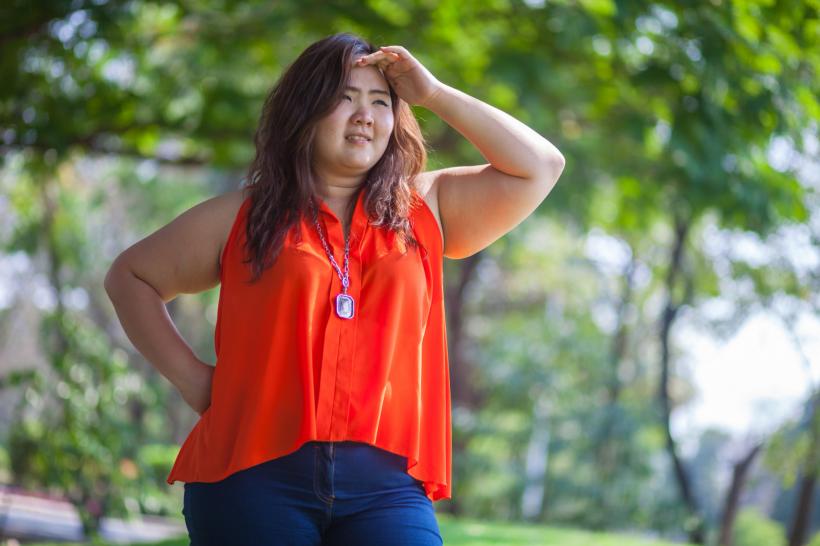 It's not our bodies that are the problem. Image: Thinkstock.
Plus-size isn't just about a "sense of belonging": It's also about knowing where you can buy some fucking clothes.
There have been some pretty questionable trends in plus-size fashion, and I'm not talking about yet another season full of "cold-shoulder" blouses.
Rather, I mean the trends behind the clothes — flower names instead of sizes, and models who want to be paid to for wearing plus-size clothes (but don't want to be called "plus-size"), for instance.
I'm also talking about the way these conversations distract us from the real issues.
Are you a Beautiful Dahlia or a Gorgeous Willow?
In lieu of numerical sizes, feminist lingerie company Neon Moon offers sizes "Lovely," "Gorgeous," and "Beautiful." According to their founder and CEO Hayat Rachi, "Neon Moon is mindful to all in our community, as some people are triggered by measuring."
OK, but they know the only way to figure out if you're Lovely, Gorgeous, or Beautiful is to measure yourself, right? And if your measurements are anything like mine, you'll find that instead of being lovely, gorgeous or beautiful, you are looking for somewhere else to buy lingerie, because their sizes stop at a 14.
Plus size active wear company Manifesta has replaced numerical sizes with flower names. According to their website:
We don't want there to be an inherent order to the sizes, with women striving to fit into the smallest number possible. And we don't want women to feel bad for ordering a size that society has deemed "unacceptable." We just want you to get what fits. So to find your size, use your measurements, not society's idea of what you should be.
I'm sure they mean well, but doesn't this just force customers take the extra step of translating their size into a bullshit flower name, all the while feeling slightly patronized by the notion that they should feel better about being a Dahlia than a 26/28?
As long as our society deems some sizes "unacceptable," calling those sizes something else doesn't really help. In fact, it can actually distract us from what we actually need: clothing that fits a wider range of people, as well as working to end sizeism and body-shaming.
Dropping The "Plus"
Ashley Graham, the first plus-size model to grace the cover of the Sports Illustrated Swimsuit Edition, said,
"I know that a lot of women still love [the term plus-size] cause there is a culture out there of feeling belonged [sic] and feeling like a part of something. And I totally respect that. But for someone like me — I don't feel the connection to the word plus-size. I just feel that it's ostracizing a lot of women."
When asked what term she prefers, Ashley suggested the uber-practical "curvasexalicious."
You know what's more "ostracizing" than being called plus-size? Actually being plus-size and unable to find clothes that fit you and that you like.
Plus-size people do not have the same choices as those who wear straight sizes — not in style, quality, price point, or availability. That's ostracizing.
Plus-size isn't just about a "sense of belonging": It's also about knowing where you can buy some fucking clothes.
When she says she doesn't "feel the connection to the word plus-size [sic]," she's ignoring the fact that we might never have been listening to her thoughts and opinions if she hadn't scored the cover of SI — which, in turn, only happened because she was paid very well to model clothes of a particular size range. She doesn't "feel the connection" to the people who pay her bills and got her famous?
Also, I can't help wondering what she means when she says "for someone like me." I think the answer might be found in her desire to model plus-size clothes without being called plus-size. However, she fails to see the other viable option: Leave plus-size modeling to those who are both plus-size and proud of it.
How can you help bring about clothes for all?
Our cultural image of shopping usually looks something like this: Friends laugh, they try on piles of clothes, and then they leave with all their colorful shopping bags.
The reality for plus-size shoppers is a stark contrast.
Many don't have a single store where they can try on clothes. Online shopping requires a computer with Internet access and a credit card. It also means buying clothes based on how they look on someone else, paying to ship the clothes to you, and sending back anything you don't like.
If I shopped for jeans like my thin friends do, I'd pay $200 in shipping costs before I found a single pair. Even most online stores stop at a 3X (26/28), so those who wear larger sizes face extremely limited choices.
Some brands that are getting it right. Alysse Dalessandro's company Ready to Stare includes clothing — and models — from S to 5X.
I asked Alysse about her concept:
For me, as a size-inclusive designer who carries items between S and 5X, it's important that my models represent my customers. In an ideal shoot, I have 5-9 models across that full size range, but if I am only able to use 1-2 models for a shoot, I prioritize using models that are 2X-4X, since those are the most popular sizes sold in my shop. Unlike some brands that carry all sizes, plus-size, for me, is not an afterthought — it's THE thought, and the priority.
I design everything to fit a range of plus-size bodies to the best of my ability, and then scale it down to fit S-L. I don't typically work with agency-represented models as an indie brand, but even if I could, there's definitely some models that I wouldn't want to work with — particularly those that are not only seen most often in other brands' campaigns but also those who have openly put down fat bodies.
My list of dream Ready to Stare models is actually three unsigned models: Essie Golden, Simone Mariposa, and Saucye West. I think that indie brands have really pushed mainstream brands on their lack of inclusivity and shown the community that it is possible to be inclusive even with a much smaller budget — and that we cannot allow them to tell us that people don't want to see models who look like them in campaigns anymore.
The community is begging for more representation, and right now, it's indie brands that are giving it to them.
I think that consumers really need to show their support to the brands that are doing right by them — regardless of whether or not it's your personal style — by continuing to share them.
It may not be your style, but it could be someone else's. I know that the struggle to stay open as an indie plus brand is very real. And of course, supporting with your dollars is hugely helpful as well.
Yolanda Williams is in the process of growing her plus-size active line Just Curves. I asked her what some of the barriers are, and what can be done to help:
When I founded Just Curves, I set out to design a line that would make women sizes 14 and up feel confident, comfortable, and (for some) more motivated to work out. As a plus-size woman myself, I know how discouraging fugly workout clothes can be when trying to change your exercise habits, and I wanted to create something new and fresh that was on-par with straight sizes.
Currently, my size range is 14/16-26/28... Which is much more diverse than many of the activewear lines that are out today, but for some, not diverse enough. I'm sure it's super frustrating to not be able to find fashionable active apparel over a size 28; however, there needs to be some understanding and patience on the part of the consumer for independent designers, such as myself, who are just starting out.
I am not buying the ONEder Suit (my signature, patent-pending design) wholesale — I am manufacturing it. That means for every design, there is a pattern, a sample, a fitting, adjustments, marking, and grading. Every additional size added for one particular design increases my manufacturing setup costs exponentially for each design.
Why don't I carry sizes that extend beyond 26/28? Short answer: I simply couldn't afford to at the time I started. Did I want to? Absolutely! I have family members who are a 5X, and they can't wear my clothes.... That doesn't feel good.
I would love to support all plus-size women in their health and wellness journey with Just Curves apparel, but it's just not possible right now. On top of that, I'm not getting a lot of support from women who are a size 26/28. That size is one of the slowest-moving sizes in my inventory.
Why? The feedback I've gotten is [that] a lot of women feel like it's a poor investment since they plan on losing weight anyway. Why buy something that they're just going to sweat in and won't be able to fit in a few months? I'm not going to lie, I used to think the same way. But then I realized that I need to dress the body I'm in currently, not the one I'm trying to attain.
If you're working out and feeling uncomfortable and self-conscious, you'll be more likely to quit than if you feel confident and comfortable. Workout clothes are a tool, just like your FitBit or your cross-trainer sneakers. Why not invest in the things that will help you stay motivated and active?
If you want more options, then support small business owners (like me) who are trying to provide them.
Indie designers are stepping up to fill in the gaps left in the industry by big box stores. Help a sistah out… We're in this together, right?
♦ ♦ ♦
The bottom line is that it's not our bodies that are the problem: Rather, it's the lack of clothing options.
Until those who wear plus-size clothes have the same options as those who wear straight sizes, that's a conversation we need to be centering.
And that conversation needs to be led by people who are plus-size — not those who just get paid to model the clothes.