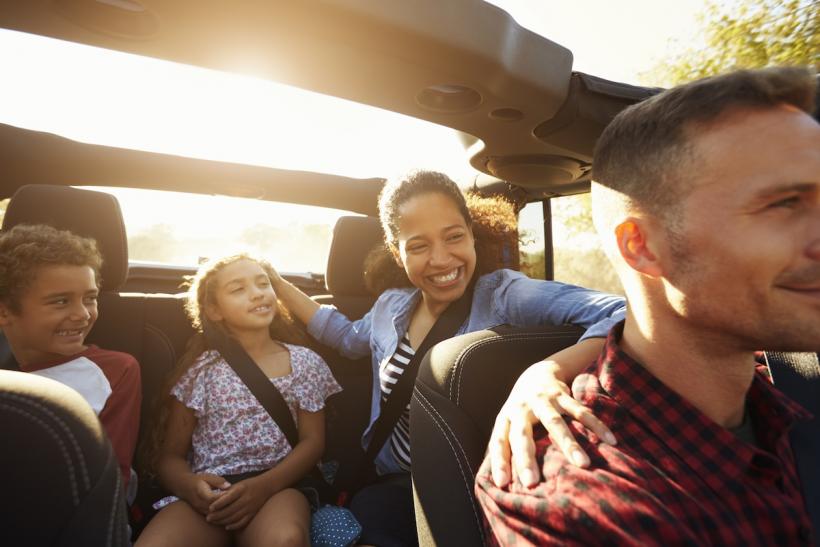 Travel encourages seeing with new eyes.
This article first appeared on The Good Men Project and has been republished with permission. 
---
Some people think a good getaway is staying in a resort hotel in a big city like Las Vegas, where the city never sleeps and you can get food and win big on every corner. Others consider a good getaway breaking away from the business of everyday life and making their way to an unfamiliar destination – sometimes another country – and submerging themselves in an unknown culture.
No matter your idea of a good getaway, here are 4 reasons seeing the world with your family should be your next great adventure:
1. Travel encourages seeing with new eyes.
The great French novelist, Marcel Proust said, "The real voyage of discovery consists not in seeing new lands but in seeing with new eyes." By working with people from cultures different from our own, we are able to literally see the world with new eyes– through their wisdom – and we can discover possibilities that would not have been available to us, otherwise. 
For example, in the West, many kids don't know that vegetables grow in the ground. When asked where vegetables come from, a great number of kids will say they come from the grocery store. In Australia, 92 percent of kids didn't know bananas grow on trees.
This is a simple example, but it's very telling because in the West, people who don't grow their own food become less self-reliant and more dependent on other people for survival. This can contribute to a mindset that isn't always focused on looking for innovative ways to preserve nature and food. 
To people who haven't developed a natural eye for finding ways to preserve food out of necessity, being exposed to the idea of harvesting seeds and preserving food for later use can open up their eyes to see the absolute power and value of nature.
2. You can create adventurous memories.
Everything you do with your family creates memories, but there's nothing like creating memories by experiencing a new adventure together. When everyone is having a new experience, the excitement is higher and the thrill of doing daring things is always in the background. Like eating some of the strangest (and grossest) foods that are considered delicacies by other cultures. You might have that one person in the family who isn't afraid to eat anything, and if they eat something completely bizarre, you'll be talking about it for years.
3. Your kids will get a better idea of how big the world is.
When you never leave the city you live in, the world can appear small and predictable. You get used to your routine – even when you enjoy how you spend your time, you're missing out on so many possibilities. If you don't live by the ocean, you may not forget that the ocean exists, but the moment you visit the ocean, you'll be overwhelmed with a sense of peace and tranquility you didn't feel at home. If you've never been to Egypt or China, you probably don't know what it's like to stand in front of a giant pyramid, in complete awe of the beauty of such a huge structure.
The more time your kids spend getting lost in a world full of adventure that doesn't exist in your hometown, the more aware they will be that the world is an enormous and majestic place with infinite possibilities just waiting to be explored.
4. Your kids will develop skills they don't learn in school.
School is great for teaching academics, but when it comes to teaching them the more practical side of life – like surviving in the mountains – you're on your own. This is one of the best reasons to see the world with your kids.
When you're exploring, chances are, you'll be camping at some point, and your kids will be exposed to the idea of being completely self-reliant. Cooking without electricity, starting fires, putting up a tent, and learning how to identify medicinal, edible, and poisonous plants are skills they aren't going to learn in school.
The world is full of educational opportunities
Make your next family adventure a grand tour of some new part of the world, even if it's just backpacking in the forest a few miles from home. There's something magical about spending time outdoors with family, and when you do, you'll enjoy the journey just as much as they will.
---