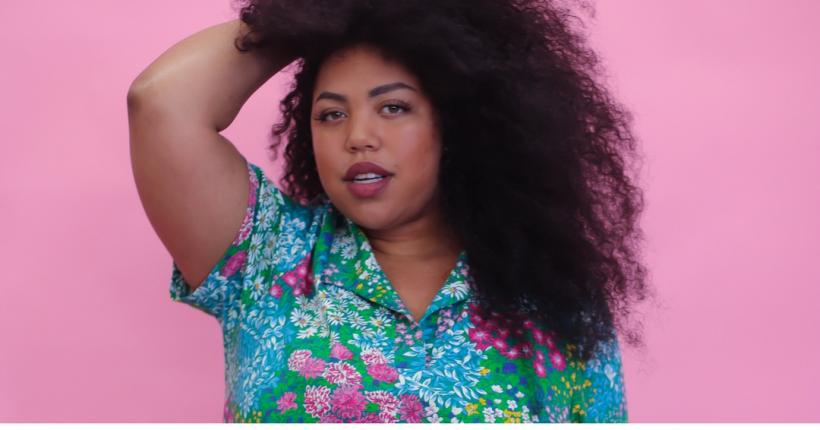 Model Chelsea Algarin for Proud Mary Fashion. Photo by Jessica Hinkle.
Fashion is more than just clothing — it's a tool to express yourself, and Spring is the perfect season for creative modes of expression. With Winter melted away and all of the gorgeous blooms blossoming, Spring brings with it a vibrant palette, playful prints, and completely different fabrics and silhouettes to toy with.
Plus-size bodies are told that we constantly have to follow rules in order to minimize our bodies and our presence. We are supposed to avoid busy patterns because they call attention to our "problem areas," and stay away from bright colors because — my goodness — we might call attention to ourselves.
Plus-size bodies are expected to apologize in every single way that they can through erasing their existence as much as possible with dark colors, baggy silhouettes or the social opposite... hyper-sexualizing ourselves to entice the male eye.
So many of society's fashion "rules" tell big-bodied people that they are not supposed to have fun; they are supposed to hate themselves into taking up less space.
Stylist and plus-size sustainable fashionista Kat Eves tells Ravishly: "I have always been more drawn to prints over basics. I just find them more interesting and unique. Plus-size fashion has always been loaded with boring basics in "safe" colors, and I think pattern clashing has become my tiny rebellion. I'm in no mood to blend into the crowd, I want to be visibly comfortable standing out. My outfit is my megaphone." 
This week, we celebrate a bit of playful fashion whimsy with this roundup. While the word "whimsy" may conjure up nightmares for minimalists, even the most bare-bones of fashionista can find ways to incorporate a bit of playfulness into their wardrobe.
Create your rebellion, be it tiny or small.  From ice cream pastels to playful A-lines, printed suits to layers of sheer tulle, it's time to take yourself a little less seriously and just have a bit of fun.
Warm up your heart and light up the room with a bit of inspiration from these 12 body-positive fashionistas.
1. Amina Mucciolo (@studiomucci)
Amina Mucciolo poses in a playful unicorn and pony-themed look with fabulous rainbow pigtails. Never afraid of color, Mucciolo is one to follow year-round for playful looks packed with serious style.
2. Rainbow Chatman (@rainbowchatman)
Plus-size makeup artist Rainbow Chatman serves a cozy look with this perfectly over-the-top fuzzy rainbow look that is part rave, part 90s hippie revival, and all awesome.
3. Anna O'Brien (@glitterandlazers)
Anna pairs a fantastic bold floral jumpsuit with a phenomenal matching headband in this simple but impactful look. The best accessory of all? An adopted elder dog in need turned loving companion.
4. Kelvin Davis (@notoriouslydapper)
Who says dressy has to be stuffy? Kelvin Davis rocks a PAC-MAN (you heard us right!) themed blazer for a bit of unexpected throwback fun.
5. Scarlett Hao (@scarletthalo_)
Fight the spring chill with this playful fuzzy millennial pink jacket adorned with stars for a fun combo of texture and print. Scarlett Hao layers the texture with sparkling sequins and metallic details.
6. Gabrielle (@busygee)
Gabrielle plays with color, opacity, shape, and movement all in one garment with this gorgeous bright red-orange top paired with purple sunglasses, a hot pink clutch, and grayscale snake print boots.
7. Cesar Cummings (@cesarcummings)
Plus-size fashion designer Cesar Cummings is no stranger to color or patterns. Clash patterns with complementary colors for an adorably playful look.
8. La'Shaunae Steward (@lushawnay)
Wildly under-appreciated millennial fashionista La'Shaunae Steward always serves an unapologetically badass look. From playful prints to fabulous accessories and fearless displays of VBO, all of us fat babes can learn a thing or two from La'Shaunae and her endlessly creative styles.
9. Izzy and Mallis (@posh.plump)
Fashionista besties Izzy and Mallis serve beautifully chic Spring styles that somehow magically marry fierceness, whimsy, and retro femininity in one look.
10. Taylor T (@beyoutiful_t)
Korean plus-size model Taylor shows that you can incorporate whimsy into classic, minimalist fashion. Perk up your denim jacket and jeans with a cropped tee adorned with a fun print.
11. Sarah Anne (@tonsablush)
Canadian blogger Sarah Anne is the queen of cute with her gorgeous vintage looks. This great outfit is perfect for when you want to channel a sweet, Amelie-like twee vibe.
12. Jeffrey Lodermeier (@beetlemeier_too)
Disney enthusiast and men's plus-size style blogger Jeffrey never shies away from bold color, fun accessories, and flowing fabrics. Even better? His Instagram is full of positive affirmations about self-love, body-positivity, and breaking down toxic, stringent ideas of what masculinity should look like. Check out his IG feed to inject a bit of happiness into your day.
---
Related: