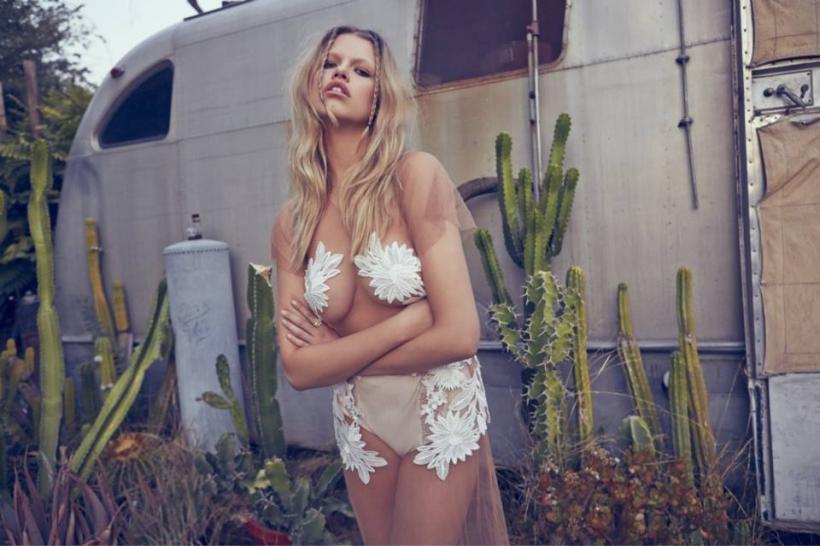 Images: Facebook
Every once in a while, a brand moves to the top of the fashion game, powered by PR and celebrities. Last year it was Lover, the lace-heavy Australian brand that conquered famous hearts. This time around it's Los Angeles-based For Love and Lemons, founded by Gillian Mahin and Laura Hall, two Wyoming natives and best friends. If you're getting your information from the media (which, I know, most of us are), Love and Lemons seems to be all about sheer garments—as in you can see through them. 
Judging by the brand's annual Skivvies party, there's nothing better than wearing a completely sheer nightie for a night out—just take a look at Skivvies host Jena Malone, all smiles and white panties. The style, far more tasteless than anything Erin Wasson ever wore, shocked and "dazzled" the media, whipping up an Instagram frenzy.
Indeed, For Love and Lemons quickly rose to fame thanks to young female celebrities walking around Coachella—or Hollywood—in their underwear-as-outwear. Surprisingly, when digging into For Love and Lemons' site, there's more to it than meets the eye. Beautifully shot and styled, the brand's Hot Texas Summer collection might include a couple of nudies, but also features plenty of gorgeous, intricate dresses.
Sure, there's a bit of a Playboy feeling to it all—some of those hemlines are way too short for an adult—but get past that and you might end up with a new fashion favorite, because For Love and Lemons also knows how to make summery, eminently feminine attire. One must wonder then, why don't we see the demure, classier designs on Malone or Selena Gomez? Why must an up-and-coming brand dress their party host in close to nothing when they have so much to offer? And what lingerie-loving audience is this type of PR aimed at, anyway—does anyone really want to walk around mimicking Malone's crazy and Ireland Baldwin's skimpy?
Luckily, winter is not too far off. Faced with colder temperatures, Love and Lemons will probably have to come up with a less objectifying marketing strategy. Maybe then we'll get to see the brand's real craftsmanship and creativity celebrated on the red carpet, instead of buried online.