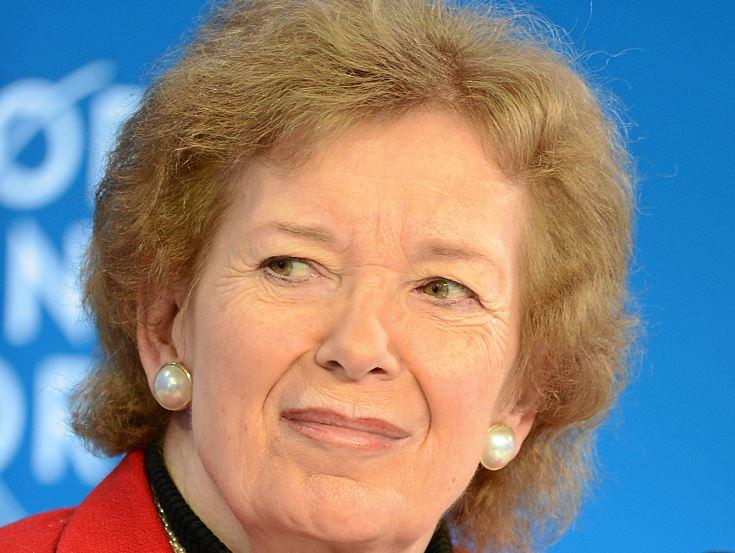 Mary Robinson, baddest bitch around (Credit: Wikimedia Commons)
One need only look at the Oval Office to see that when it comes to politics, we've got a bit of a gender discrepancy. In this weekly roundup, we focus on powerful political women in the news who are helping to break the proverbial glass ceiling of policy-making around the world. Politicos, move aside. We bring you . . . politicas. For more on female politicians to watch, click here.
Mary Robinson
Ready to feel like a complete and total waste of life? Meet Mary Robinson.
She's a prominent Irish politician and human rights activist who made news this week for nabbing a spot on the Irish Independent's list of top women in Irish history. And for damn good reason.
The first female president of Ireland, Robinson led her country from 1990 to 1997, during which time she pushed through two powerfully progressive laws: one to make contraceptives more readily available, and another to fully decriminalize homosexuality. After her tenure as president, Robinson eschewed a nice relaxing retirement in the countryside to embroil herself in activism as the United Nations High Commissioner for Human Rights, a position she held from 1997 to 2002.
Oh, and also she's a member of The Elders, holds honorary doctorates from more than 40 (yes 40) universities, is a member of the Royal Irish Academy and the American Philosophical Society, serves as Honorary President of Oxfam International, founded the Ethical Globalization Initiative, and was the first female chancellor of the University of Dublin.
You know: the usual.
Najat Vallaud-Belkacem

While not quite as distinguished as Mary Robinson (because no one else on planet Earth is), Najat Vallaud-Belkacem is garnering attention as a rising star in the French political scene. A mere 15 days after being sworn in as minister of education, this Moroccan-born wunderkind (she's just 36 years-old) has become the second-most popular politician in the nation.
Not only did people swoon over Vallaud-Belkacem's emotional speech upon accepting her post, but she's proven herself more than capable of fulfilling its duties; previously, she served as minister of youth affairs, minister of city affairs and (obligatory fist-pump) minister of women's rights. She is only the second French woman of Arab origins to serve in a ministerial role—and the first who is foreign-born.
Hillary Clinton
Meanwhile, in Hillary-World, Hills is still doing everything in her power to make everyone speculate that she will definitely be running for president. She and Bill will be making an appearance this Sunday at Iowa Democratic Senator Tom Harkin's final annual steak fry, which, coincidentally, is in the state that kicks off the presidential primary, and which, coincidentally, presidential hopefuls have historically attended. (So by "coincidentally," we really kinda mean "probably not coincidentally at all.") In other Iowa news, she's polling well ahead of other potential contenders in the Hawkeye State.
The rest of the week was relatively smooth-sailing for Hillary as well; she gave a passionate and widely praised speech about Maya Angelou, continued a verbal love affair with Henry Kissinger, and (second obligatory fist-pump) spoke out about the U.S. needing better paid family leave.
And yes . . . we, too, think she will definitely be running for president.