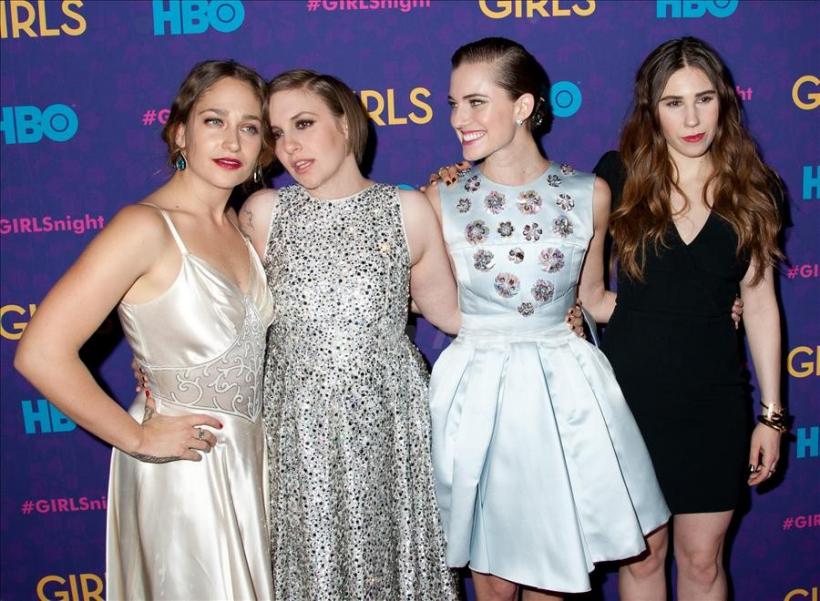 It seems like only yesterday that a little show called Girls first entered our lives. And before you could say "awkward sex," it had become an institution, heralded as the "voice of a generation" made up of spoiled, angsty, but refreshingly real millennials. Lena Dunham was a virtual unknown, Brooklyn was just getting hot, and an e-book was the peak of a young person's dream career. Many red carpets later, the show is back—now with Hannah conquering Iowa, Shosh rocking a new haircut, Marnie having an affair, and Jessa . . . well, let's just say that wearing kimonos for lunch will only take you so far.
In anticipation of the gang's return tonight (yes, they're annoying, and yes, we love them), we've reviewed the stars' red carpet style.
Winner: Allison Williams
The beautiful daughter of an iconic news anchor, Williams didn't have to try hard to look good. Really good. And yet, from the very beginning, she approached hesitant stardom with what the media likes to call "fashion curiosity," stunning the critics with every choice. Williams' string of 2014 appearances show edge, creativity, and an enduring passion for fashion. Plus, anyone who plays Peter Pan, no matter what the haters say, deserves some extra points. Right?
Runner-up: Lena Dunham
Lena started her life in the limelight on the right foot, took a plunge into horrible-fit-land, then redeemed herself with a series of smart, cute, and shape-friendly choices—that is, until the blond bleach showed up and brought with it a host of fashion mistakes to cap 2014. That said, Lena's quirk, adorable fashion collab for her book tour, and generally positive approach toward fashion have secured her our second spot. But please, no button-up shirts next year, girl!
3rd Place: Jemima Kirke
How can a girl so mesmerizing dress so boring? Kirk, a true British bohemian royal, dresses like Jessa's tired, hapless twin, no matter the occasion or dress code. Sheer or shapeless (or both!) dresses, moth-eaten fabrics, and a reluctance to wash her hair would have earned her last place . . .  if only Zosia didn't want it so badly.
Loser: Zosia Mamet
Determined to portray the complete opposite of preppy, over-styled Shoshana, Mamet is the nemesis of fashion critics. Not only does she not seem to care, but she actively (and consistently) chooses outfits that astound. And not in the good way. Ill-fitting pants? Check. (See example above.) Inexplicable combos? Check. The essentials of normcore face and hair—bare, uneventful, unkempt? Check.
That said, if Girls has taught us anything, it's that being awkward and real—haters be damned—is also worth celebrating. So maybe her style is the best of all?