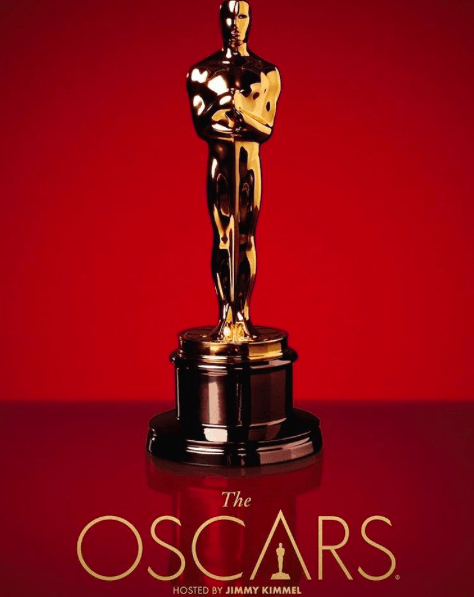 Image via Instagram (@theacademy)
I don't understand sports. I have tried. I know that the football needs to be hiked and thrown and then a gang of sexy men runs around in skin tight spandex until they all fall down on top of each other. At some point, there are funny commercials, and this year Lady Gaga showed up in some killer sequins booty shorts and all white couture shoulder pads that put Blanche Devereaux to shame.
But the truth is I don't even care. 
Despite being a stereotypical interpretation of gender norms, the fact is that just like my husband anticipates the start of EVERY sports season, I am equally eager to watch my favorite stars blitz down the red carpet during awards season. 
As we prepare to wrap the season with the "SuperBowl Sunday" of award shows this Sunday, I have created a comprehensive guide for those of us who prefer Proenza Schouler to pigskins. 
Here is a look at what comes down the red carpet from the top award shows leading up to the Oscars.
(Follow me @basicblaecgirl this Sunday. I will be tweeting the pre-show and arrivals on the biggest night for red carpet fashion!)
The Emmys
On par for fanciness with the Oscars, this star-studded affair is the pre-season game for award show season. Taking place in September, the show pays homage to the best and brightest in the world of television. As one might expect, this red carpet guarantees to serve black tie vibes with the pristine formal wear and faultless fashion that will set the tone for the rest of the season. At the most recent Emmys, arrival Viola Davis, who is also up for Best Supporting Actress at the Academy Awards, stunned that night in a hot magenta gown by Marchesa, put together by stylist Elizabeth Stewart.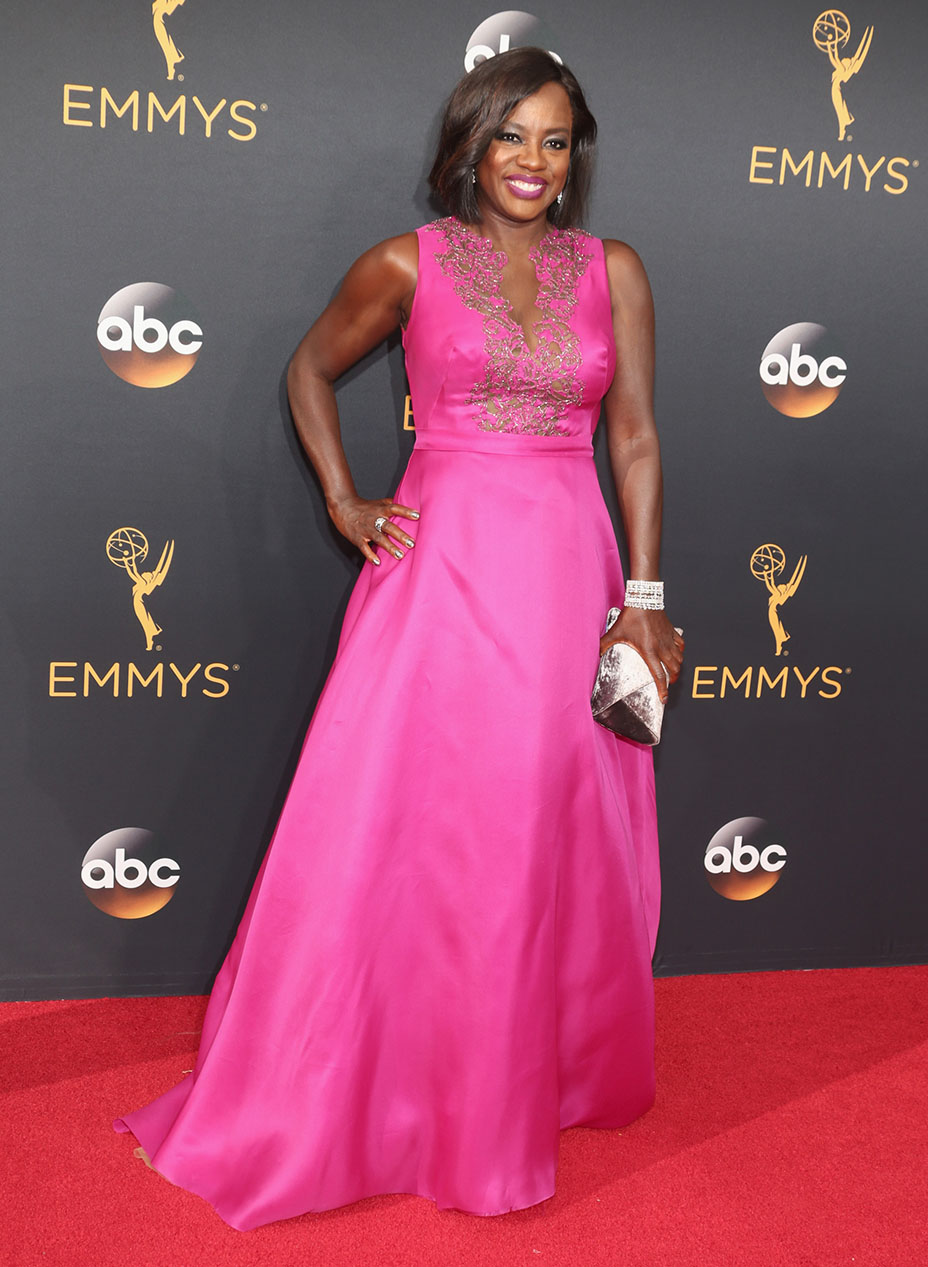 Golden Globes
Everything kicks off with the Golden Globes in early January. It's a lavish affair in honor of journalists, photographers, and press for the entertainment industry, thrown by the Hollywood Foreign Press Association. Because it's mostly creative professionals, you can expect a casual blend of professional high fashion couture. The arrivals always look innovative, with each participant ready to start their campaign for the Academy Awards. This year has been particularly exceptional, as everyone on the red carpet seemed to hit a home run. Rounding out the best-dressed top picks were Issa Rae in all white Christian Soriano and Ruth Negga who shined in an ankle length metallic Louis Vuitton dress.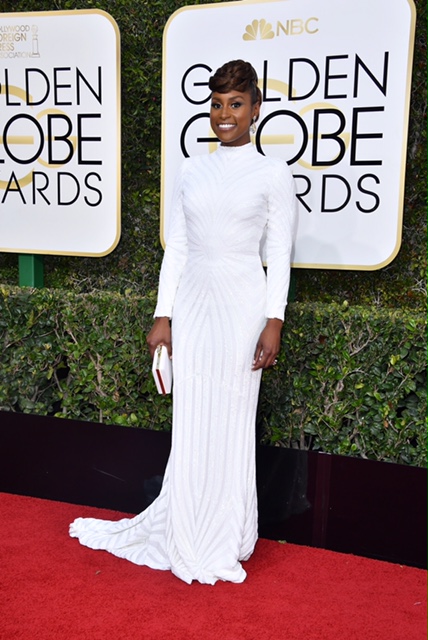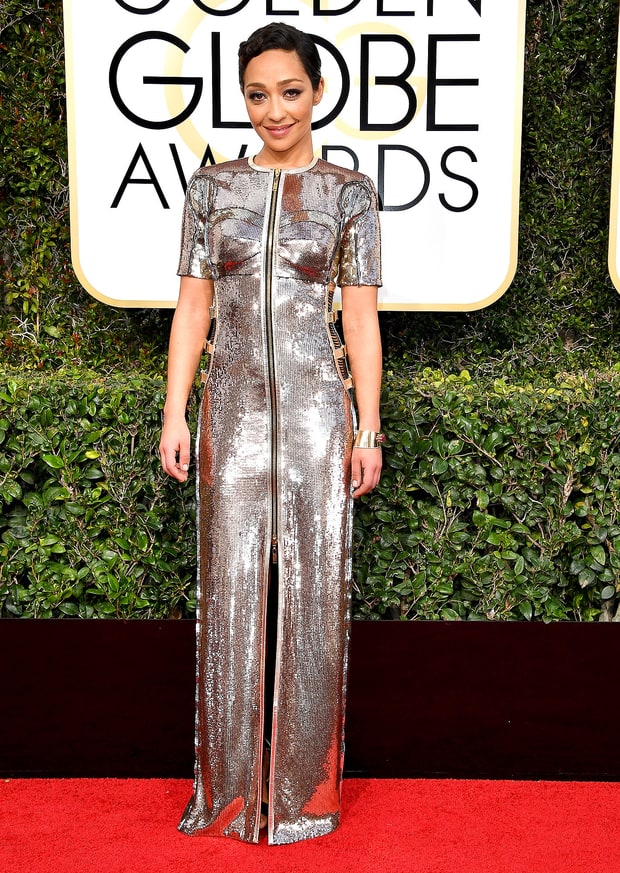 People's Choice Awards 
Next up: the People's Choice Awards, which exist as a gathering of all the cool kids. This award show honors all the top entertainers in popular culture. Just like the prom, it gives Hollywood a chance to crown all of the Kings and Queens of Hollywood royalty. You are more likely to find dressed down ensembles and more celebrities willing to throw caution to the wind when it comes to their appearance that night. Also, there are looser guidelines for the guests in attendance (and a lot of Z-List personalities). Here is Ruby Rose, decked out in a killer red pantsuit by Veronica Beard, paired with Jimmy Choo shoes.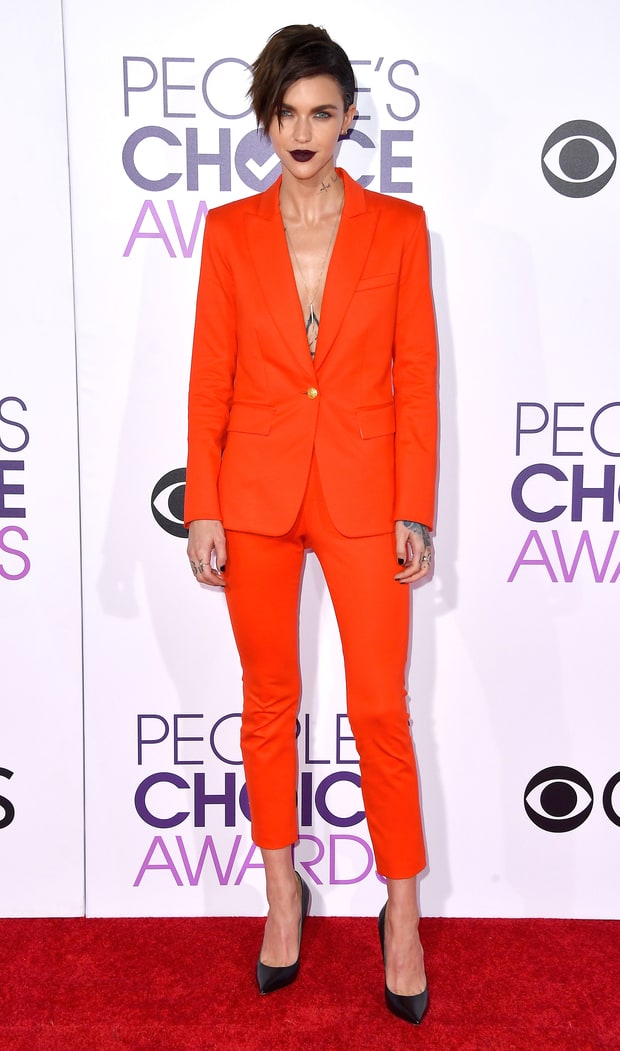 Screen Actors Guild Awards
The final show in January is another preliminary round to pre-Oscar night. Since its inception in 1995, the belief has been that whoever wins the molten bronze sculpture is practically a shoe-in for this Academy. This year's carpet was described as "Sober and Spunky, " and that has typically been the case in previous years. Most attendees arrive with their best foot forward to continue the push for an award. During the arrivals for this affair, we saw a continuation of designers using metallics and velvet, that had also appeared in other award shows. Nicole Kidman, nominated for Outstanding Performance by a Female Actor in a Supporting Role for her work in the film Lion, arrived in a sequined Gucci gown with parrots on the shoulders.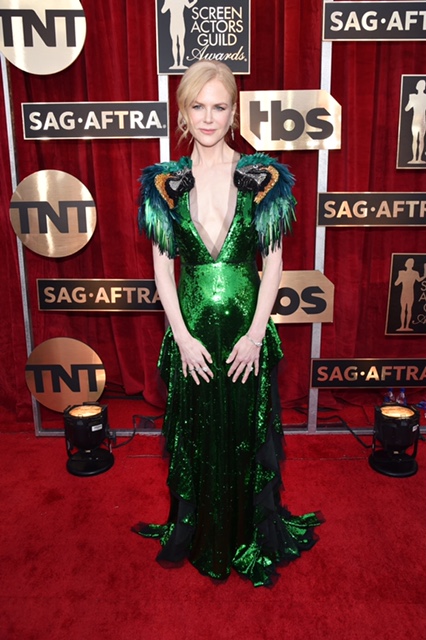 The Grammys
Lastly, we have The Grammys. The biggest night in the music industry serves as an appetizer for the main course we know as The Oscar's red carpet. This night gives celebrities the chance to outshine their fellow biggest and brightest stars. So much depends on each aesthetic, and this is the one night of the year where people get especially risky and bold for their arrivals. These are also the awards that tend to garner more emotional investment, as viewers like me tend to have sentimental attachments to performers. I took it personally when I waited the entire evening, only to have Adele show up in a safe green ensemble. Her signature cat eyeliner was on point, and her vintage-style bouffant was flawless as usual. However, I was hoping for a lot more. Also in traditional celebrity fashion, there are no guarantees that diva performers will grace us with their presence for the pre-show at all since Rihanna and Beyonce skipped them this year altogether. 
Watching the arrivals for me is more titillating than any touchdown or slam dunk.
I love to see celebrities dominate the red carpet with the same ferocity as Lebron James. Like athletes who have a bad season, there are stars who we can anticipate to drop the ball (and some who deserve to be benched permanently) when it comes to the game of fashion. I hope to see everyone on Sunday hit a grand slam, but in case they don't, at least we know someone will take home the gold. 
*Images courtesy of the author (Getty/Wire)