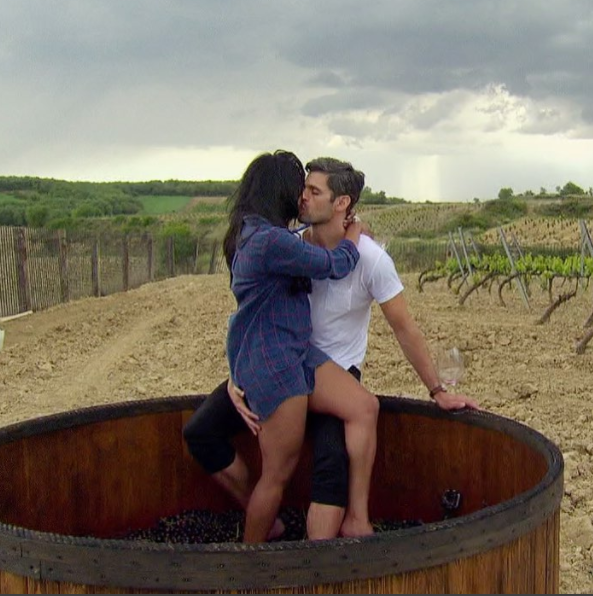 On Peter's date, it looks like he's low-key leading her on. He's not all in, and seems super fake. Peter's body language looks closed-off to me. He just doesn't know if Rachel's the one. (Image Credit: Instagram/thebacheloretteabc)
Here we go again. This week, we visit Rachel's hometown of Dallas, TX, with the three men left, and Peter is up first. He is a total waste of time to me; Peter doesn't seem as engaged as the other two men, a point they speculate about, asking why he is even still in the game if he isn't planning to propose or say "I love you." Shameful.
Peter Wins Big On Family Approval
Rachel and Peter pull up on a McMansion that allows a glimpse into what kind of upbringing Rachel comes from. Peter sets her aside on the stoop, and tells her he does think he is falling in love with her. I'm still not sold.
At her parents' table, he's rambling on, and eventually blurts out that he can't see himself without Rachel, which seems to come out of left field. We're all shocked.
So obviously, Rachel runs off into the other room with her sister to discuss this bombshell. Rachel's sister is just as flawless — pregnant and glowing. They obviously get it from their gorgeous mom, who Rachel also has a conference with about what is going on with Peter. All of her relatives are direct and not sugarcoating the issue when it comes to who their loved one is going to marry.
We see Peter winning over all the relatives in the house, and Copper even makes a brief cameo. There are some other white people in the house, one of whom is her sister's husband. He sits down with Peter also, and asks him what red flags he sees. Peter doesn't seem to have an answer. The last intimate conversation happens between Peter and Rachel's mother, and she is unexpectedly impressed that he wants to take his time.
Eric Impresses Rachel's Family... Just Barely Enough
Eric is up next. They introduce him to the family, and everything seems to be fine. Then they ask about his family life, and he has a wild bout of verbal diarrhea. He's rambling on and on about his broken home. Rachel's sister chimes in that she doesn't see compatibility between them, and has the same look of confusion and disinterest I show whenever Eric graces the screen.
Rachel's mom is a bit softer with Eric, and claims to be pleasantly surprised that he wants a family and kids. But this is a really hard sell. He needs to give it up.
Bryan Of The Fake Cheeks & Reality TV Past Does Not Equal 'Wow' For Anybody But Rachel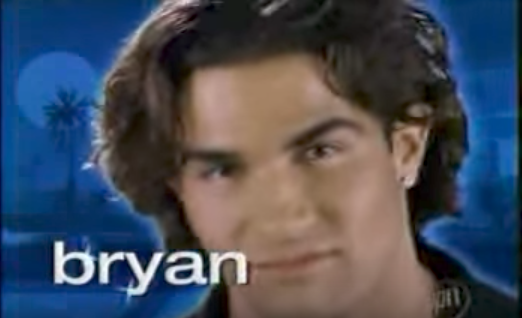 Their date is finally over, and the main event is up with Bryan, who is in the lead. Peter and Eric are back at the house throwing shade. In a tone that resembles disgust, Peter describes Bryan as someone with a "confident Miami swagger," and he goes on to say, "In Miami, there are a lot of fake boobs, fake asses, and fake cheeks." I died.
"Fake Cheeks" was utter and complete shade towards Bryan's suspiciously enhanced face.
They head to meet Rachel's besties. And in direct opposition to Peter, her main squad is made up of white girls who love brunch. Bryan is wowing and wooing her friends hook, line, and sinker; he's doing the most.
But the ultimate test is meeting the parents. The third degree begins immediately, and the selling continues. Rachel's sister already looks unimpressed. Bryan is rambling now, too. It's the first time in the season we really get to see him sweat. Rachel's mom is going HARD on Bryan, and Rachel is shooting her mom crazy eyes. This is setting the tone for a disaster of a lunch. The family is shooting rapid fire at Bryan, and he excuses himself to the bathroom.
This is a nightmare: to see the person you are falling in love with not at all well-received by your family. Things eventually settle down, but Rachel's mom is not buying how early Bryan is confessing his love for her. They all seem to be begging Bryan to be honest.
Rachel describes this meeting as "rocky," and that's putting it nicely. Total disaster.
Family Input Over With, Rachel & The Guys Are Off To Spain.
Bryan is cute, and we see him playing soccer with little Spanish kids in the street. Both Peter and Eric arrive separately, and Rachel is still a little unsure of Eric. It's redundant at this point to mention how unimpressed by Eric I am. If you want to get married, a grown man who has never been in love before is not the move. Ain't nobody got time for that.
But Spain is gorgeous, and I am trying to drown out Eric's voiceover and focus on the vast landscape of this beautiful European country. I am all for seeing a Black man get in touch with his feelings and connect with his emotional side while sipping champagne on the coast of Spain, but Rachel and Eric's lack of chemistry is such a drag. I kind of feel bad for him because if this is his first shot at love, he's going to be left heartbroken if he doesn't make it to the finale.
On Peter's date, it looks like he's low-key leading her on. He's not all in, and seems super fake. Peter's body language looks closed-off to me. He just doesn't know if Rachel's the one.
Then, for whatever reason, a baby pops out of the bushes, and Peter is saved from this awkward interaction. Fast forward, and they're all squishing grapes with their feet, which is so adorable. I notice Rachel is almost always the one who goes in for the kiss.
Later, they're sipping wine together, and Peter performs a super sweet gesture, giving Rachel the cork he saved from a bottle of wine they had shared. He explains it is a family tradition, which is totally swoon-worthy. But Peter is KILLING me with his uncertainty, and Rachel is not having it about this hesitation around the engagement talk. They aren't seeing eye-to-eye about whether or not an engagement is where they will end up at the end of all of this.
I would be mad AF if I went through all these hoops and left without a future husband.
Both of their eyes begin to well up with tears because they are both so certain in what they want. I am freaking out because it looks like Peter might be going home. He's my favorite — totally cute and put together, with a hot body and strong mind. But this pair's intuition and stubbornness will likely keep them apart in the end.