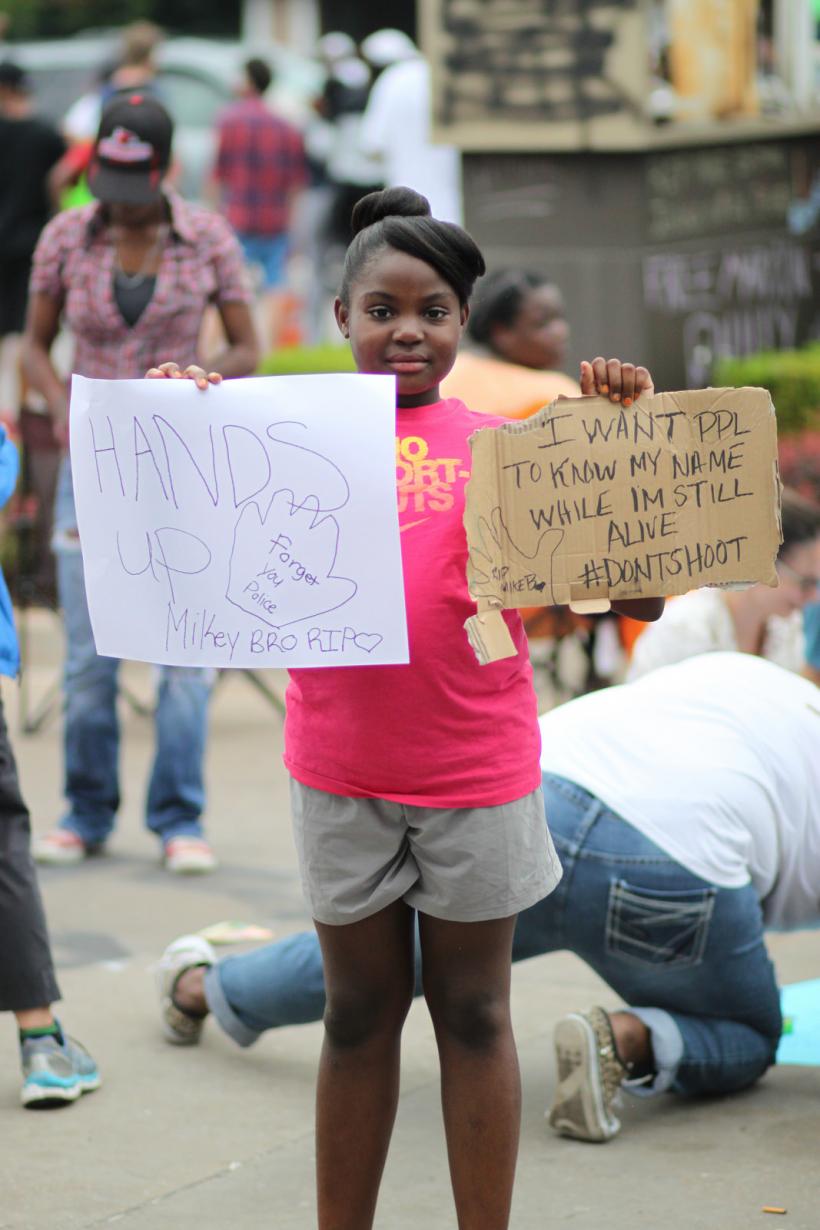 Credit: Flickr/Shawn Semmler
2014 is finally over and done with, and we're hoping that 2015 is better to the people of color in America.
Here's a recap as to how the media dealt with race in 2014.
Here's why President Obama believes the U.S. is less racially divided than it was in 2008.
On the flipside, here's why, despite some misguided claims, the U.S. is far from post-racial.
The Tucson Unified School District is under attack for violating the state ban on ethnic studies courses. As a reminder, Arizona state bans ethnic studies course because they cause racial resentment.
Ferguson protests are still holding strong, with the protestors serving a notice of eviction to the St. Louis PD on New Year's Eve.
Two weeks ago, we told you about the two NYPD officers that were killed in the line of duty and how many NYPD officials and other politicians were placing blame on NYC Mayor Bill de Blasio. Officers chose to show their frustration by turning their backs when the Mayor was speaking at the funerals for officers Rafael Ramos and Wenjian Liu (even though NYPD chief Bill Bratton reminded them that "A hero's funeral is about grieving, not grievance" after the first time they protested.)
They've also turned their back and booed the Mayor during a Police Graduation. Way to be mature, NYPD. It's not like your actions can be interpreted as you turning your back on the pubic that voted the Mayor in or anything.
In an article that surprises no one, black police officers say they face racial profiling when off-duty.
Nicki Minaj discusses the racism and the marginalization of black artists if they dare speak out against it.
The internet gave us a beautiful end of the year present when they re-discovered a 2013 Iggy Azalea interview with Sway in the Morning where she was asked to freestyle. The awkward freestyle inspired one of the best memes. The jury is still out on whether the Education Connection rap or the Kevin Gnapoor rap is the best.
The Root has a great list of black women that were "agents of change" on social media. You can check these inspiring women out here.
Target is receiving some (much needed) backlash after launching an Annie-inspired line and having mainly white models on their in-store displays instead of Quvenzhané Wallis. Target refuses to apologize.
The CEO of Revlon is super racist and says he can "smell black people" when they enter a room.
Some good came out of 2014. It was the year that proved that "Black girls are magic!"
Speaking of amazing black girls, Mo'ne Davis was named AP's Female Athlete of the Year. Yea gurl!
Oklahoma lawmakers want to introduce a new bill that will ban hoodies, masks, or any other head coverings. Opponents of the bill point out how this will most likely lead to even more problems with racial profiling.
The MLK biopic, Selma attracted some negative attention when some people objected to the portrayal of LBJ, insisting that he was more of an ally then depicted. Before eye-rolling about how sad we are for the poor white men in history, we should keep in mind that it is Oscar season, and all controversies are good press.
Apparently this slipped by us, but ballet dancers Misty Copeland and Brooklyn Mack will be leading the Washington Ballet's production of Swan Lake becoming the first African-American leads of the ballet ever. [insert fangirling squeals here]
Kanye West released a song dedicated to his daughter. He collaborated with the legendary Paul McCartney for it. Let's hear it for nice representations of black fatherhood. Get ready to cry forever.
It's with a heavy heart that we announce the passing of ESPN commentator, Stuart Scott. Watch the video on ESPN that has colleagues reacting to his death and talking about why he was so important.
Here's his 2014 ESPYS Jimmy V Perseverance Award Speech.
This story first appeared at Persephone Magazine, a daily blog focused on topics of interest for modern, intelligent, clever women.