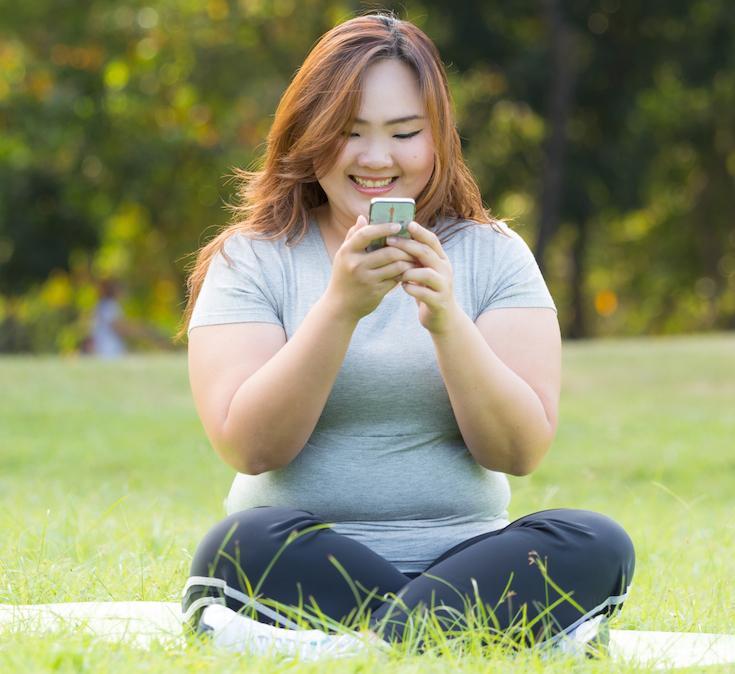 These days, it seems like there's an app for everything — you wanna estimate a good bathroom break opportunity during the movie you're watching? Done. Ever get the urge to feign a cracked screen on your phone for funsies? Totes doable. 
Amidst the sea of silly apps, developers have designed meaningful algorithms as well. In honor of our body acceptance week, we are pleased to present five wonderful apps to help you banish those icky negative thoughts. (As an Android user myself, I apologize for the prevalence of iPhone-only apps here!) While an app doesn't take the place of a counselor or the ear of a loved one, it can help you form better thinking patterns in your daily life. Give it a try! 
Compatible With: iPhone and Android
Cost: Free
What is this? 
Record Recovery is designed specifically for folks overcoming an eating disorder. It allows readers to track their meals, express feelings experienced during said meals, take in-depth quizzes regarding state of mind, connect with other users (bonus: you can send cute cartoon animals to new friends!), and track progress in general. Perhaps most importantly, it allows users to track and plan with a therapist or counselor. Even if you have not been officially diagnosed with an eating disorder, it might be helpful to track your emotional state after eating. 
2. Good Blocks
Compatible With: iPhone and Android
Cost: Free
What is this? 
Now, this is an app that covers more than body positivity. Rather, it's a tool to gain overall peace with oneself in the following areas: self-esteem, body image, social anxiety, and mood. Through a series of games, Good Blocks teaches readers to discern positive from negative thoughts. Users can then make the active choice to banish negative thoughts, and learn to feel more comfortable in their own skin. The system — for you savvy psychology sistahs — is based on cognitive behavioral therapy. (All this means is that users will explore the relationships between their behavior and thought patterns, then learn to change their ways to prevent self-destructive thoughts.) 
3. Positive Body Image For Women: A Hypnosis Guide To Boost Body Confidence And Self-Esteem 
Compatible With: iPhone 
Cost: About $6.95 (we'll explain!) 
What is this? 
This is an audio hypnosis album to help women feel positive about their bodies. Users are granted a free introduction, but then must purchase additional tracks to continue the series. The total amount comes out to $6.95 by our math (remember, we're just writers here), but folks aren't obligated to buy every level at once. The app is structured to build off each level and help users grow in the process. It is hypnosis, so please don't drive while the tracks play! Also, keep an open mind if this is something you choose to explore — you never know what may help. Though it's not available for Android systems, the Google Play store does have an app called Positive Thinking Hypnosis. While this app has a broader focus, it may help in with body positive issues as well. 
4. Guided Mind 
Compatible With: iPhone
Cost: Free to start 
What is this? 
Guided Mind is a meditation app that deals with body image, along with anxiety, depression, cancer, motivation, letting go, stress, and more. It includes various meditation tracks, soundscapes, and guides to accompany the message. If you're intrigued, but not ready for the hypnosis app, Guided Mind might be right for you. The meditation sets are relatively short (score!), and contain explicit instructions to improve your experience. Though the app is free initially, certain special meditations sets are not free. You must pay for those, and they range from $0.99 to $4.99. 
Compatible With: iPhone 
Cost: $0.99
What is this? 
Body Beautiful is similar to a social media network, but it's private and allows users to share content on other social media platforms (like Facebook and Twitter). Users will gain access to celebrity quotes, personal pledges, and content (from around the Web) pertaining to body positivity. From there, users can even share with friends! You can even stamp a photo of yourself (or a friend) with a body-positive message, and share it to celebrate your strength. 
If you're feeling down this week, don't hesitate to use your smartphone for help. Body-positive thoughts won't happen overnight, but you can start working towards a better tomorrow. Cheers to a brighter future!