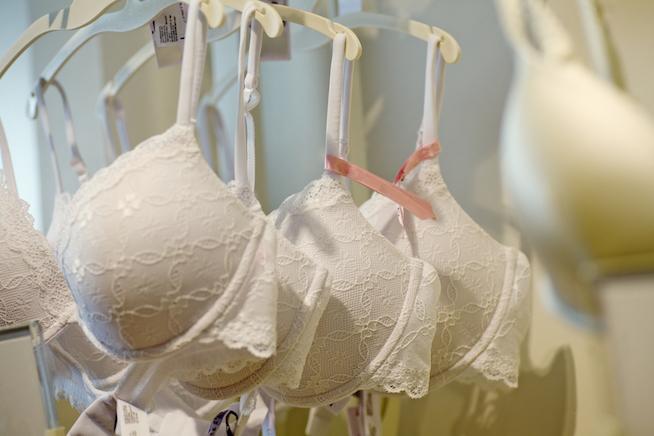 New Year. New Bras.
A new year is here, and those resolutions you promised yourself? Well…they're already starting to look dubious! Instead of giving up on them before they've even begun, here are some reasons why you could definitely benefit from an annual overhaul:
1. Smartphone Detox   
Your obsession with Facebook, Twitter, or any other social media app that replaces your real social life. How about actually going out and meeting for drinks instead of texting friends cocktail and party emojis? Better still, arrange a visit rather than cooing over 176 photos of your friend's new baby online.
2. Quit Hoarding
All those ill-fitting outfits you haven't worn for over a decade, those fancy gadgets from the shopping channels you swore you needed but only used once, and those broken things you put aside over the years to get repaired but just haven't got round to it — let's face it, you're never going to use your old cassette player anytime soon! Set up an eBay account, sell online, hold a garage sale, give them away to charity or friends, or simply dump them. As they say, one man's trash is another man's treasure! 
3.Toxic Friend Cull
There is always that one "friend" who has green-eyed monster syndrome. Whenever you have something to celebrate, she is quick to rain on your positive-vibe parade. It could be a flippant remark or general negative attitude, but she never seems to offer any words of encouragement. Surround yourself with like-minded people who can support and uplift you. With friends like those, who needs enemies, eh? 
4. Bring Sexy Back
Your underwear drawer is starting to resemble your gran's. What happened to the sexy lingerie you used to enjoy buying (a long time ago)? Nowadays, you're quite happy hunting for some bargain (and boring) cotton panties and mismatched bra sets. As comfortable as they are, don't forget to treat yourself (and partner) to some beautiful lingerie and have fun times again. 
5. Do What You Love…Love What You Do!  
It's a popular mantra, but many are still bound to routines they no longer enjoy. It may be a case of financial security, self-doubt, or fear of taking risks. But where is the love? Whether it's a career change, new hobby, or starting a family, focus on something you are passionate about and you'll find greater fulfillment and motivation. 
6.  Don't Do The Time Warp Again
You flick through old photos on your timeline and notice you've been rocking the same hairstyle for the past 10 years. Maybe it's time to treat yourself to that ultimate hair makeover that you've always wanted but weren't daring enough for, or to a stylish new wardrobe. Getting out of your comfort zone is not so daunting after all. 
7. Quit The Guilt Trip
So you want a lie-in? Have one! You want to hit the town with your girlfriends but feel guilty about leaving your house (and kids) in a mess? Just go let your hair down! We will always have an endless to-do list, but what's the worst that can happen? The world is not going to stop if you focus on yourself for once. You have earned your right to some you-time, so treat yourself and don't feel guilty!   
8. Get A Password Keeper
You have a zillion passwords and logins, it's impossible to remember them all! Jotting them down on random post-it notes doesn't help either. Make your life easier with a password manager. There are many offline and online managers that are secure and can generate new passwords for you. Just don't forget the password to get into it! 
9. Make A New Habit  
We tend to focus on breaking old habits, so why not replace them with new ones? If you want to keep fit but find the idea of jogging around the block boring, join a fun class instead. There are different dance classes, pilates, martial arts or even Boxercise, which are all exciting ways to keep healthy. You can also meet new friends who can motivate you (and share your pain). Beats a lonesome run, eh?
10. Create A Daily Playlist
Whether it be empowering anthems like Alicia Keys' "Girl on Fire" or Bob Marley's "One Love," music often boosts our moods and takes us to a happy space. Create music playlists on your phone or tablet to help kickstart your day, uplift, and inspire you. Just remember not to sing too loudly when you're standing in the supermarket line.