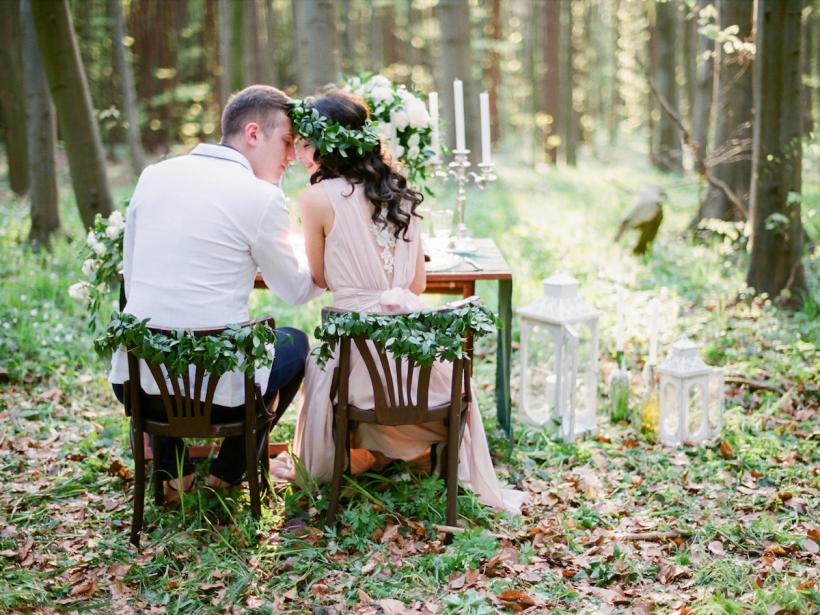 But if you have it, and you've made a decision to spend it, let it go.
So, let's talk about what weddings cost.
If you haven't gotten married lately, you might be surprised to hear that in 2016, the average US wedding costs $32,641.
The average wedding in New York City (where I live), is even more than that. In Manhattan, where we're hosting our nuptials, the average couple drops a whopping $82,299.
Seriously, I cannot even imagine.
After my fiancé and I decided we were going to have a "real" wedding, we resigned ourselves to the fact that it was going to cost us some money. Luckily, we have been saving since he moved in last June. Together, we had around $12,000.
In the beginning, we told ourselves we'd spend around $5000. As of today, it looks like our wedding will cost us more like $10,000.
That is a hell of a lot of money.
Still, it's our one and only wedding.
And for a wedding in Manhattan that includes most of the typical expenditures — the venue, catering, photographer, dress, invitations, you name it — that's not too bad.
Here's what I've learned about how to make your big day (relatively) less expensive:
1. Decide together what's important.
After Arran and I first got engaged, we sat down and first imagined our wedding.
Together, we decided that our idea of the perfect wedding was a nice sit-down dinner with all of our family and friends in a venue that was beautiful and conveniently located.
We found a restaurant we'd eaten at before with the look and feel we were going for. Turns out, they were relatively new and hadn't hosted a wedding before.
I think this resulted in our getting a good deal.
When it came to choosing the ceremony location, we both knew we wanted a part of town we were familiar with: somewhere that was close to everything else so that we wouldn't put our family out moving from one location to the next. We also wanted an outdoor space — which, fortunately, can be a lot less expensive (and sometimes even free).
Oh, and I wanted to spend the night and get ready the day-of in a fancy hotel.
Not important: basically anything else.
Rather than inviting everyone we knew, we kept our "probably going to come" guest list down to less than 50 people. Also, I went with a nontraditional dress, saving hundreds, if not thousands.
By focusing on what we really wanted, we knew where to splurge and where to save.
2. You don't need it.
Pre-wedding beauty treatments. Fancy bridal underwear. Over-the-top centerpieces at the reception. Welcome baskets for out of town guests.
I feel a literal tightening in my gut every time I have another great idea that's going to take time and cost money.
Reminding myself "You don't need it" has been an awesome relief.
The other week, when I asked my friends for advice, someone reminded me that when I make a decision, I should try not to second-guess it.
This has become another mantra of sorts, albeit easier said that done: I am guilty of having bought a pair of bridal shoes, only to buy another pair of even better (more expensive) bridal shoes three days later.
Three pairs of nude underwear or a handful of "sample" thank-you cards seem incidental, but little purchases and stuff you don't end up using can really add up.
3. Return what you can.
Save money by finding cheaper alternatives. Check out Etsy or look for the same item, gently used.
I shopped locally, and knew better than to mention that our "family gathering" was a wedding,
Experts say that the "w" word can result in an inflated estimate.
Arran and I bought our wedding favors at Housing Works Thrift Stores, which frequently sells corporate donations of brand new goods.
$200 turned into 50 high-end soy candle tins — and a donation to a great cause.
4. Do it yourself.
I don't need this $180 sash. Instead, I could make my own sash with stuff from a local trim shop — something unique and more in line with the style of my dress.
Or I might forgo the sash completely (see rule number 2).
To you brides who DIY the whole thing, I am humbled and impressed by your ambition.
If you don't have the skills, time, or courage (like me), you could always hire a professional to make a one-of-a-kind, less expensive version of whatever you're drooling over.
Before deciding I didn't need it, for example, I found a tailor who said he could make me a tulle overskirt just like this one for around $50 (that's a savings of over $200).
Instead of hiring a florist, we're picking out our own flowers from the farmers' market the week of. It's an activity I'm really looking forward to, and that I'm confident I can't do wrong (how can I screw up flowers?!).
But by far, my biggest wedding-related DIY project was my flower crown.
Instead of spending the nearly $400 I had estimated on flower crowns for myself and my flower girl, I threw together my very own last Saturday. All it took was a little floral wire, a glue gun, and the very best silk flowers I could buy.
The flowers I chose actually ended up being more expensive than fresh, but going silk saved me from having to wrestle with real ones the night before my wedding.
In the end, the savings came to around $200 — still not cheap, but cheaper. And I love the one-of-a-kind end result.
5. Let friends help.
Look, I get it, I'm a professional also. I don't do my job for free or even at a discount — unless I choose to (which I sometimes do).
When it came to my wedding, I thought of everyone I knew who could potentially help out. I asked a former student of mine who is a professional musician to recommend someone who might perform our music at the ceremony, and she volunteered to do it for free, as a gift.
Another former student is doing my makeup in exchange for private instruction.
Both are professionals at their craft and were approached as if they were professionals. I offered to pay; they volunteered or bartered their services.
The moral of the story: Let friends help, but don't expect it.
Except when it comes to the bridal party — everyone I talk to says I should expect their help, especially on the day-of. Hearing this helped calm me down, just when I was freaking out because I thought we'd need to hire a very expensive day-of coordinator.
Instead, my friends who've been through this tell me that all I need is friends and family I can rely on, along with an attitude that whatever goes wrong is OK.
6. Let it go.
Another word of wisdom I've heard again and again? "It's only money."
As someone who used to have very little, this sounds absurd to me.
But it's true.
There've been times this summer — and there have definitely been purchases (I'm talking about you, "Getting Ready" suite at the Bowery Hotel) — where I've thought of all the other things Arran and I could have done with our money.
But if you have it, and you've made a decision to spend it, let it go.
I mean, even my divorced friends tell me they don't regret their beautiful weddings.
I know I won't regret mine.