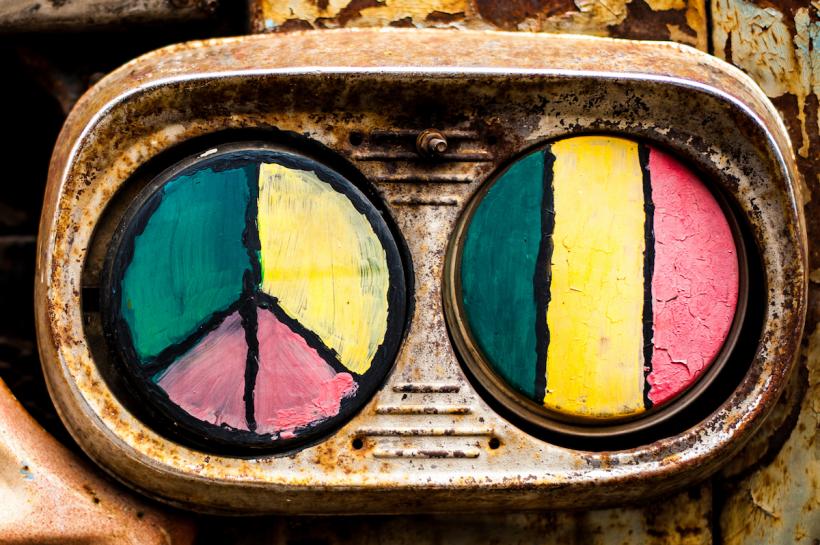 image credit: Thinkstock
I kinda tripped into activism.
A decade ago, after about six months of exploring my identity, I finally dived into the world of LGBTQIA+ student groups, the fall semester of my sophomore year of college. I was ready to find real life support systems, though I was still in the closet to family and friends at the time. I found a group called LLEGO, a student group at Rutgers University for queer and trans people of color. 
The following school year, I was the Secretary of LLEGO. I became Co-President my senior year. The year I became Secretary of LLEGO, I also became the public relations officer for a new student organization: Fusion, an organization focused on the experiences of multiracial people.
These positions threw me head-first into the world of student activism, which has a very long tradition across the world. Through the various associations I made, I also became involved in anti-war and other forms of activism, ever-evolving my understanding of social justice and the intricate nature of expanding beyond race and queer issues of oppression in this world.
In the years since, I've experienced many personal and professional triumphs and setbacks. Sometimes my activism has had to take a backseat to real life, due to access issues or just the daily grind of trying to survive as a multiply marginalized person.
One of the biggest things to impact my life, however, has been becoming disabled. Activism can seem intimidating, all the more so for those with accessibility issues of various kinds. There are myriad numbers of disabilities which can affect how we can (or can't) engage in activism. Class is a factor in accessibility. So is citizenship status. And these can all intersect with race, gender, age, and education, among others.
Maybe you can't afford to travel to that planning meeting. Maybe your wheelchair, cane, or fibromyalgia makes it difficult or impossible to attend marches and rallies. Maybe starting a family has had a severe impact on your ability to travel cross-country, giving educational lectures or revolutionary workshops.
That's okay! We don't always have to be on. It took me some time to realize that myself, but it's true. Below are ideas for other ways you can get involved, disrupt the system, and make a difference!
1. ART AS ACTIVISM
Art has a long history of being used as an activist tool in fights for liberation. The great thing about art is that it can take many forms and literally anyone can do it. You don't have to be Picasso to paint a picture or Toni Morrison to write an essay. You don't have to be Beyonce or Whitney Houston to sing a song. From singing and songwriting, musical instruments, and poetry to filmmaking, prose, dancing, and painting, art is everywhere and in everything.
While my activism started off as the well-known archetype — helping to organize and participating in rallies and marches — much of what I do now is writing. I've always been a writer, but right now it is the tool to which I have the easiest access. It allows me to work from home, and usually at my own pace.
Art by itself generally doesn't lead to direct changes in policy or laws, but it does have the important effect of changing social paradigms, which changes culture. It also has the important effect of galvanizing oppressed people and our allies to do the work that does lead to the larger, more concrete changes.
You can feature your work in your community, online, and in print. You can even distribute your work on your own, by creating your own Tumblr, Wordpress blog, Etsy store, personal website, or sharing it in person at open mics and other cultural gatherings, at protests.
2. TEACH-INS AND INFORMAL EDUCATION
Teach-ins as we know them today originated in the 1960s on college campuses. Although originally the purview of academics and higher education, the fact is that teach-ins can be organized by anyone, anywhere. All you need is a space, a topic or topics, and yourself! You can also collaborate with other individuals or local organizations.
Generally, teach-ins are a space where people can learn more about a topic, like the election process and voting or a history of civil rights and liberation movements. But they are also places to organize. Teach-ins can go broad or they can focus on specific issues.
And if public speaking really isn't for you, that's okay too! You can always follow in the footsteps of Kat Blaque, Riley J. Dennis, and Marina Masako Watanabe and educate others through video.
3. SILENT PROTEST
San Francisco 49ers quarterback Colin Kaepernick has been making headlines lately for exactly this kind of protest, but he isn't the first to do it. Like the previously mentioned tactics, silent protest also has a long history. In 1917, thousands upon thousands of Black Americans held a Silent Parade in New York in protest of lynching and other forms of anti-Black violence. Today, the annual National Day of Silence (NDOS) is meant to highlight the actual silencing that LGBTQIA+ experience every day. You can stage a silent protest on a smaller scale — at your school, where many NDOS actions take place every year — or, on a larger scale, like Kaepernick, NBA player Mahmoud Abdul-Rauf in 1996, and Olympians Tommie Smith and John Carlos in 1968.
You might be made to feel like you aren't doing enough to "help the cause" or that what you do somehow doesn't count. Or you may just be wondering what you can do. Fortunately, activism has always taken the form of various tactics. And while mainstream messages may tell you that only certain people can do activism or only certain things are "real" activism, the truth is that there are many ways to engage, endless ways to f*ck sh*t up, tear sh*t down, and be revolutionary. In fact, they often work in tandem to achieve visibility, equity, justice, and liberation. Some are big, some are small, but they all matter and make a difference.