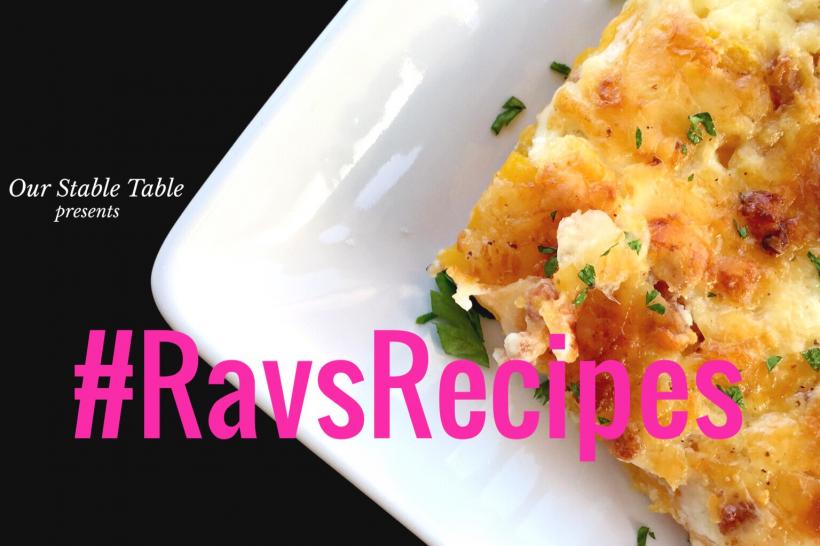 #RavsRecipes: Butternut Squash Au Gratin
It's officially fall. Pumpkin spice everything is everywhere and I totally love it. 
But one cannot live on pumpkin spice alone.
The first butternut squash of the season raised their heads in our garden this week. They are robust and gorgeous and a little ahead of schedule. It's kind of like when my boobs came in while I was still in sixth grade. I was surprised, caught off-guard, silently proud, and not entirely sure what to do with them. 
The good news is, butternut squash, just like my trusty old boobs, are well-covered territory now. I've discovered new ways to handle them, manipulate them into just the right shapes, and elevate them in order to make people drool. Butternut squash is an unsung hero, my friend. (If only I could make my boobs behave as well as a gourd. But that's another post.)
Butternut squash is loaded with a bunch of great vitamins, and holds up well to all kinds of cooking. I love replacing potatoes and pumpkin with butternut squash, then sitting back to see where it takes me.
Scalloped potatoes are one of my favorite cool-weather dishes. I grew up eating them out of the box, along with Stove Top stuffing at Thanksgiving dinner. I didn't know that you could actually make potatoes gratin from fresh potatoes and cream, nor did I know it could taste like a Christmas miracle. 
So, when the cool weather starts to roll in, I get excited and start planning all of the comfort food I'm going to make with gourds. Substituting butternut squash for fresh potatoes in a gratin dish is not only seasonally appropriate, it's also special. It's a stand-alone dish that can be eaten and shared as a side or main course. And I highly recommend the main course.
Ingredients:
1 large-ish butternut squash, seeded, peeled and sliced in 1/8 inch pieces
2-2/1/2 cups of heavy cream or half and half
2-3 cloves garlic, minced
1 cup Gruyere or Parmesan cheese, grated
8 oz cubed pancetta, cooked
1 Tbsp butter for greasing the pan
Nutmeg
Salt
Pepper
Directions:
Coat inside of casserole dish with butter. (Side note: Size matters. Small dish means fatter gratin that takes forever to cook, larger dish means less cook time and a low-profile finished product. Your choice). Take 1/2 of the garlic and rub into the pan on top of the butter, making sure to distribute evenly.  
Next, layer squash slices. Try to make it tight, leaving very little space between slices.
Drizzle cream over the squash. Sprinkle with pancetta pieces, a little bit of salt (not much), pepper, and nutmeg. Repeat the layering until you reach the final layer. Top with cheese, and the remaining garlic.
Now the real fun begins. SQUISH IT DOWN. With your bare hands. The goal is to remove all of the air between the layers and for the cream to come up over the top layer. You don't want it to swim in cream, but you do want it to take a dip for sure. 
Place a piece of parchment paper over the top of the casserole and bake on 350 for 30 minutes. Remove parchment paper and cook for an additional 10-15 minutes, or until the entire mixture is bubbling and the top is browned and gorgeous.
Then remove it from the oven and WALK AWAY.  It needs to rest, and chances are you need to rest too. Come back in 15-20 minutes, and enjoy it like the first time you really enjoyed your boobs. Uhhhh....or something.
Happy harvest to you!