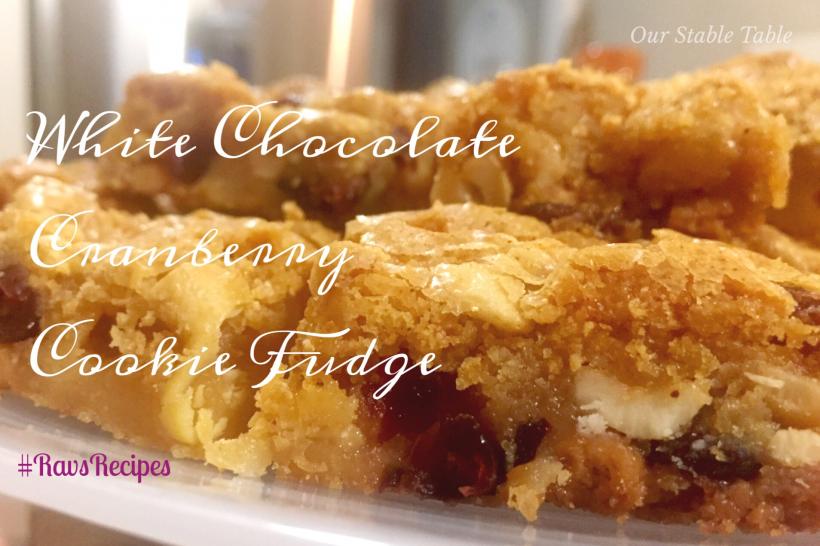 Part cookie, part fudge, part heaven in your mouth - white chocolate cranberry cookie fudge!
Every now and then, I produce something in my kitchen that actually blows my own mind. This is a rare occurrence.
I love creating and experimenting with food. I think most dishes are best when they are simple and easy to prepare. Baking is no different. Don't get me wrong; I love fancy food almost as much as Padma loves sending cheftestants home. But that isn't a hard and fast rule, and even though delicious, simple food is my wheelhouse, I enjoy a challenge. I also really enjoy working with ingredients that don't typically make it into my kitchen.
Enter this week's baking recipe. I used an actual log of marzipan. For those of you who have no idea WTF marzipan is, allow me to enlighten you. It's ground almonds in sugar syrup, formed into a log. It holds a shape and is a favorite sweet food in Germany. It tends to be too sweet for me, and even though dark chocolate is the go-to for marzipan, I find it to be overwhelming in most applications.
Instead, I opted for some tart cranberries and a little white chocolate to offset the bold marzipan flavor. I added raw cashews for texture and a little crunch. I also might have melted some white chocolate directly into the batter to make it extra decadent.
What I pulled out of the oven was nothing short of miraculous.
Part cookie, part fudge, part heaven in your mouth. Tart, sweet, chewy, fudgy, and basically the dessert you hope every holiday cookie or piece of fudge will be and never is. I took it to a party last week and it was gone in minutes. These are the perfect treat to pack in your gift tins and holiday baskets.
Ingredients:
1 1/2 cups all purpose flour (or gluten free blend)
1 stick butter
12 oz chopped white chocolate, divided
1 cup sugar
1 cup raw cashew pieces
1 cup dried cranberries
1 7 oz log marzipan, chopped
2 eggs
1 Tbsp molasses
1 tsp vanilla extract
1 tsp baking soda
1 tsp nutmeg
1/2 tsp salt
Directions:
Take your butter and half of your white chocolate and melt. You can do this in 30 second increments in the microwave, or you can use a double boiler on the stove. Your choice.
In a large mixing bowl, whisk your sugar, vanilla, and molasses in with your white chocolate and butter mixture. Add your eggs and whisk thoroughly. Be sure that the butter and chocolate isn't too hot, otherwise you will scramble those eggs!
Next, mix your flour, baking soda, nutmeg, and salt in a separate small bowl. Add it to your sugar mixture 1/2 cup at a time and mix until barely combined.
Fold in the rest of your white chocolate, dried cranberries, cashews, and marzipan chunks.
In a parchment lined large baking dish, spread mixture evenly. Bake at 350 degrees for about 30-40 minutes. Let the scent of angles waft through your kitchen. Allow to cool thoroughly before removing from dish.
Consume and share with great joy!
---
Related: