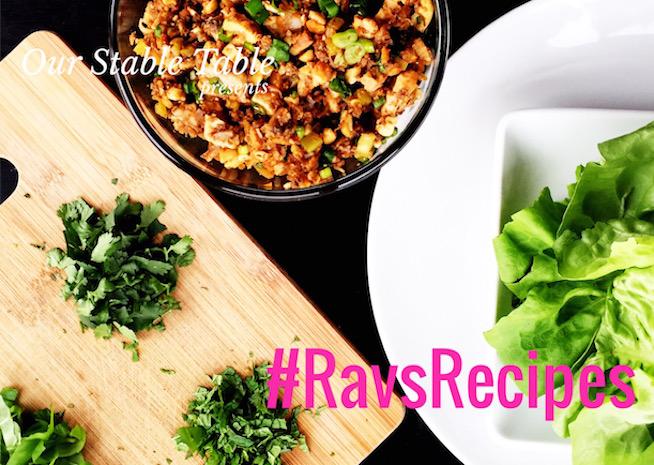 #RavsRecipes Chicken Lettuce Wrap
I have a thing for a certain Asian-inspired restaurant chain. Their food isn't Michelin-starred, and doesn't often make it into my regular rotation for eating out because, well, we don't eat out much, and I like only a few things on their menu. But the dishes I like, I crave. In truth, I probably love all the MSG and positive memory association from college, and I'm craving a plateful of nostalgia and a headache.
I love eating out, for the record. I do love cooking, but I love it more when it's completely voluntary and not a necessity. Because we have multiple food allergies in our house and we are on a tight budget (budget = spend as little as possible on necessities), we don't eat out often and definitely not at over-priced Asian chain restaurants. But I still crave the flavors of certain dishes and have done my best to re-create them with my own style and favorite additions.
The humble lettuce wrap is one of those dishes. I often forgo the lettuce entirely and just put the chicken on top of a bowl of jasmine rice or quinoa. When I'm craving some lighter fare after heavy holiday eating, these lettuce wraps are my go-to. I pack them for a quick lunch, and the chicken tastes even better the next day after the spices and sauces have had a chance to marinate.
Ingredients for Chicken:
1 lb pan-seared chicken thighs, diced
1 package white mushrooms, finely chopped
2 stalks of celery, finely chopped
2 shoots of green onion, thinly sliced with white bases also sliced
¼ cup cashews, chopped
½ large white onion, finely chopped
2 tbsp oil
2 tbsp soy sauce (any kind) or amino acids
1-2 tbsp sriracha
1 tsp honey
1 tsp ginger
½ tsp black pepper
Ingredients for Lettuce Wraps
1 head of butter lettuce
¼ cup cilantro, chopped
¼ cup mint, chopped
¼ cup basil, chopped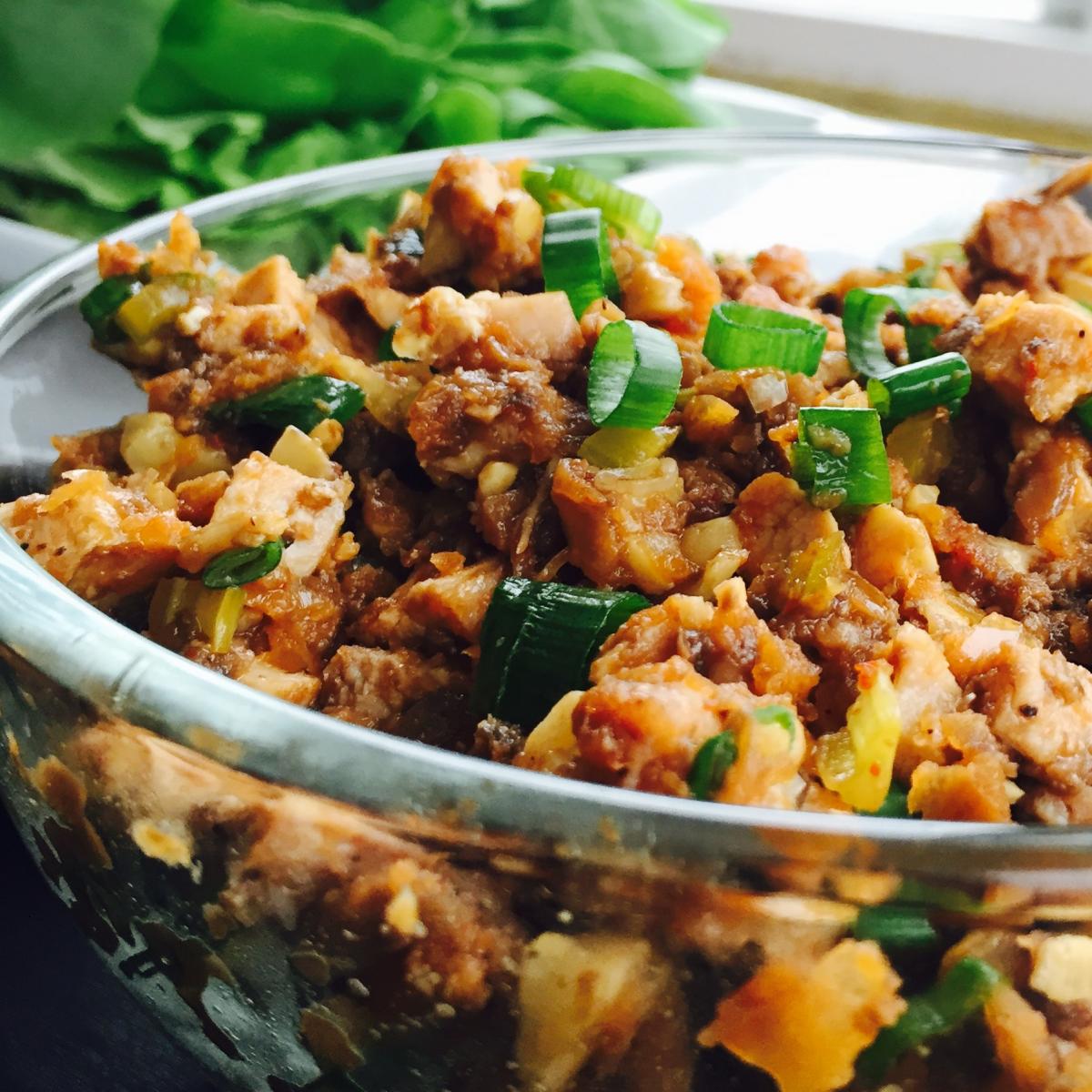 Directions:
In a large skillet, add oil, 1 tbsp soy sauce, black pepper, ginger, white onion, and mushrooms. Sauté on medium high heat until browned and cooked through. 
Add celery and sauté for another 2 minutes.  
Add cashews, sriracha, remaining soy sauce, and a tablespoon or two of water. Scrape the bottom of the pan as you mix the rest of your ingredients together and fully incorporate them. Let the mixture simmer on low heat for 5 minutes.
Add chicken, honey, and green onion, mix thoroughly and then transfer to a bowl.
This is where you get to decide what you want to do with your chicken. It's kind of like those Choose Your Own Adventure books we read as kids. Inevitably, I ended up choosing both adventures, and you can do that here, too. No need to choose just one path — you are the master of your own multiple food destinies, and all roads lead directly to your mouth.
To create the wrap, check out the video above. It's crazy easy, albeit a bit messy. Or spoon the chicken on top of some freshly steamed rice, top with the fresh herbs and eat the hell out of it.  No matter what you choose, it's the right choice.