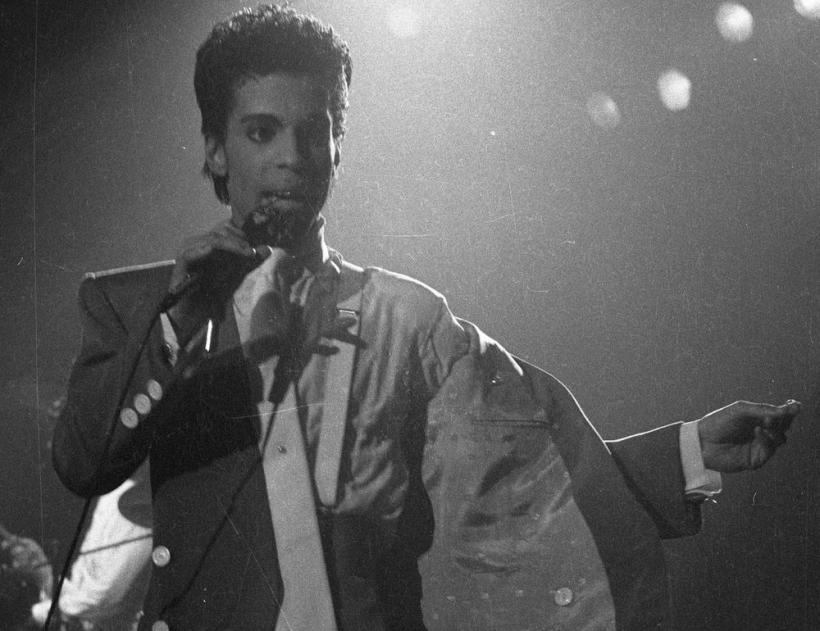 Fooling around with my boyfriend made me horny; Prince set me on fire.
My freshman year of East Lansing High School in 1981, I was the new girl. I'd recently moved to Michigan from New Mexico so my mother could get her PhD at Michigan State University. I was new, I was poor, I didn't understand the local weather, and I kept scanning the horizon for mountains that weren't there. I felt like the ultimate outsider.
Worse, I barely knew anything about pop music. My mother was a former folk singer whose albums consisted mostly of Bob Dylan, Pete Seeger, and Joan Baez. I realized I needed to expand my musical knowledge if I wanted to "fit in," so I went to a used record store with my babysitting money and bought three albums: Pieces of Eight by Styx, Little Queen by Heart, and Freedom of Choice by Devo. I picked them entirely based on the look of the album covers.
Once I found my crowd in high school, I switched to listening almost exclusively to rock music. Thanks to the boys I knew, I was indoctrinated into the canon of music that came up in the '70s, like Pink Floyd, Led Zeppelin, and the Who. And because it was Michigan, there was a also a lot of Bob Seger. My musical taste was still fairly unformed.
But then MTV went live in 1982, and my musical world exploded. Suddenly there was New Wave music (trust me, local Michigan stations were NOT playing Flock Of Seagulls in 1982), and new pop music I'd never heard before. Like most of my Gen X brethren, I spent hours in front of the TV watching music. Suddenly being an outsider was cool, and I ran with it. I shaved one side of my hair and dyed the front pink.
And then one day, Prince was there, the ultimate outsider: a black man playing rock n' roll while dressed like New Wave royalty. He pranced onto the TV screen singing about 1999 and Little Red Corvettes, and I was hooked. I bought 1999. Then I bought Controversy. I loved both albums, and I particularly loved how much my folk singer mom hated them. I loved the way he dressed, the fact that he had women in his band, and the sound of his voice. And I loved how he challenged what it meant to be a man.
But when I saw the video for When Doves Cry, I went from casual fan to total fangirl. When those beautifully lined and mascaraed liquid brown eyes looked at the camera, I burst open. Fooling around with my boyfriend made me horny; Prince set me on fire.
You don't just listen to Prince — you feel him, all the way down to the base of your spine.
Once Purple Rain was released, I don't remember how many times I saw it in the theater. More than five. Possibly more than ten. Prince became something more than a pop star; he became a sex god. He was five foot two inches of purring, raw sexuality. I wanted to be his Nikki.
It was pretty heady stuff for a sixteen year old girl.
When I heard about Prince's death yesterday, it hit me like a blow. I am still wrecked today. The grief over the death of a celebrity is weird and awkward — I didn't really know Prince, of course. I haven't followed his music as intently over the last twenty years as I did through the 1990s; I think Diamond and Pearls was the last album of his I purchased. Yet yesterday I felt like a family member died.
Our musical icons help shape us. David Bowie (another painful loss this year) taught me that weird was cool, while also changing what I found sexually attractive in men. Cyndi Lauper (please god, keep her safe) really helped me embrace my own weirdness, and presented a new kind of feminist icon (she had a song about female masturbation — so scandalous). And Prince taught me about raw, unadulterated passion.
I sat at my desk yesterday listening to a local station play non-stop Prince, and cried. Then I went downstairs and sat in front of the TV watching MTV like it was 1984 as they played nothing but Prince videos for the rest of the day, and cried. I mourned far more than just the loss of another musical icon that helped shaped me; I mourned the young girl I was, so open and willing and ripe with life.
We are less without him. Even though the sun is shining here today, it feels like it's raining. You will be missed, more than I can say. Goodbye, sweet Prince.